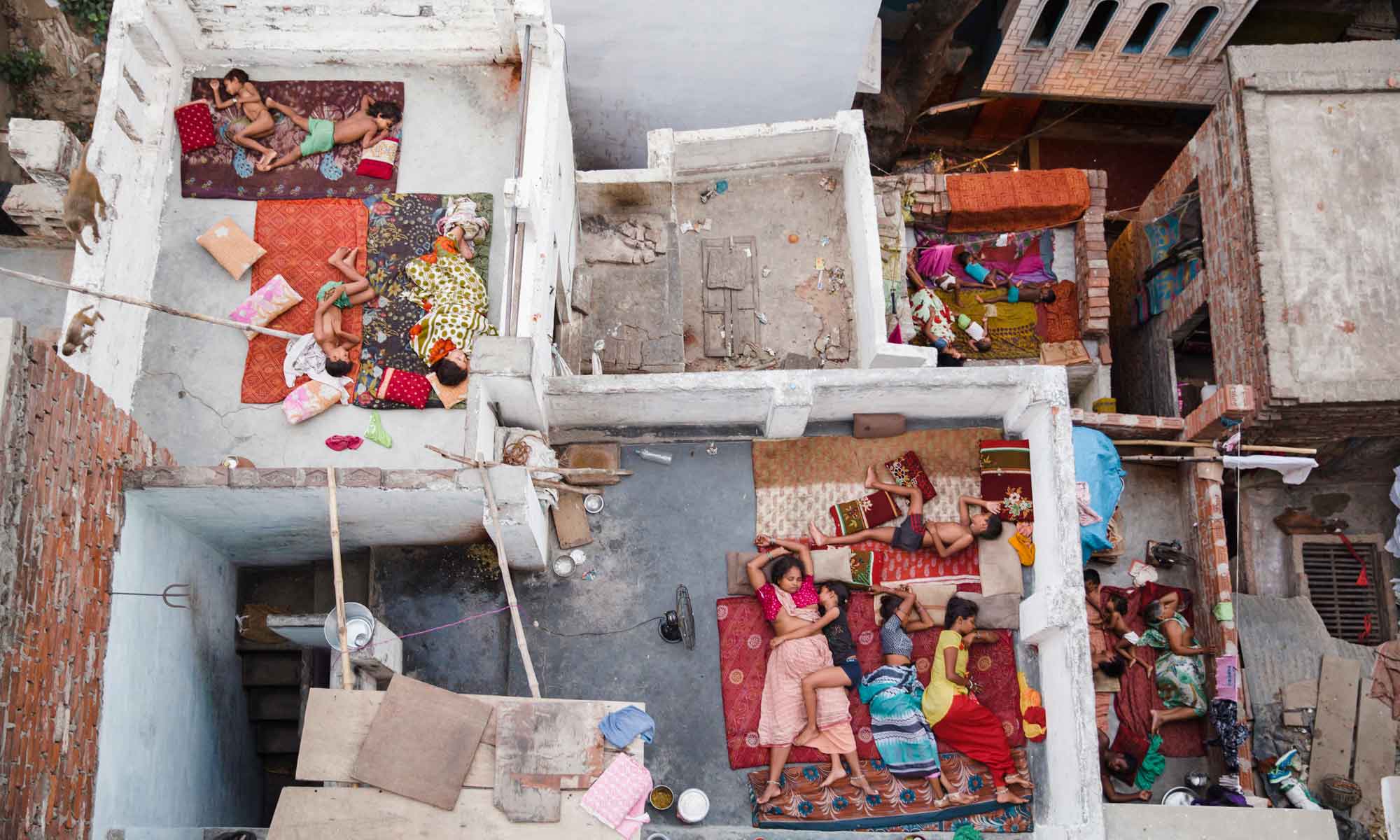 "One's destination is never a place, but always a new way of seeing things." – Henry Miller
We're delighted to present the results of this year's ninth theme – Six Continents. We asked you to open your eyes to adventure and to expand our horizons – unfamiliar landscapes, unexpected people – here or 10,000km away.
The theme was judged by Patrick di Nola, Head of Reportage at Getty Images and Co-Founder and Director of Verbatim Agency – representing some of the best photojournalists in the world.
You can discover the winning images below and join the discussion on Facebook, Instagram and Twitter. Congratulations to all the talented photographers featured.
"I love the unusual viewpoint of this image, the composition, the natural (presumably early morning) light … it instantly transports the viewer to the location and makes you imagine the heat and humidity that has lead these people – 19 in total – to seek respite sleeping al fresco on the rooftops. It is a strong representation of family life, particularly the daughter cuddling her mother in at the bottom of the frame. With the addition of the two monkeys scampering past on the left, and the goat resting on the right, it feels as though we have been given a secret pass into these peoples' lives, without disturbing the scene or its characters, human or animal. I love how peaceful the scene feels – in contrast to the hustle and bustle one imagines there to be during the daytime. That contrast is mood is also matched by the bright and vibrant textile colours set against the calm and muted tones of the buildings." – Patrick di Nola
"Yasmin's image is exciting and memorable – a unique top-down composition and a feast of details and colour. It could so easily be a messy scene but the aerial view acts to flatten and compartmentalise the image, creating defined pockets for the eyes to jump between. As Patrick notes, it's both chaotic and peaceful at the same time – busy and yet still – which gives a lovely dichotomy. As a viewer, it's an image that you can immediately appreciate but also spend a long time exploring, and that's a rare thing." – Life Framer Editors
"Going into this judging I did hold hope of there being images representing migration into Europe. Toby has focused his particular efforts on documenting sick and wounded children brought to Germany by the NGO Peace Village International for specialist medical treatment not available in their country of origin. This image has haunting quality to it… the child appears to demonstrate both vulnerability – with his medical wrist tag, small stature, and the way he is holding onto the NGO staff member's hand – but at the same time his eyes seem to show an expression of a child who has seen and experienced things that have forced him to deal with the tough and often brutal realities of the world in which he lives, and grow up fast. The photographer has used light, contrast and reflection very effectively in the image, and the composition means that the viewer's attention to directed almost exclusively to the boy's face and the hand holding." – Patrick di Nola
"Migration has been dominating newspaper headlines (at least in Europe) for some time now, but still this image seems so fresh. It's clearly reportage, but it's incredibly artful too – Toby frames the child dead-centre and crops out all other faces, and so you're drawn directly into his eyes. It's a clever trick – the image is visually rich with gorgeous textures, lighting and reflections, and yet you're constantly pulled back into his gaze.
And that expression. As Patricks says, he seems wise beyond his years – hardened by tough experiences, a little suspicious of what awaits maybe. It's a powerful and evocative image – both sad and hopeful – and beautifully taken. " – Life Framer Editors
"This image is more abstract than my other two choices which were more classic reportage in approach, but I am drawn to it for how powerfully it communicates a ritualistic tribalism. It is an image which raises questions and causes intrigue… makes me want to learn more about who these people are, where this is, what they are holding, and what this ceremony represents. The scene, and use of light within it, also has foreboding qualities, more than a sense of joy or celebration, and this darkness is what activates my inner curiosity, and desire to learn more about these people." – Patrick di Nola
"The tight composition and repetition of arms and bodies creates something powerful – an infinite loop that the eyes are drawn round. It's a raw and tribal treatment of the scene, which chimes perfectly with the subject matter. The darkness, and the focus on texture and form rather than detail reminds me of the work of Linelle Deunk – it's visually arresting and emotionally intriguing." – Life Framer Editors
FURTHER HONORARY MENTIONS
Louis Quail, Emmanuel Monzon, Adrien Blondel, Hiro Tanaka, Britt Vangenechten, Jan Hoek, Andrew Wajs, Bas Losekoot, Ingvar Kenne, Zach Murphy, Dimitris Rapakousis, Mark Bennington, Koen Deschepper, Gabriel Miranda, Patrick Willocq, Phil Le Gal, Jan De Roos.
A prestigious jury, 4 international exhibitions and $24000 in cash prizes.