INTERVIEW
Trash Magic
WITH SAGE SZKABARNICKI-STUART
An interview with Sage Szkabarnicki-Stuart
"Trash piling up everywhere can be harmful and scary but it also imbues a kind of magic-realism to natural landscapes. The interaction between nature and plastic is creating a whole new reality that no one has ever seen before"
Sage Szkabarnicki-Stuart won our first theme of Life Framer Edition V – The Face of the Earth – with a mesmerizing contemporary landscape shot on her grandparent's land just before it was sold to developers. You can see that image and read the jury's comment on it below.
Keen to know more we put some questions to Sage, and her answers were illuminating, thought-provoking and amusing, touching on themes as diverse as clandestine night photography in Toronto, the age of plastic, female perspectives on war photography and surviving the apocalypse!
Congratulations on winning our theme 'The Face of the Earth'. How do you resonate with the jury's comments?
Thanks so much! I'm happy that the jury pointed out how social isolation and digital communities are seen as opposing forces in tech. The photo portrays phones as a powerful asset to our lives, bringing us closer together, while simultaneously alienating us from the physical world. I was showing this photo recently and a lot of people who saw it really zoned in on the latter interpretation, without thinking as much about all the ways technology allows us to connect to others. I think that says a lot about where our culture is at right now when it comes to technology- we seem to love our phones in practice, but are more aware of the negative consequences than the positive ones. I'm really glad that the jury talked about both sides.
Can you tell us a little bit more about the image and how you created it? Is it a single shot, or part of a larger body of work?
People have been telling stories about the stars for eons and that got me thinking about the ways we tell and share stories today. Of course, when I found this spot I immediately got out my phone and tried to take a picture of the stars to send to my friends. That's when I got the idea for the final photo.
The image is part of a series of photographs. I pick an outdoor or indoor space and try to tell a story about it with things lying around the area or with what I have on me. I really like spots that are kind of boring. In the case of this field, it's pretty unremarkable, but the starry sky was striking.
You describe your interest in exploring notions of 'home', and how we interact with our home environments. What was the genesis of this interest, and how does it relate to your hometown of Toronto? Is it a good place for artists to live and work?
I have moved around a lot. My parents sold my childhood home last year and moved across the country, my grandparents just sold their homestead in Alberta, and I have moved 5 times in the past year. I've gotten used to reducing my possessions to what can fit into my car. It hasn't been a super positive experience but it hasn't been awful either: it's brought up a lot of questions about what exactly defines a home, or a home town. The photos are a way of trying to figure that out. They're probably also a way of making myself feel less guilty for throwing out or losing some pretty cherished possessions en-route to each new apartment.
Toronto is a tricky place for my kind of photography. I just moved from Montreal, where people were much more tolerant to strange behaviour in public spaces. People are suspicious here. It's a good thing though, it makes me feel like I'm being rebellious when I go out to take a photo. Someone even called the cops on me recently and an officer came down to reprimand me. It's exciting!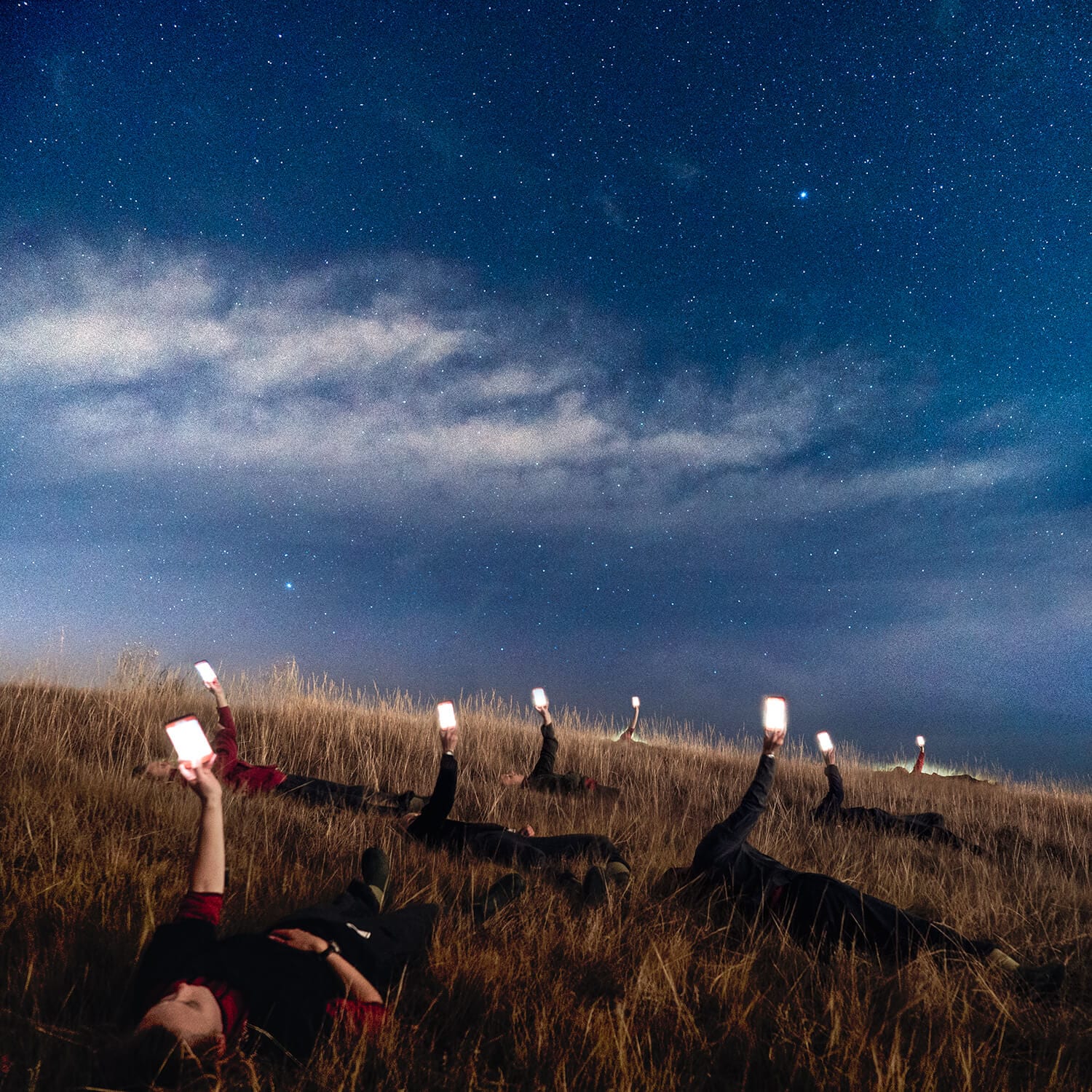 Sage's winning 'THE FACE OF THE EARTH' image: 'A Place That Doesn't Exist Anymore'
"This scene is epic and cinematic, and at the same time charmingly home-made, the textured grain and brilliant night sky evoking that near dream-like state that can come with the freedom a vast open landscape provides. There are perhaps two interpretations to be made – on the one hand, it can be seen as a celebration of the human connection that technology enables, the phones creating their own constellations underneath the distant stars, symbolising the vast distances across which we can now communicate. And on the other it warns of that all-powerful hold these screens have over us, distracting us from the present moment, the subjects here almost worshipping their devices, holding them aloft like idols to a new god. It's this inherent dichotomy – an image that conjures grand themes with a few friends and simple props – that makes it so captivating" – Life Framer