INTERVIEW
A Naked Truth
WITH ROSHAN ADHIHETTY
An interview with Roshan Adhihetty
"In Summer 2014 I discovered a nudist beach in Corsica. I was completely shocked and fascinated by this collective nudity, but after some days I felt like I was in paradise."
Roshan Adhihetty won our third theme of Life Framer Edition V – an Open Call – with a wonderfully idiosyncratic 'Mise-en-scène' of a group of nude hikers in Switzerland. Our judge, Martin Parr, praised the image for both the subject matter and the whimsical execution – the composition sitting mysteriously between candid and posed.
We jumped on the opportunity to interview Roshan, asking him about the image and series, the appeal of naked hiking, and what we can all learn from it…
Hi Roshan. Congratulations on winning our Open Call judged by Martin Parr. What did you make of his comments on your image?
Hey there! Thanks! He hit on an important point in my work. I question the reality-factor of photography a lot, and I enjoy it when the viewer doesn't really know if they can believe their eyes or not. Having my images seen and commented on by Martin Parr is a very big honor for me.
The image comes from your series Nacktwanderer, in which you photographed a group of naturists on hikes across Germany, Switzerland and Austria. Can you tell us a little bit about the origins of the series? What first drew you to the subject, and what happened from there?
In Summer 2014 I discovered for the first time in my life a nudist beach in Corsica. I was completely shocked and fascinated by this collective nudity. I could not stop staring at all those naked people. It prompted me that I have issues with my own nudity. But after some days on the beach, I felt like I was in paradise. The romantic atmosphere with all those people, young and old, male and female, enjoying life naked at the beach touched me deeply. I knew I had to treat this subject in my photographic work. I began taking portraits in nudist camps in France. That's where I met a naked hiker who told me all about this next level of public nudity. One thing lead to another and in the
end I went on more than 30 hikes in three countries.
Trust is always an important aspect of documentary photography, but I would imagine even more so when the subject is one that can sometimes inspire ridicule. Your images are entertaining and whimsical and a little absurd, but certainly not mocking or exploitative. Did it take time to build trust? And did you have a clear idea of the story you wanted to tell at the outset?
Well, it took me almost two years until I really found my way of photographing the hikers. As I mentioned before, I started in nudist camps. But those portraits were quite stereotypical of naked hippies, laying in the sun all day. After my first naked hike, I knew it was something completely different, with completely different people. Most of them are very well integrated into our civilization, and aren't 'hippies' at all. They have good jobs and big cars, overcompensating their lack of nature in their free time. So I changed my focus and tried very hard to get into that very, very small circle. It took a lot of emails and phone calls until someone finally accepted me and my camera. Once I built a friendship with one of the main tour-organizers I was invited on every hike.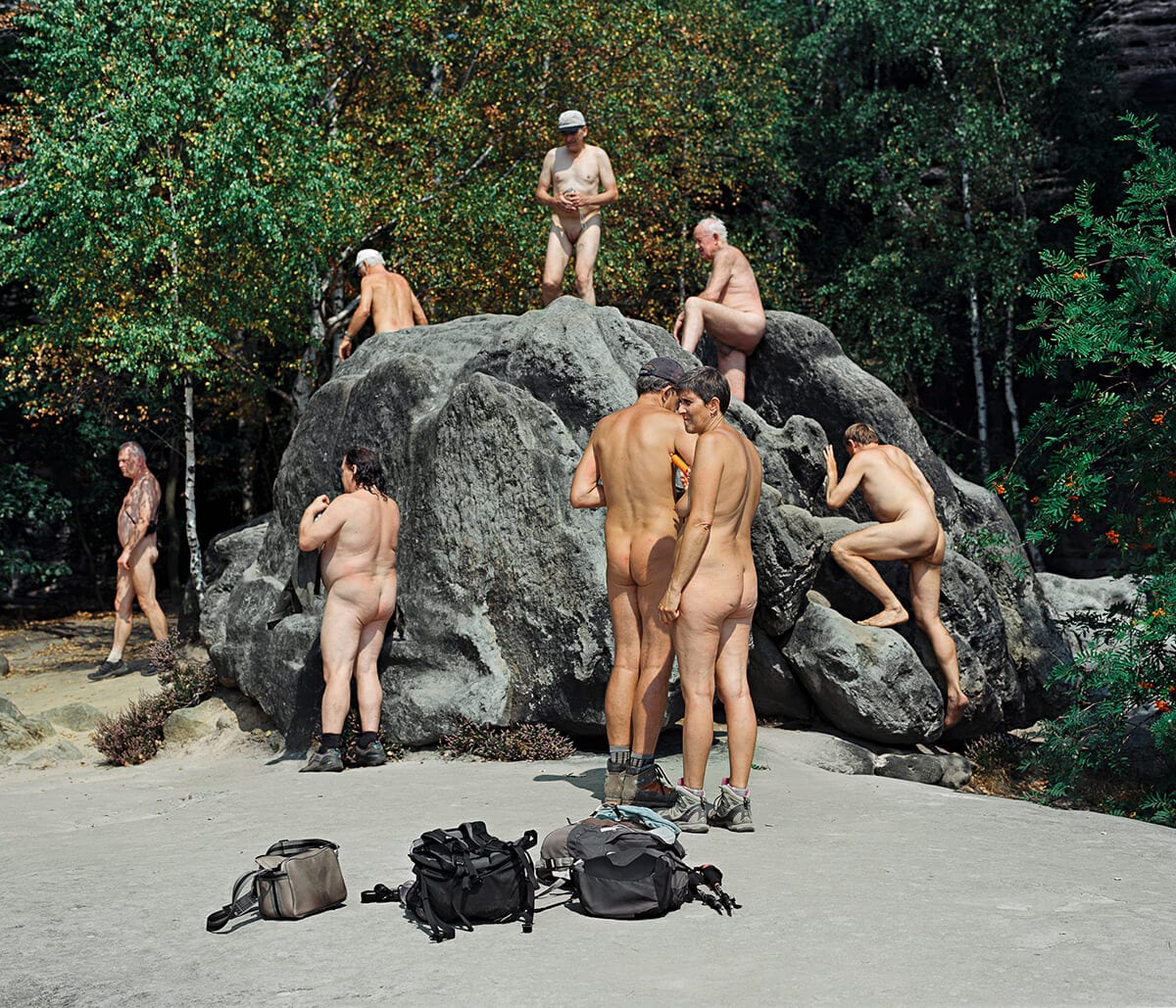 Roshan's winning for the theme 'OPEN CALL'