INTERVIEW
Dazzling Discoveries and Chaotic Consequences
WITH PASCAL ITO
An interview with Pascal Ito
"Scientific discoveries are so dazzling that our relationship to space and the world in general has changed fundamentally in recent years, just as our perception of strangeness has"
Pascal Ito won our second 'OPEN CALL' and final theme of Life Framer Edition IV, with a strange and beguiling conceptual image that our just Brian Paul Clamp described as both humorous and disturbing, noting the myriad of narratives that it hinted at. Keen to learn more about his practice, we posed some questions to Pascal, and his responses were as fascinating and provocative as that winning image…
Hi Pascal. Congratulations on winning our Open Call theme. How did you react to Brian Paul Clamp's comments?
Thank you, I am really honored and proud to win this prize. The comments of Brian Paul Clamp reveal the ambiguity of the image. The characters are lost in this post-industrial landscape. Who are they, what has happened and what are they looking for? I didn't want to be dramatic with them, just to be mysterious and enigmatic. They look clumsy. That gives the humorous touch.
The image is from the series 'Anomalies' which you describe as representing "the moment when the anomaly becomes the norm". Can you elaborate on that a little? What was the genesis for the series, and where did the motifs of orange jump suits and sparse, monochromatic industrial landscapes come from?
After several years working in the studio, I wanted to create a series in natural scenery that could associate landscapes with characters while evoking ecological, human and scientific upheavals such as the Fukushima disaster, global warming and its consequences, genetic manipulations, dehumanization and the migration crisis in particular.
With Nicotepo we wanted for a long time to work together on a common artistic project in photo and video. After several work meetings, we decided to create a fiction representing creatures without identity whose form and color would create a distortion with the environment, an anomaly in some way leaving the field open to the interpretation of each. The color orange has imposed itself, as an intermediate color between the diaphanous white and the ebony black of the different human skins. The orange color is also a solar color that makes these creatures more attractive. The idea is not to create fantastic monsters but rather dehumanized characters.
The choice of the virtual absence of colors on the landscapes translates my vision of the progressive destruction of the planet with the disappearance of certain animal species and vegetation. Landscape images post Chernobyl and Fukushima inspired me strongly. Regarding the relationship between the anomaly and the norm, the latter is always likely to change from one era to another. Scientific discoveries are so dazzling that our relationship to space and the world in general has changed fundamentally in recent years, just as our perception of strangeness has.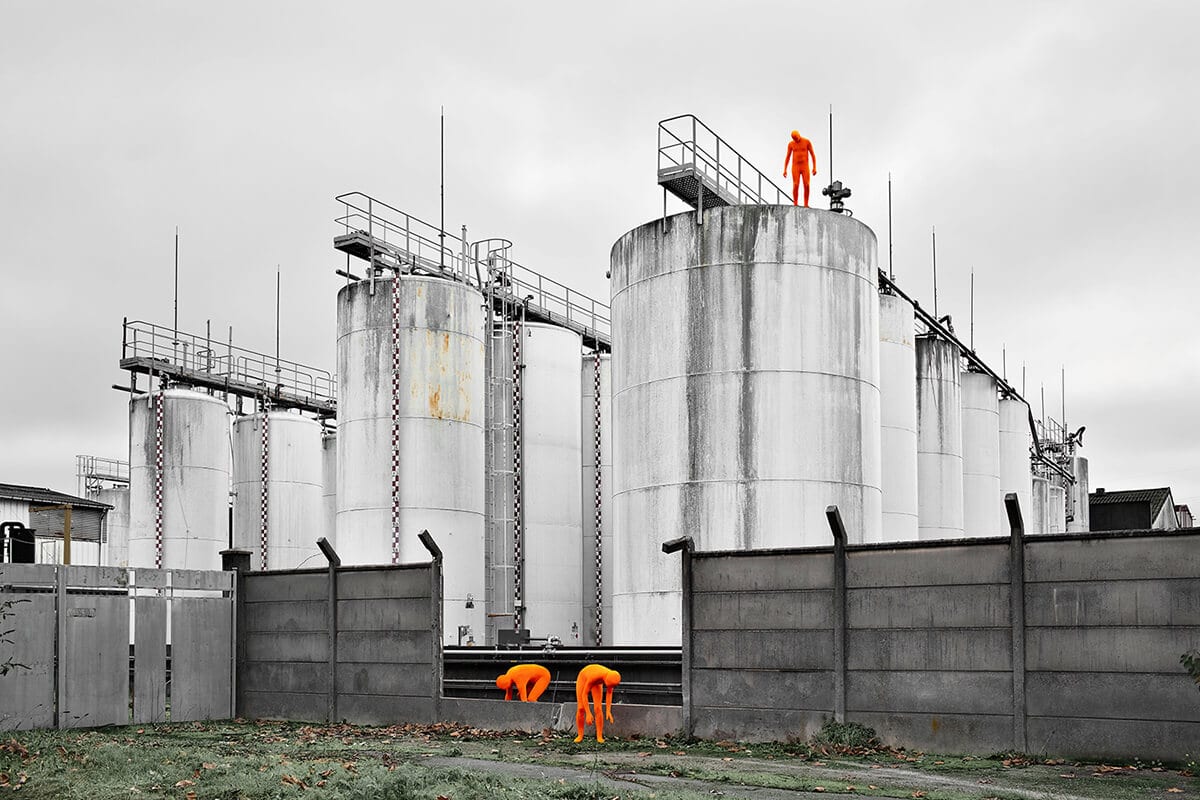 Pascal's winning 'OPEN CALL' image