In Depth
Image-Making as a Form of Resistance
WITH CLEMENT SACCOMANI OF NOOR AGENCY
#RESIST by NOOR
"Our images have been our form of resistance. We create them with a shared respect for the courage and humanity of those fighting to live free and fair lives everywhere".
Banner image: SOS South Side, USA, 2012 © Jon Lowenstein / NOOR. "While this picture is subdued – the subjects of the photograph were anything but subdued. Each man represented a passion for humanity that was unbridled and displayed through their ultimate sacrifice that heart, ideals and a willingness to put your life on the line for a cause is what a human life is to be measured by" – Jon Lowenstein
Since NOOR Photo Agency was founded in 2007, it has been dedicated to covering the struggles for human rights and social justice that exist around the world. From wars in Pakistan, Iraq and Syria, to racial discrimination in the USA, via global warming and rising sea levels, modern day slavery and diamond mining, the fourteen NOOR photographers have unrelentingly shone a light on the world's inequalities and prejudices, seizing the power of photography for social awareness and change. The word 'NOOR is in fact Arabic for light – a reference to both the process of image-making, and ideas of education, understanding and hope.
To celebrate their tenth anniversary and to reaffirm their principles of amplifying crucial issues, they are sharing #RESIST – a curated group print sale, featuring thirteen images that represent resistance; each a reminder of that fact that resistance can take many forms, and an affirmation of the power of standing up against authoritarianism, racism and oppression.
To support NOOR's efforts, we share a Q&A with the Managing Director Clement Saccomani, and a few of the stories behind the #RESIST images. Prints are priced at a very reasonable €100, and the sale ends on 16 February, so get in there quick!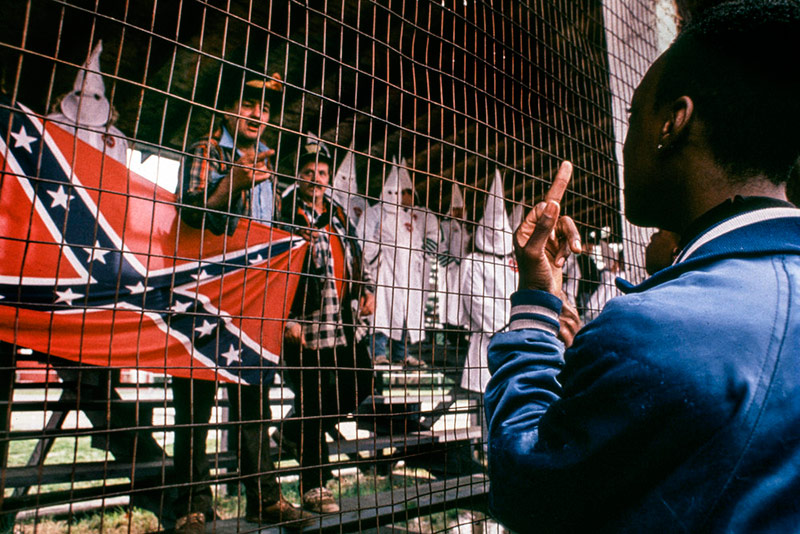 F*ck the KKK, USA, 1990 © Nina Berman / NOOR
"When the Ku Klux Klan, a white supremacist terrorist organization, decided to march around a baseball field in a small town in southern New Jersey, a crowd of protestors showed up to resist. As the KKK donned their white robes and waved their confederate flags, the protesting crowd, led by many black high school students, pushed the Klan behind the ball field fence and into the wooden bleachers. The Klan grew frightened and weak as the protesters outnumbered them. Chanting with