INTERVIEW
No Shame
WITH MARY GELMAN
An interview with Mary Gelman
"In Russia there is huge discrimination of fat people. They face job search rejections, medical prejudice, they receive lower salaries than people of "normal" weight… Many of them are bullied and shamed, and I went through the same process when I was young."
Mary Gelman won our December 2019 theme – THE HUMAN BODY – with a stunning image from a series that provokes a very necessary discussion on the practice of 'fat shaming'. Channeling a documentary subject through a fine art lens, she creates an image that is as beautiful as it is provocative, and as other-worldly as it is grounded in reality. Intrigued to know more we put some questions to her – about the series, her working practices, and the photography scene in her homeland of Russia today.
It seems that society insists there is no place in the world for fat people. In the modern world being fat is still much more than just a body characteristic. If you are fat it is automatically implied that you are a lazy, weak, stupid, spineless, spoilt… You can never be truly loved, you can never have neither friends nor a happy family, nor a dream job. One of the participants said in her interview for the project "fatphobia is not about beauty or health, it is about power and control over other people's lives". No shame features stories of fat people from Russia who have experienced fat shaming.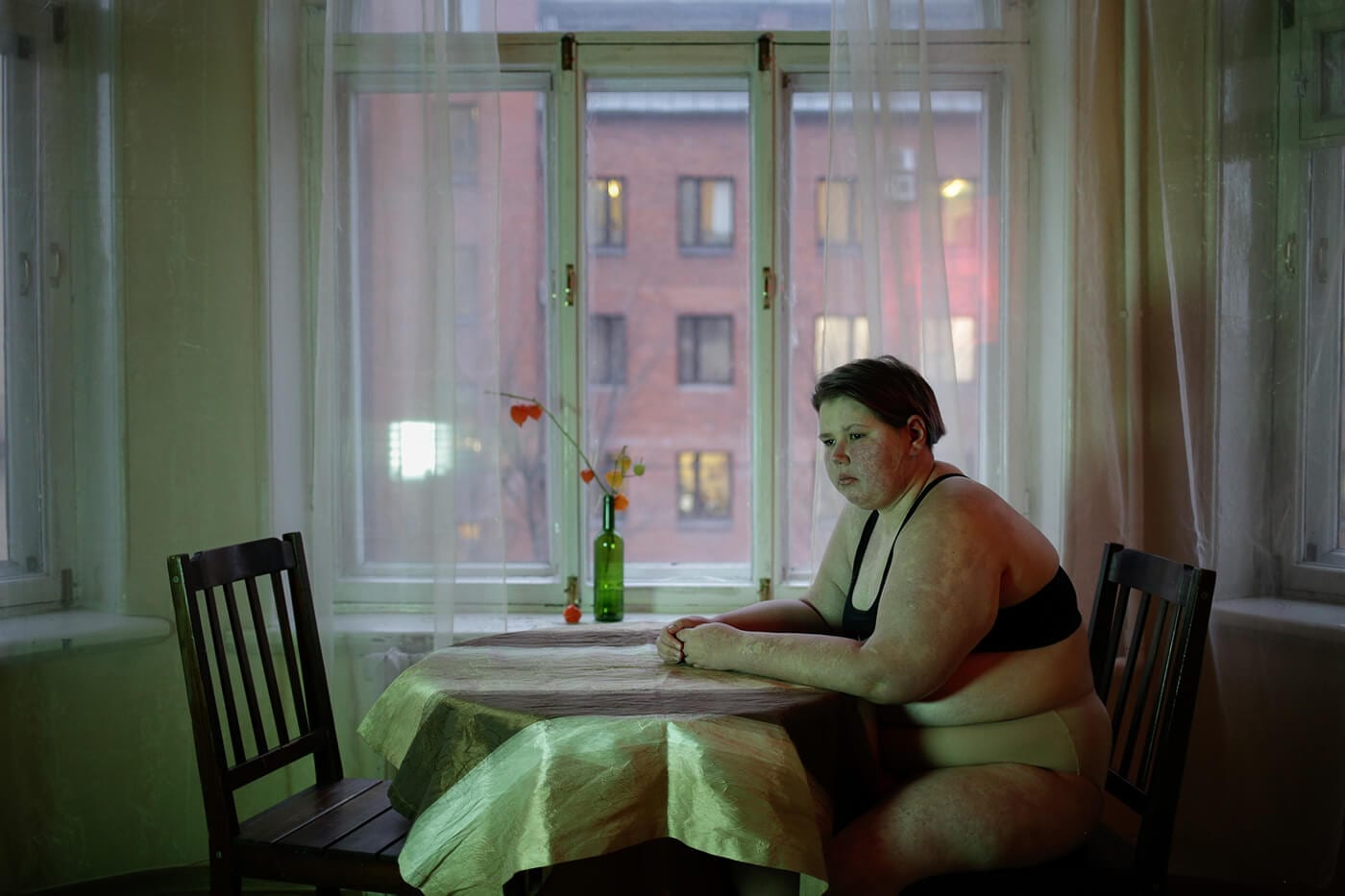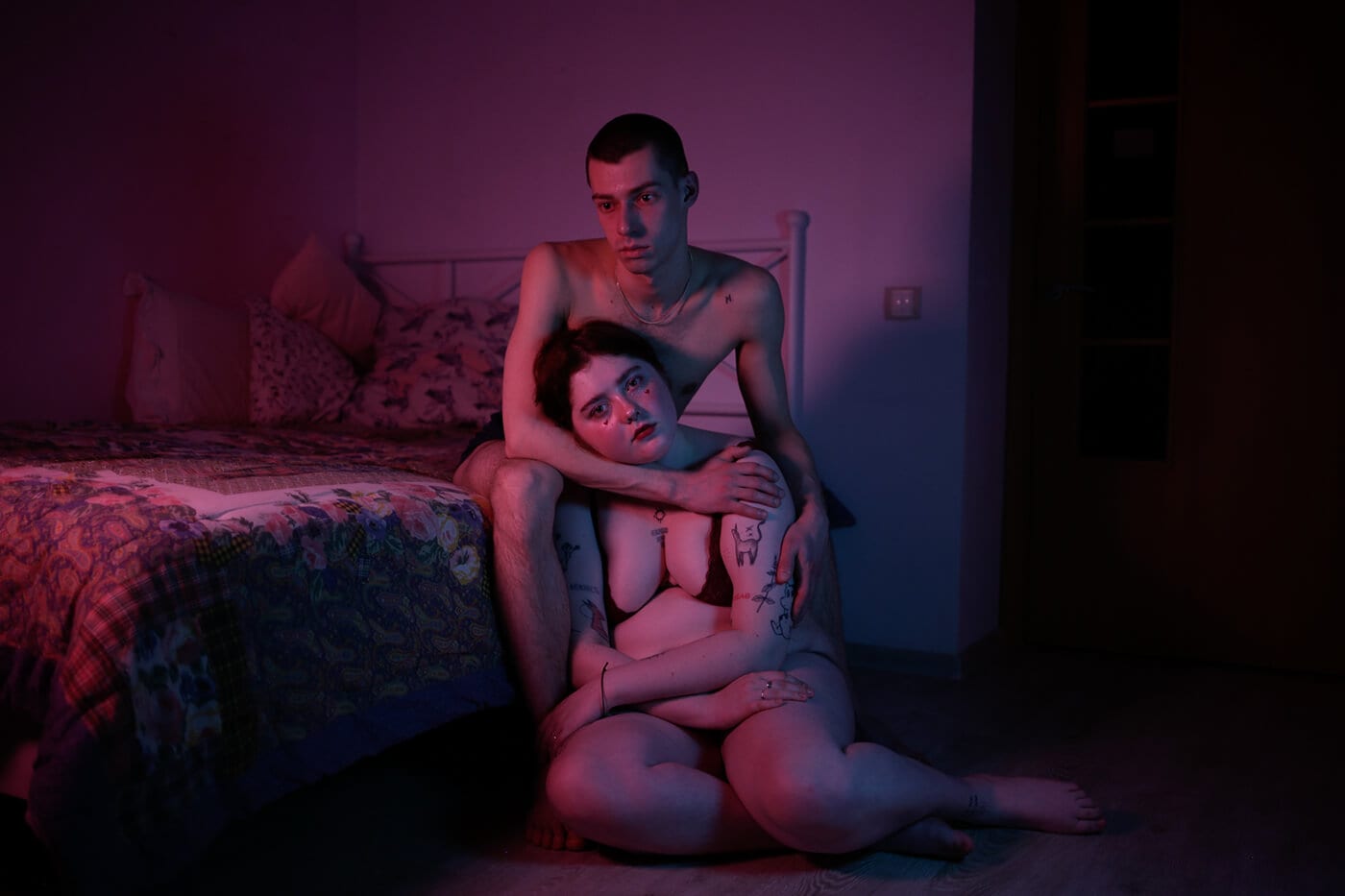 Mary's winning image: Asya, 2019
"A very strong and eye-catching portrait with an important story. It walks a fine line between fashion, portrait and documentary photography, but it does it incredibly well." – Joachim Ladefoged
"Through the intimacy of the bedroom setting and the soft pink light, Mary creates a remarkable portrait that reveals so much. Taken from a series that examines fat-shaming in Russia, it is not this idea that first draws us in – instead it's the color, their vulnerability and tender embrace, and her distinctive tattoos. However the narrative gently unfolds in their expressions – him distant and withdrawn, her holding the viewer's gaze with a weary air. While the discomfort is apparent in both, it is her who remains absolutely aware of the viewer – that she is on display, that she is being judged. That her outward appearance affects so many of her interactions. Her make-up seems emblematic – small red hearts that sit on her cheeks like tears. It is a wonderfully powerful and considered portrait scene." – Life Framer
Hi Mary. Firstly, congratulations on winning our theme THE HUMAN BODY. What did you make of the jury's comments about your image?
Thank you very much. The feedback was great – I am always curious to know how people perceive my photos, and it was well noticed by Joachim that I work on the intersection of genres in photography. I work very deliberately with non-fictional documentary material, but at the intersection of art.
We understand that the image is from a project called No Shame. Can you tell us a bit about it, and what led you to focus on this topic area?