INTERVIEW
Where the Camera Starts and Ends
WITH MARTIN GASCH
An interview with Martin Gasch
"You need to find out what kind of mood you need, where the camera starts and where it ends and most importantly, what information is better to hold out of the frame."
Martin Gasch won our Humans of the World competition with an arresting image that judge Rachel Segal Hamilton described as speaking "to themes of female social status, of crowd psychology, of seeing and of being seen". Keen to know more, we asked Martin about the image, his trip to Senegal where it was taken, and how photography complements his profession as a cinematographer and filmmaker…
Dear Martin. Firstly, congratulations on winning our Humans of the World competition. What did you make judge Rachel Segal Hamilton's comments?
Her perception reveals some deeper thoughts about group behavior and psychology of people. I also like that she notes the presence of the camera and the possibly important influence it has on the group.
Can you tell us a little bit about the image, the circumstances behind it, and the story you wanted to tell with it?
As well as my filming camera, I often have a small Fuji camera on me. This allows me to quickly take a photo when something attracts me. As a journalist, I attended a Senegalese "Laamb Fight" near the capital of Dakar for the first time. The women you look at are VIP guests sitting very close to the fighting area. First, they drew my attention because they just looked beautiful, with their various colors and jewelry and I started filming them. They all seemed a little "pompous" in their
behavior. Then I took the photo of the group. I realized that the young woman in the center was looking a bit sad in a way. Later I realized that the look of that young woman pulls me in and challenges me to search and interpret what is going on with that group in the frame. What is their role here and what makes them so absent and serious?
And perhaps you could share and tell us about one or two other images from that same body of work?
The Senegalese are very proud of their Wrestling Sport. In fact becoming a famous fighter is one of the few ways to get out of poverty. Many young man around the city and at the beach will practice and train with the dream of getting famous. In the image of the man in blue looking into the lens, you see a young next-generation fighter in training. In the image taken at night you see a Laamb-fighter preparing (DSCF3327). Thousands of young men are doing sports and training to compete with each other.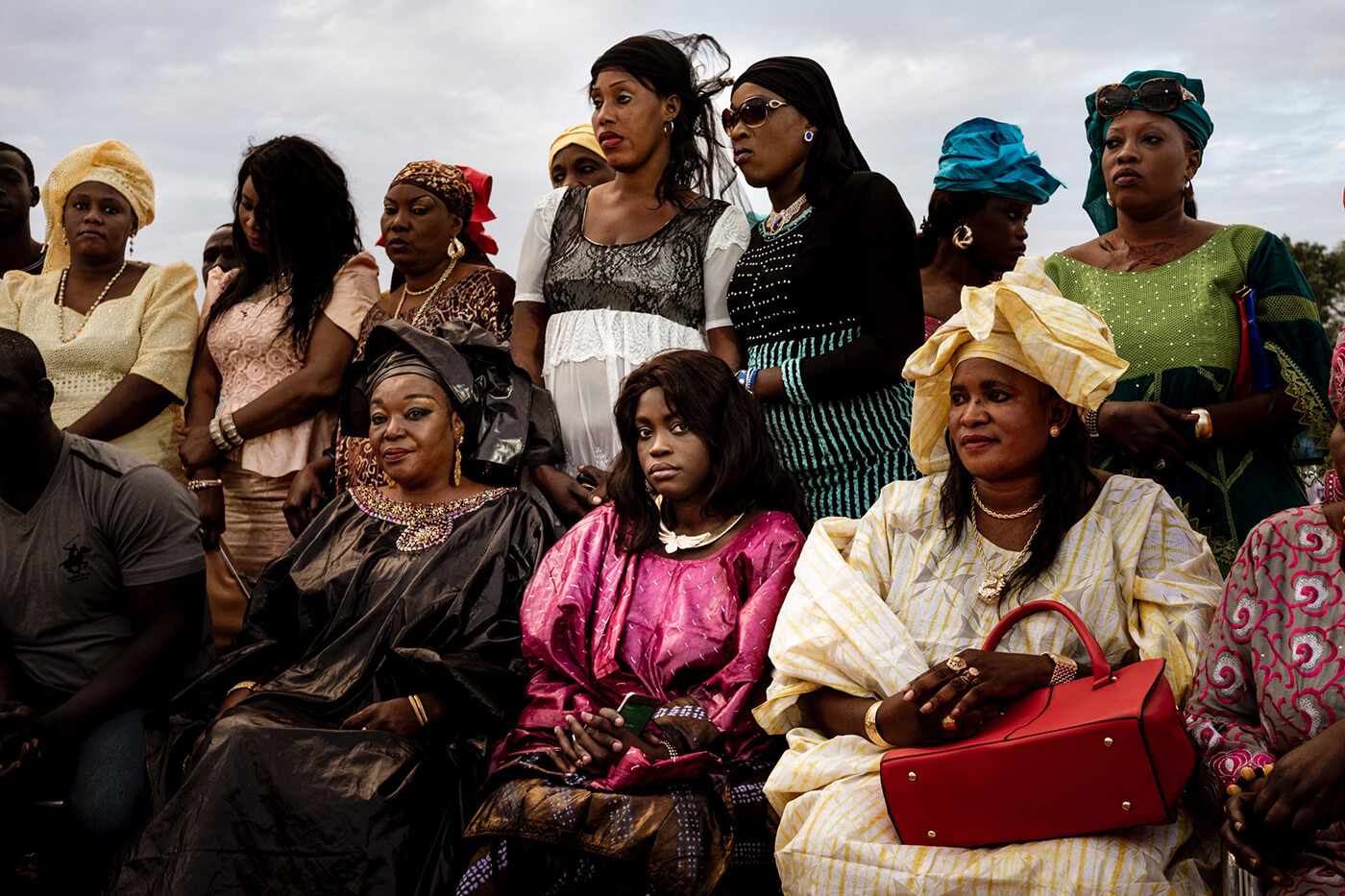 MARTIN'S WINNING IMAGE FOR HUMANS OF THE WORLD