INTERVIEW
Havana Taxi Company
WITH MARKKU LAHDESMAKI
An interview with Markku Lahdesmaki
"My love of photography inspires a constant stream of personal work that is largely inspired by the values I hold dear — joy of life, peace of mind and a sense of humor".
Cuba, and Havana in particular, is undoubtedly one of the world's most photogenic places. It's a must-visit place for cultural and visual aestheticists – particularly as the relaxation of US embargos threaten to modernize and homogenize a world that has been seemingly frozen in time since the 1950s, for good or bad.
Markku Lahdesmaki's images caught our attention for the way in which he captures the beautiful American muscle cars Cuba is known for, across stunning compositions that celebrate the country's people and architecture as much as its vehicles. Each has an elegant sheen to it, worthy of the polished cars themselves, and a sort of magic realism – each frame its own mini 'world' full of tiny details to absorb.
We put some questions to Markku to find out more…
Hi Markku, can you start by telling us a few words about yourself?
I was born in Finland. My interest in photography started when I was about 8 years old and when my uncle gave me my first camera. By 21 I had a studio in my then hometown Tampere, Finland and soon after me and my wife/creative partner Anne moved to London, UK. A career as a commercial photographer became the new reality and that would eventually, after 6 years back in Finland, lead us to Los Angeles. My photography ranges from pure painterly to complex technical composites. I enjoy working and traveling for both American and European clients and my love of photography also inspires a constant stream of personal work that is largely inspired by the values I hold dear — joy of life, peace of mind and a sense of humor. My personal projects and commissions from advertising agencies have been recognized internationally and placed in numerous awards competitions: Clio, Epica, Cannes Lions, AOP Awards, New York Festival, CA, APA and PX3. With a nod to my home country, The Grafia Platinum Award was given to me for my influence on Finnish Advertising.
It was your series Havana Taxi Company that caught our eye – and that of our World Travelers judge Steve McCurry too. Can you tell us a bit about the series?
My Taxi projects started few years ago when I was on an assignment in Mumbai, India and I had couple of days just to wonder around the city. The little taxis (Fiat Padminis) caught my eye. I ended up traveling the city's endless roads hopping from one taxi to another and capturing the Padmini taxis and their drivers against the city as a backdrop. It took me and Anne a few years to figure out where next. But then we learned about Havana's taxis, which are mostly American cars from the 1950s.
Tell us a bit more about that…
The second series happened summer 2016, when it became easier to travel to Cuba from US. We'd been wanting to go to Cuba for a long time. It's a place that has always been visually unique with its rich textures, its interesting people, the most beautiful architecture and of course, its uncommon fleet of taxis. With Cuba moving to a new era, that is going to change quickly, I knew we had to go now if we wanted capture it in its real form.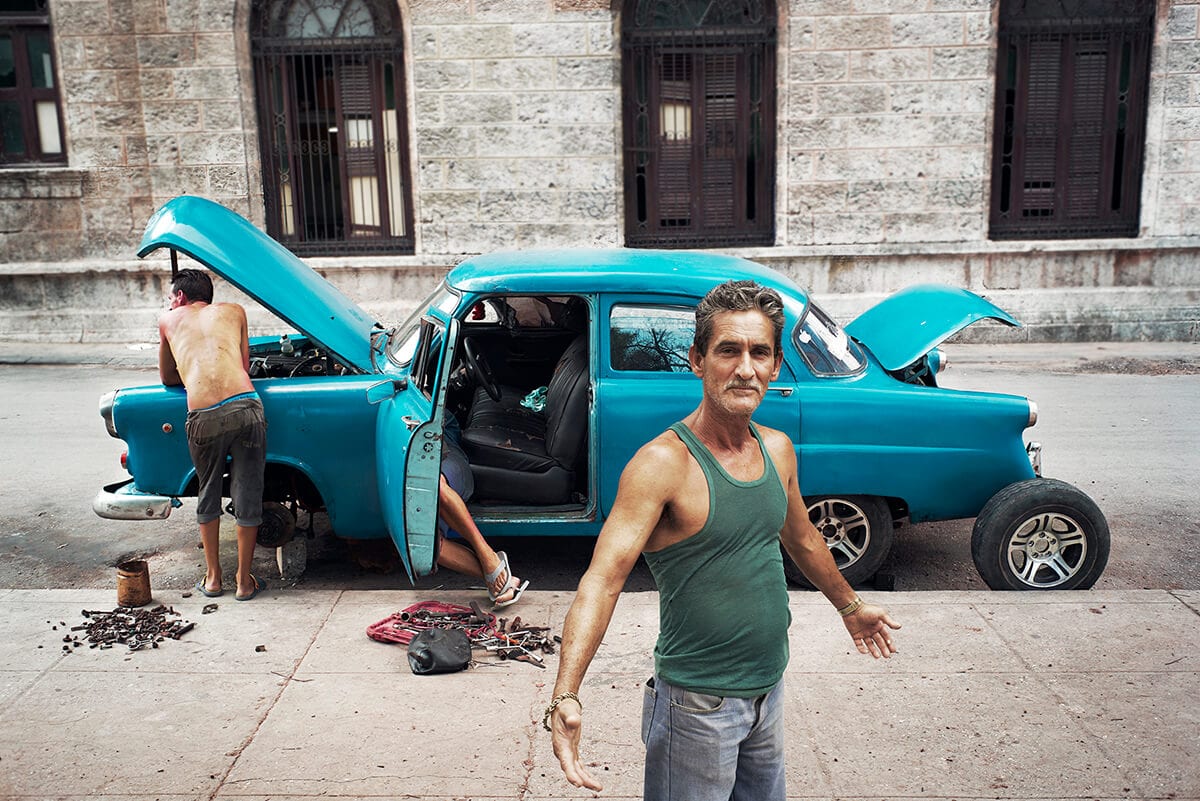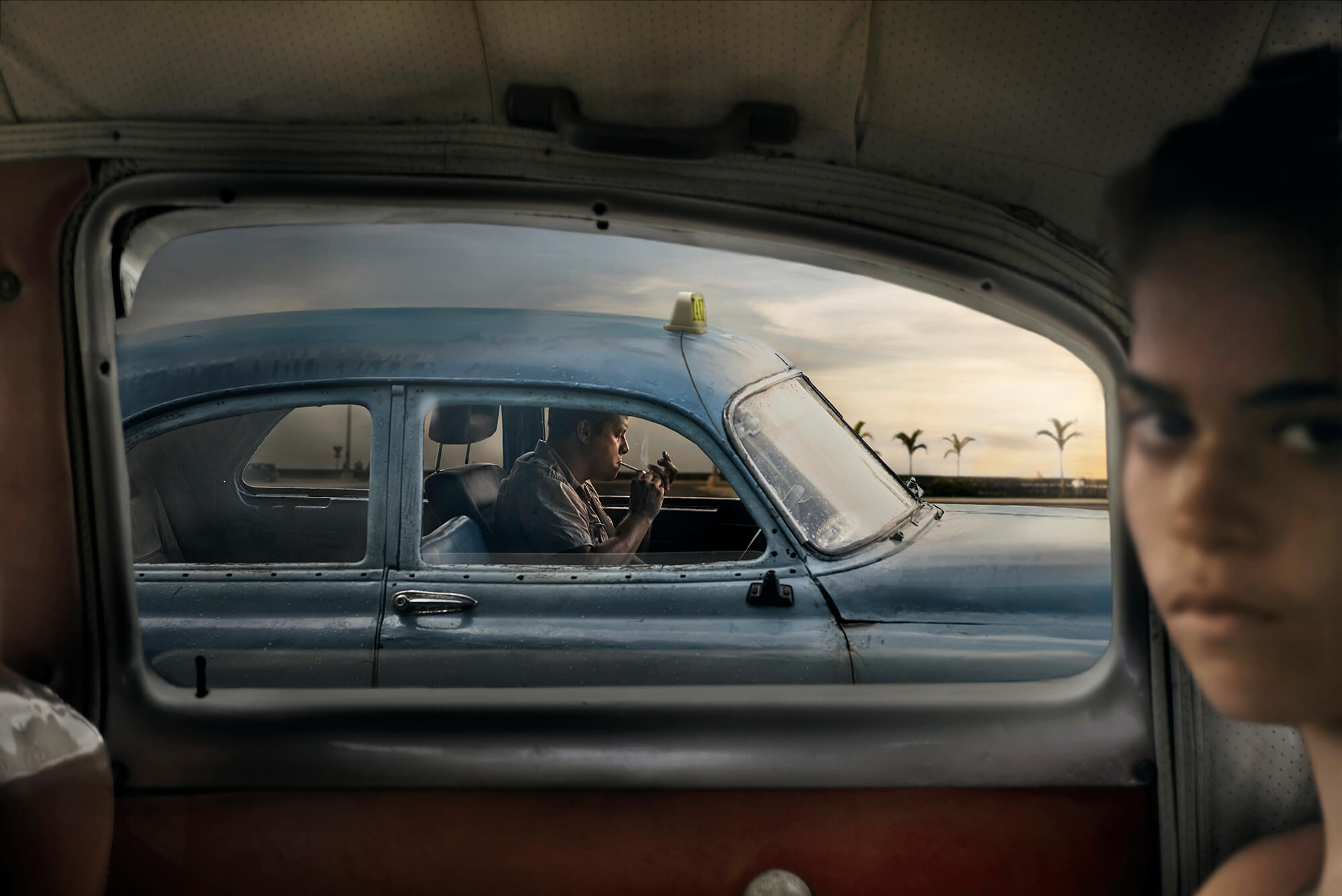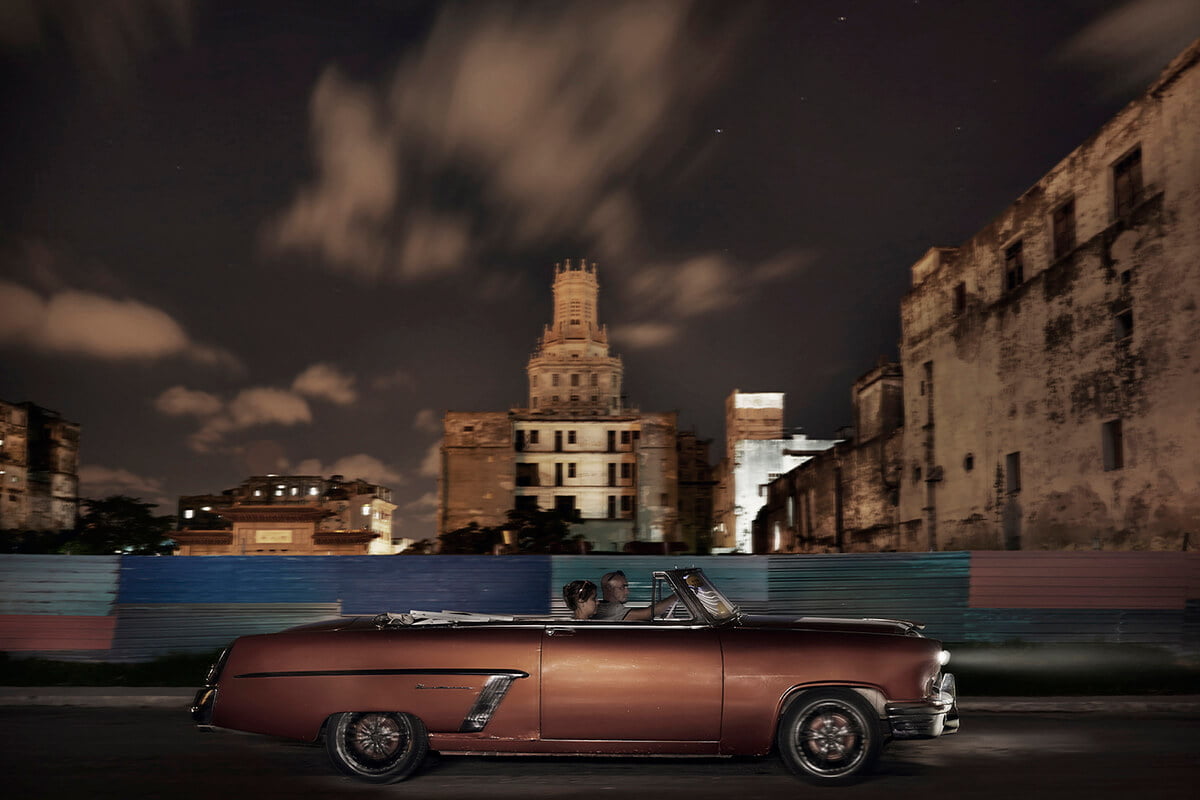 While so much of the Havanan architecture we see in these images is beautiful but dilapidated, a little faded perhaps, each of these taxis is lovingly cared for – polished chrome, spotless interiors… Why do you think that is? Does it tell us something about Cuba more broadly?
Our stay in Cuba was not enough to get to know the country properly. But I know that since the US embargo, no new cars were sent to Cuba and most of the countries producing cars are so far away, so Cubans did not have any other choices than to take good care of the ones they already had. The replacement parts have been hard to get too, so they had to be very creative finding parts for their cars.
They seem to exist somewhere between the candid and the staged… Can you tell us a little bit more about your process – how you would go about imagining and then realising each image?
We spent four days walking the streets from sunrise to sunset, connecting with locals (many of whom did not speak a word of English). The pace of Cuban life is a slow one, so people have time to stop and spend few moments with me. We were invited to some of their homes to meet the family or have a beer with them on the local corner bar. When I see a good detail, street, building etc. I imagine the visual in my head. If the moment is not right I will come back the next day and the next in order to get the image right and all the parts fitting together. I could be working on a couple of visuals/images at the same time.
Can you talk us through a couple of your favourite images?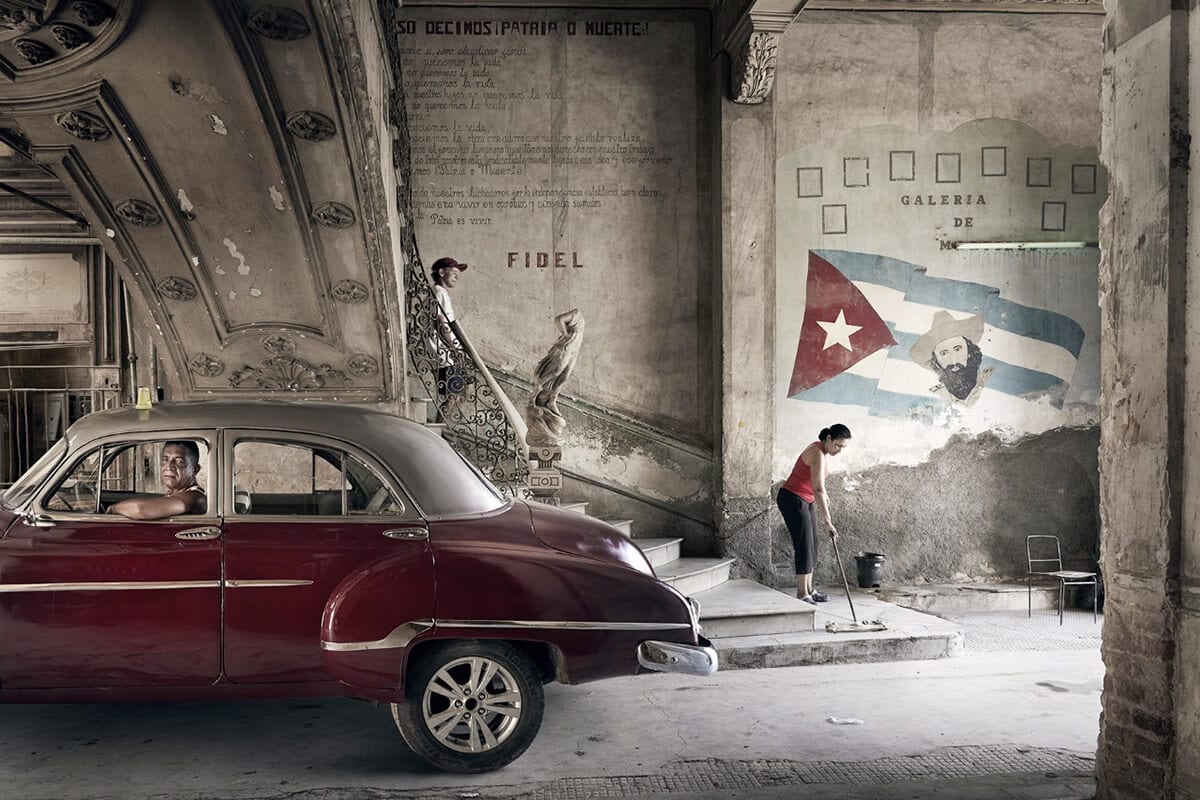 A friend of ours gave us a hint about this beautiful location. It is a corridor to an old courtyard and there is a restaurant on the second floor. And of course I wanted to have the classic Cuban taxi in the shot, so we started look around the streets and very quickly we spotted one that could be perfect for the image. The driver was a perfect looking character too, and he didn't mind being in the shot. We didn't have permission to shoot there so we needed to be quick. Suddenly a very beautiful Cuban lady showed up and started to clean the marble steps. A moment later a guy was doing a delivery for the second floor restaurant. This is what happens to me very often, I get really lucky and great moments for in front of me! Light from the doorway and courtyard gave us a beautiful three dimensional shape to the scene.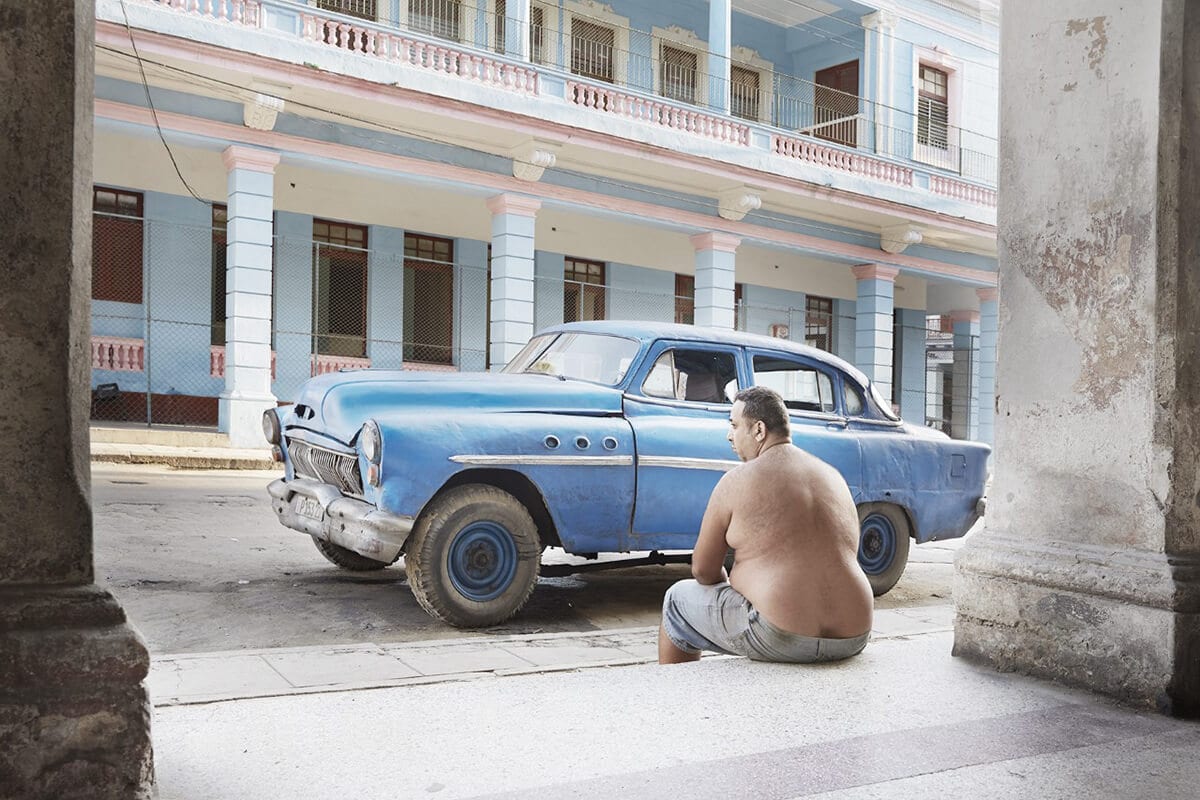 This happened on one of our morning walks. I noticed this Havana fellow sitting on the pavement in front of an old building. We were walking on the other side of the street. I started wondering how it would look from behind him. I took a loop to the other side of the street and very quietly started walking towards him. I know if he would notice me the situation would be over. Focus, F-stop and check the best angle. I was able to shoot a couple of frames before he noticed me. I showed him what I'd shot and realized at the same time how well the colors were matching.
Like sitting in the back of one of these taxis, you take us on a journey around Havana – through the city streets we might recognise from other photography projects, but also out into the countryside and down to the sea – was that purely an aesthetic choice, or was this idea of a 'photographic journey' consciously in your mind too?
We knew that Cuba has been photographed a lot but not from this perspective. I wanted to shoot as many images as possible. And I guess since you have only 4 days you have to just concentrate on shooting. It was a conscious decision to make as broad view of Havana taxis and the drivers as possible. I wanted to match the Mumbai series. The Mumbai Taxi Company series has about 90 images.
And so back to Mumbai, how did Cuba compare? What were the similarities and differences with respect to the subject matter?
Mumbai is giant, chaotic city where I needed to have a person who can speak to people, know where to go and how to get there. Havanna was more mellow, we were walking around the city by ourselves and finding most of the situations that way. In both places taxi drivers take care of their vehicles and are very proud of them.
And are there any other cities in which this 'taxi' journey might continue? London or Tokyo perhaps?
Our plan is to continue to some other city. There are many possibilities. Taking pictures of taxis and driving around with them gives a great view of the real city and gives a new perspective. Maybe Mexico City or London or Tokyo. That plan just needs to wait for a year or so.
And finally Markku, balancing a lot of commercial work with personal projects, what can we expect from you next?
I think I am working more and more on personal projects. Living in Coachella Valley, California there are so many interesting happenings to choose from. Me and my creative partner/wife Anne just found polo, which has the season here from January to March. I will be taking picture until the last Sunday and publish the series soon.