INTERVIEW
Comfort in Solace
WITH LAUREN TEPFER
An interview with Lauren Tepfer
"When I was growing up, the majority of the media I was consuming felt super tailored to someone I was not. I try to make the things that would make 13 year old me feel safe and seen."
Lauren Tepfer is a 21 year old photographer currently studying for a BFA at the Parsons School of Design in New York City. Having grown up in a town of less than 7,000 people in southern New Jersey, she's particularly adept at capturing the essence of a teenager living in suburbia, a quiet magic in the ennui. As she puts it: "I connect most to genuine and intimate settings and I feel that small towns are where most of that energy blossoms from. Aside from giving me good feelings, I hope that my suburban narratives can provide comfort for those growing up feeling lonely or unaccounted for."
Her new self-titled book is the sixth and final publication in a collaboration between Setanta Publishing and Open Doors Gallery which aims to champion the work of emerging art photographers. To celebrate its release (which you can find here) we put some questions to Lauren, asking her about her approach, the book-making process, photography school for self-taught photographers, and what she hopes the future holds…
Hi Lauren. Thanks for agreeing to answer some questions with us. First up, could you tell us a little bit about this collection of images you've brought together for this publication?
Hi! Thank you so much for having me, I'm really excited. The collection of images featured in this publication are a part of a curated archive and a culmination of my works from about 2016–now. The images span over the length of quite some time, a lot of that time being my coming of age. It feels good and makes me happy to look back at all of these images, especially ones taken when I was in high school.
How did the collaboration with Setanta Books and Open Doors Gallery come about?
I've wanted to put my work together in a book format for a long time and when Setanta Books and Open Doors reached out to me, I was so excited to have the opportunity to make it happen! We worked together, me in New Jersey, them in London, over Zoom to curate these works and create the book. It was really exciting and a fun process!
You talk about creating your own magic in a small town where nothing happens, and that's apparent in your work – otherwise mundane scenes are transformed with neon lights, silhouettes and moonlit skies into images that exude mystery and drama. What are you hoping to communicate with your work?
A lot of my work is born out of necessity. I try to make the things that would make 13 year old me feel safe and seen. When I was growing up, the majority of the media I was consuming felt super tailored to someone I was not. I looked at a lot of images of teenagers in big cities, surrounded by an abundance of opportunities. It felt so opposite from where I was. I began to shoot what I was going through, where I was, and what was important to me. I hope my work communicates feelings of abundance, longing, and comfort in solace.
And from a practical perspective, how do you find your shots, and what's your process once in location and thereafter?
I am drawn most to color and light, and of course small town settings. Since moving home to New Jersey because of COVID, I often will walk around my neighborhood and location scout, writing down the cross streets of what catches my eye.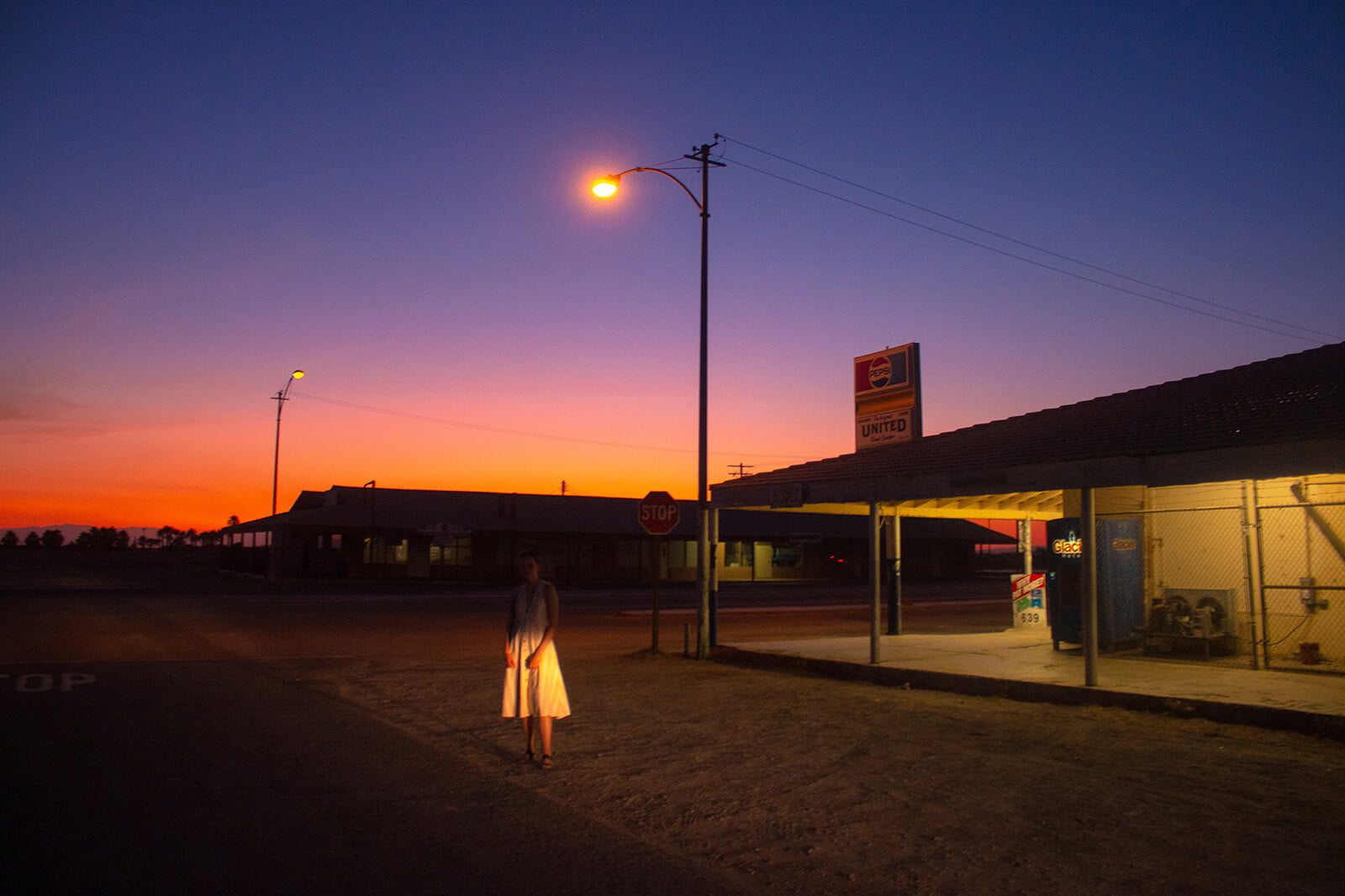 DESERT GLARE