INTERVIEW
Photography in an increasingly fragmented world
WITH KATHERINE OKTOBER MATTHEWS (GUP MAGAZINE)
An interview with Katherine Oktober Matthews of GUP Magazine
The multi-talented Katherine Oktober Matthews – photographer, writer and Chief Editor for GUP Magazine – was judge for our 2016 'Open Call'. As a passionate thinker, and an advocate and champion for the photographic arts, we were compelled to sit down with her and discuss her work, her philosophy, and what it means to be a photographer today.
As juror for our 'Open Call', it might be a challenging one to judge – with no theme there are few constraints for submitting photographers. What are you looking for in a winning image? Can you talk us through your review process?
It's exciting to explore something so boundless as an Open Call. By the very nature of that, I'll be looking for the unexpected. When photographers are faced with freedom, it says something quite fundamental about their artistic production how they answer that call, whether it moves towards something they perceive as 'safe' or if they're willing to take a risk. This is a forum for art, so we aren't talking about some picture to decorate an Ikea showroom – 'safe' just isn't going to cut it.
So, I'm looking for something that makes me think and feel at the same time. Something that's daring (even if it's in a quiet way). A well-executed idea that's unique and shows a photographer's personal signature and a whole lot of heart.
You're Chief Editor for GUP Magazine. Can you tell us a little bit more about GUP and your role?
GUP is the Guide to Unique Photography, an international quarterly print publication and online platform that showcases the best that the contemporary world of art photography is producing. As Chief Editor, I'm constantly scouting for photographic projects, thinking about photography as a medium, and trying to promote or contextualize the work I see. We're known as something of a "photographers' photography publication", so I take as a starting point that our readers are informed – they're following the buzz. So, staying at the forefront of that is a challenge, and requires insatiable curiosity not just about photography but about the world that photography fits into. I mean, it's important to never lose sight of the fact that photography is just one medium in an increasingly fragmented world that really doesn't care at all about boundaries. It's entropy, you just can't get attached to labels or definitions.
Like the word "unique". People often ask me what "unique" means, in the context of producing a Guide to Unique Photography. What's interesting for me is that you can only talk about this quality as a dynamic construct, because what's unique today is already a convention tomorrow. I like to compare it to the pursuit of happiness – you never reach happiness, except for the experience of a fleeting moment, but you move in pursuit of it. It's a movement or a direction, rather than something that fits cleanly into a box marked "unique". Some things feel more in the right direction than others.
Unique is also tricky to talk about in general because it involves activation of an individual's pattern recognition. If we think we've seen it before, it's not original, so each of us can have a different reaction. Depending on what a person has been exposed to, it could be that an image does or does not seem unique to them – so, that's a mental calculation that we make based on our pre-existing data set (experience) plus our own mental algorithms that seek connections to help us understand the new input (pattern matching). I'm essentially trying to make sure that my data set is constantly expanding, and my pattern matching is a highly alert, evolving organism. It gets harder and harder with experience to find something unknown – but this is what makes the feeling so absolutely ecstatic when I come across truly original art.
Where did your love of photography begin?
I have such a distaste for describing my relationship with photography using the words "love" or "passion". I'd much rather say "it's complicated". Because, look, in a way, I'm constantly trying to rip photography apart to see what it even is. I'm constantly asking what it's about, and what it means, if anything. Maybe, in the end, that is "love", but that seems too dysfunctional in my mind.
Photography activates me, I can say that. It's a black box to mystify myself with, in a challenge that's both emotional and intellectual, and ultimately unsolvable. It started with the idea that it's so, so easy to take a photograph, and you can do it in literally a fraction of a second, and yet it's so damned difficult to take a good photograph. The easiness of photography is exactly what makes it so difficult, especially now that the technology has gotten so advanced, and that's further compounded by the fact that so many others are occupying themselves with the same riddle.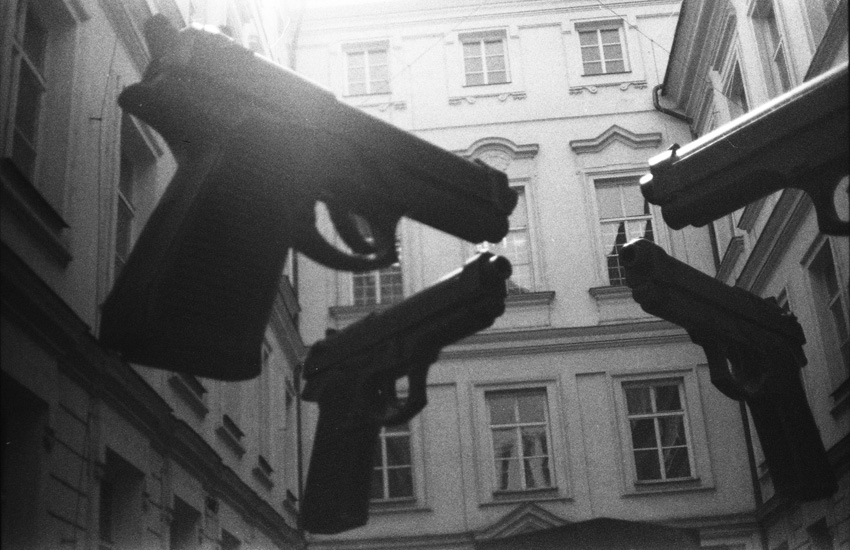 Image by Katherine Oktober Matthews
Outside of the day job, you're a hugely talented photographer, videographer and writer. And yet you started with a degree in psychology and work in IT. How did this career trajectory happen? And do you think your background influences your work and art now?
It happened just by chasing my curiosity, which tends to be both vast and deep. I started building websites when I was a teenager, because the internet was this crazy universe of unknowable potentiality where you could construct these digital objects that packaged raw information together with the means of presenting and sharing it – I still think it's an incredible mode of communication. But I was also interested in the human mind and consciousness, so even though I started off studying Computer Science, I graduated in Psychology. And, all the while, I'm also writing and photographing and watching movies and travelling and reading and fascinated in other things, too. Some of those fascinations grew bigger until they demanded more space in my life. If I look back to try to give that trajectory a shape, it seems to be that I've been working towards the mastery of different media for conveying thoughts or emotion.
And, for sure, all of those things are a part of my life and my art. Even the "Oktober" in my nom de plume – it's not actually part of my name, it's a handle of mine from the '90s when I'd dial-in to networks with a modem. So, all of these things talk to each other. Regardless of the output I'm producing, whether code or a photograph, or even a conversation or a kiss, it's all about creating connection. In the end, I think we're all looking for ways to mainline existence, to achieve a more direct way of tapping into ourselves, other people and our environments. That desire is replete with risks, but let's not kid ourselves, life is a bloodsport.