INTERVIEW
Art and Activism
WITH KAROLIINA KASE
An interview with Karoliina Kase
"Producing fine art projects became meaningless to me in a time when we are collectively destroying our planet. Dedicating my photography to a cause gave me a purpose."
Karoliina Kase is an Estonian-born photographer whose photographic studies have taken her to Costa Rica and the United States. With a background in fine art she now focuses on documentary storytelling, interested in civilization at large and in particular humanity's relationship with fellow species and the natural environment.
Karoliina won our Animal Kingdom competition, judged by Tim Flach, with a stunning yet troubling image of a dead spotted harrier caught in a barbed wire fence. keen to know more about that image, the project it's from, her transition from fine art to documentary work and her photographic approach, we put some questions to her…
*** Please be warned that this article contains images of animal death and cruelty that viewers may find disturbing. ***
Hi Karoliina. Firstly, congratulations on winning our Animal Kingdom competition. What did you make of the judge Tim Flach's comments?
Thank you! Tim said, "While the bird may already be dead there is a feeling of torture or inability to escape the clutch of human intrusion," which sums up my initial reaction when I first saw the spotted harrier caught up in the fence. I imagined how the animal must have struggled to break free and how awful its last moments were in a man-made trap.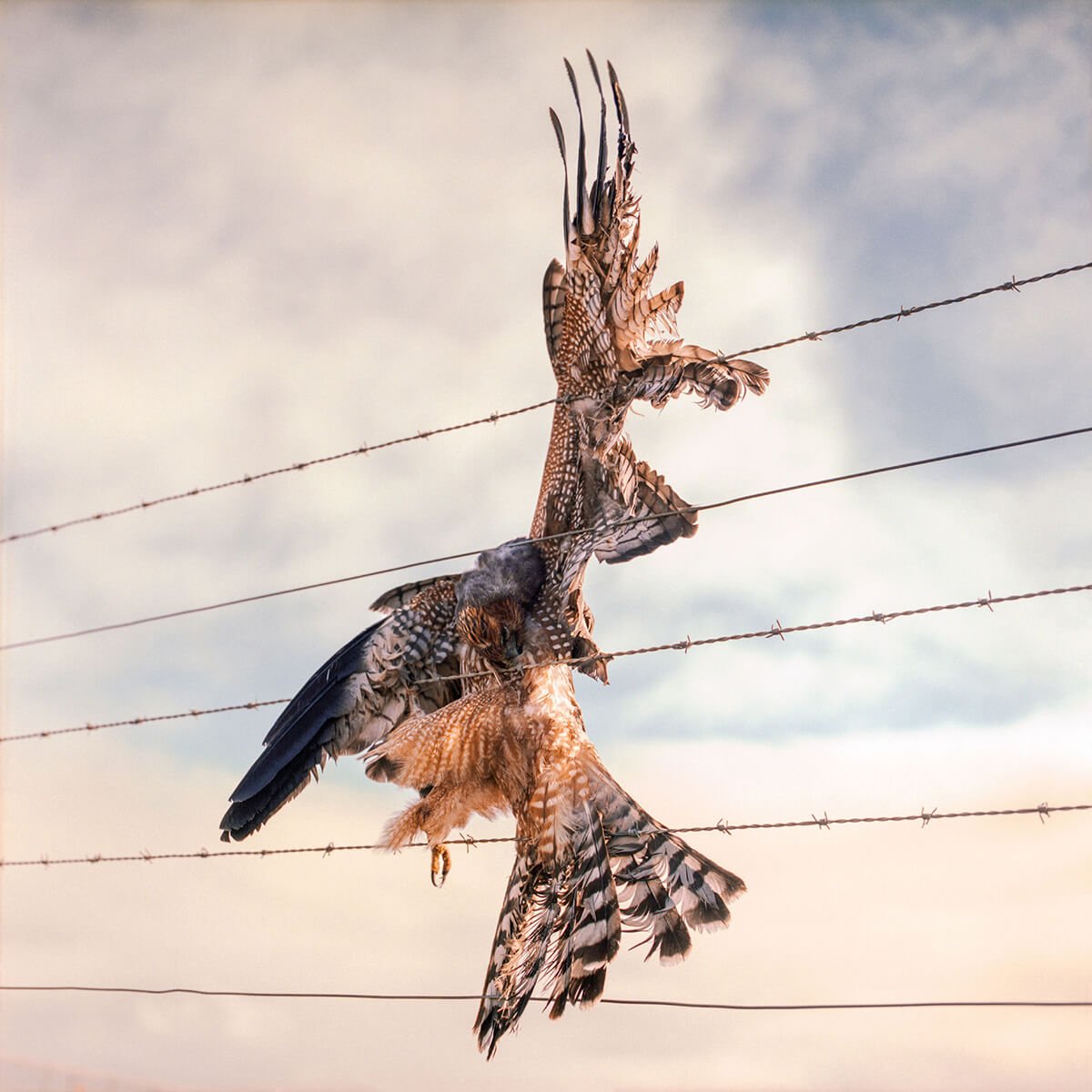 ANIMAL KINGDOM COMPETITION: KAROLIINA'S WINNING IMAGE
I understand it's from your series "To all the Bobbies out there". Tell us a bit about that – the story you're telling and how it came about…
The series was a response and a coping mechanism to an awful period in my life. I moved to Australia on a Working Holiday visa in 2019, and in order to extend my stay in the country I had to complete 88 days of specified regional work. I got my first full-time job on a dairy farm. At the time, I had already given up eating meat due to animal welfare concerns, but I didn't know the dairy industry is similarly harmful or fatal to the animals. I considered myself an animal lover.
During my first milking shift, part of my world view collapsed. The cows were afraid of people. The animals were just numbers in a computer system and treated as such. Sick cows weren't properly looked after, they were merely kept alive. We made the animals do what we wanted, so we could mechanically extract all of their milk, which was meant for the calves who are taken away. To me it seemed wrong and violating.
I wanted to leave this place, but after putting up with the job a few more days, I decided to stay and document what happens on an average dairy farm. I wanted to share the tragic lives of these animals, but also draw attention to environmental degradation and worker exploitation within the industry. At the same time, the series gave a purpose to my own suffering on the job. It was depressing to witness the suffering and countless animal deaths on the farm, while I was unable to do much.
And what about this winning image in particular? While captured beautifully, it's quite a troubling image…
I first noticed the dead bird when I was driving to my morning shift. I knew I had to take a photo of this scene, and since sick or dead animals were not a priority on the farm, the spotted harrier was still in the fence after I had finished work.
A beautiful bird of prey perished in a low barb wire fence is indeed a sad sight. But it was important to capture this image to show how not only farmed animals suffer in the industry. Our consumption of animal products comes at the expense of wildlife. We destroy habitats, block migration, and poison water. The image captures an unintended and unnecessary death. And if we feel sad for the suffering and loss of this wild animal, we should also do so for the billions of farmed animals.
Working on the series was a formative experience for you, and you mention that it has led you to engage in environmental and animal rights activism. Tell us a bit more about that…
I was engaged in environmental activism even before I moved to Australia. In Estonia, my main focus was protecting our disappearing forests. One of our most notable successes was mobilising our community to block the construction of a billion-euro pulp mill in my home town.
Since the production of To All the Bobbies Out There, I have been asked to work on a few projects and give presentations within the animals rights movement. I'm looking forward to joining local environmental and animal rights groups once I'm able to settle down in one place again. My long-term goal is to open a farm animal sanctuary back in Estonia.
The shift towards activism also took place in my art practice as I moved away from fine art to documentary photography. I was in an artistic slump after college, as producing fine art projects became meaningless to me in a time when we are collectively destroying our planet. Dedicating my photography to a cause gave me a purpose.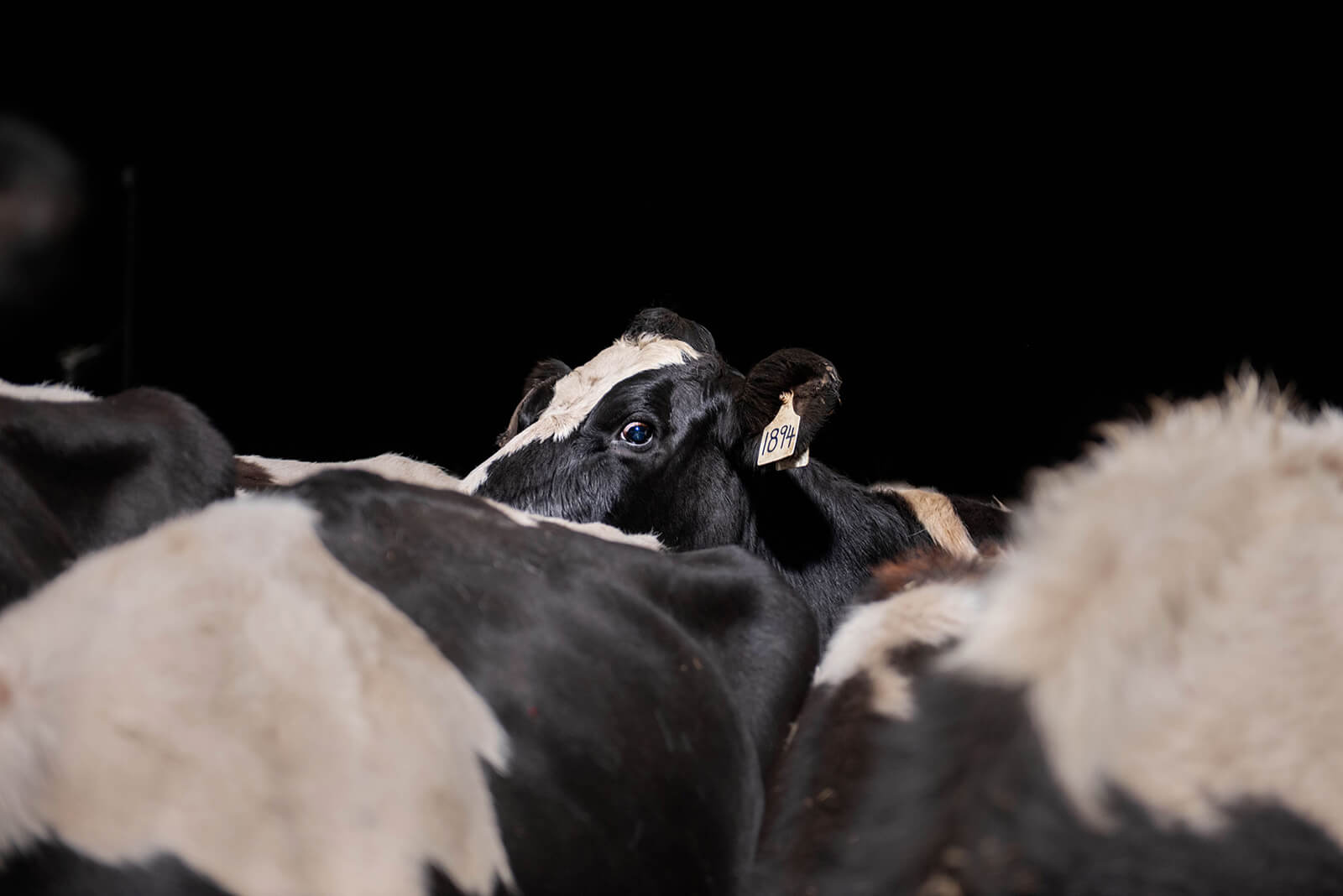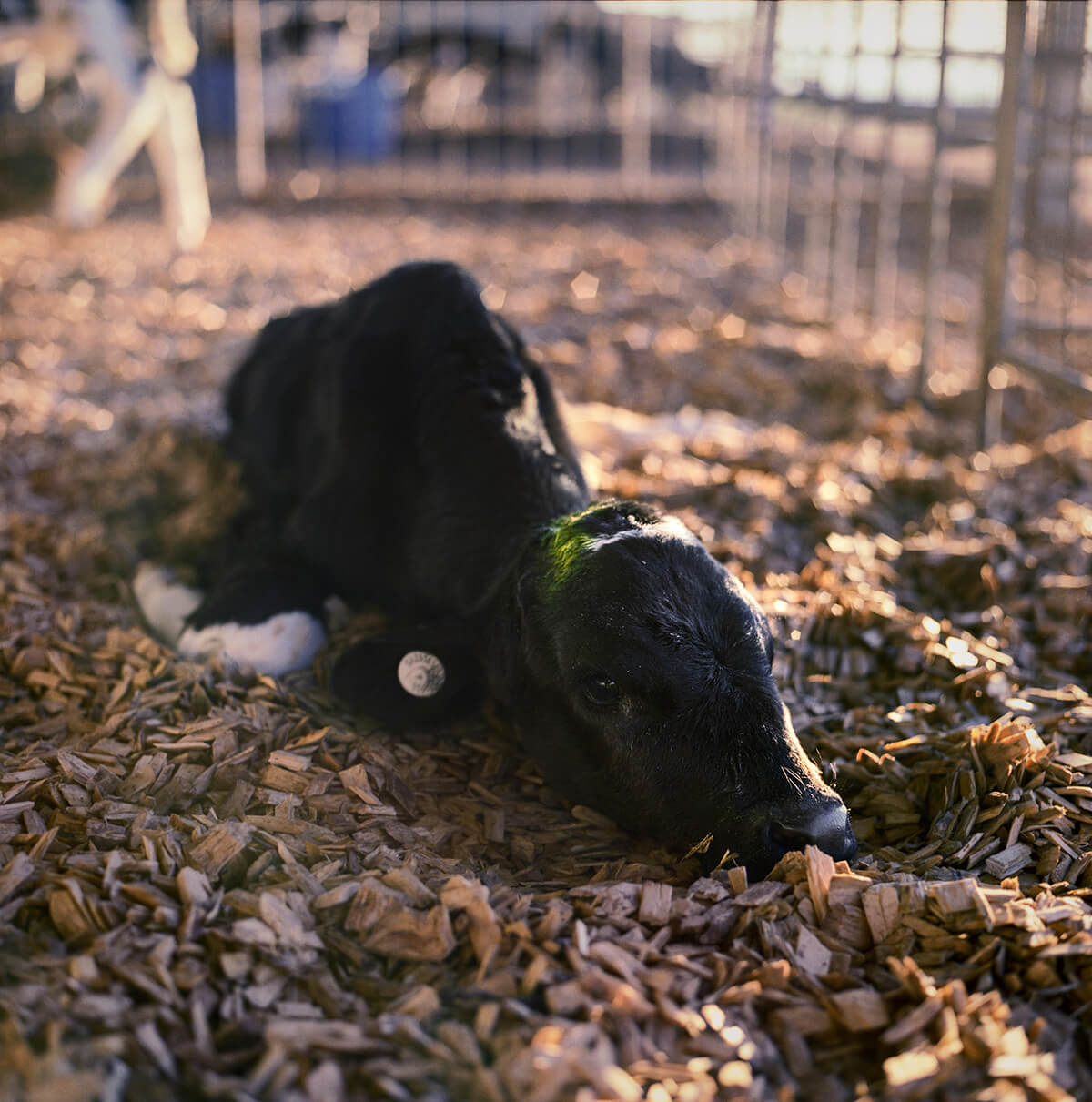 BOBBY CALF