PORTFOLIO REVIEW
Greetings from Mars
JULIEN MAUVE
A critique of Julien Mauve's series Greeting from Mars
Every year we run a Series Award through which we celebrate series of work from emerging photographers. The winner receives a solo exhibition and this year we're collaborating with Galerie Intervalle in Paris – a global hub for photographic practice, hosting exhibitions, talks and events, as well as representing 10 of the most exciting emerging artists in the photographic sphere. The Series Award is open to all Life Framer Members.
In the lead up to the deadline for this year's award (31 August 2019) we're sharing a number of articles that explore the work of Galerie Intervalle's represented artists…
All Life Framer members receive complimentary feedback on a series they submit to us. It's meant as a general critique on the impact of the presented work, touching on aspects that can be readily evaluated in an online space such as overall impressions, originality, the quality of your artist statement, technical aptitude and image sequencing.
As a sample, here Rachel Segal Hamilton reviews the work of Julien Mauve and his series Greetings from Mars. Selected images are shown.
In 1492, Christopher Columbus discovered America. Less than 500 years later, it has become a common touristic destination for wealthy people from every part of the world. What remains of the Wild West has now been transformed into National Park where people can quietly enjoy breathtaking landscapes.
Unknown worlds are now located far from Earth and our most famous explorer is a robot. "Curiosity" is the Christopher Columbus of our century, crawling the surface of Mars, searching for clues and information about its past. As with the Wild West, we could imagine a point where Mars would become a touristic destination for people to visit and experience. NASA and SpaceX are already working on it and if no catastrophic event happen, in less than 50 years, humans will walk on Mars.
I have always wondered what it would be like to discover a totally different world, lifeless, full of wild landscapes and to photograph it for the first time as if I was Ansel Adams. So I came up with this project, which is about space exploration and discovery. But it's also about our behavior in front of landscapes and how we create pictures that will share our personal story with the world. In every spots I stopped, carefully chosen for their similarities with the red planet, I imitated stereotypical tourist poses. It's interesting to observe the way we act in front of the camera, how we include ourselves in the landscapes, how those landscapes trigger the desire to affirm our presence. And how the way we take pictures exposes the vanity involved in our endless pursuit of self-definition.
Some years ago, taking pictures of landscapes was enough. And we were not able to share them before we came back home. Today we have added ourselves on the pictures. Our faces are everywhere. We share everything instantly; we feel the need to do it. The connection is permanent and the experience becomes different. With Internet available everywhere, there is no "being-far-away" anymore. So we might ask ourselves, do we travel to discover new places, change of scene, new cultures, or do we travel to look for pictures of ourselves and to prove that we exist?
– Julien Mauve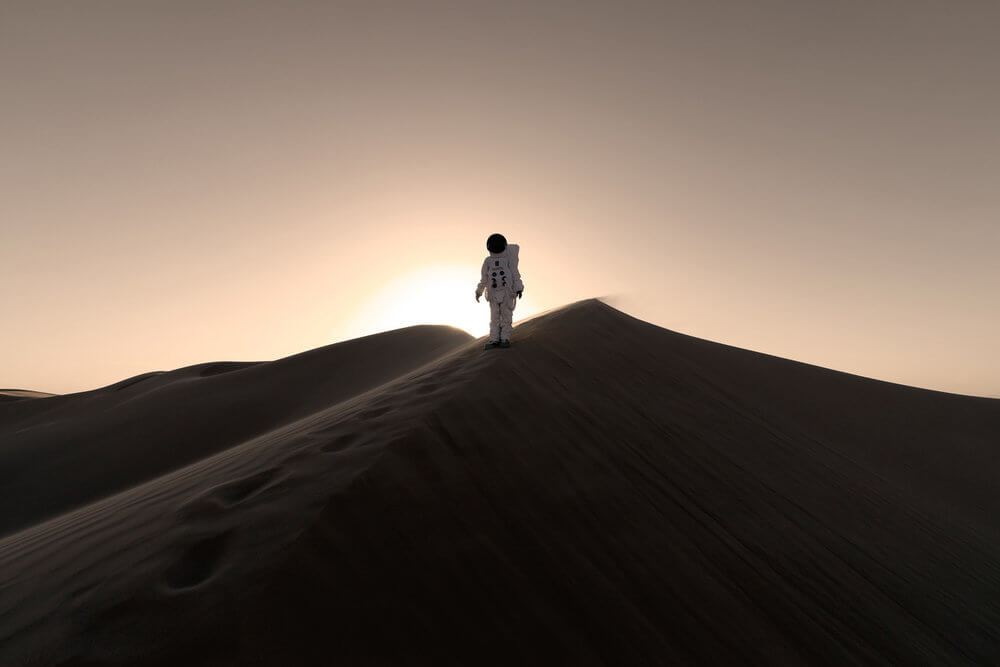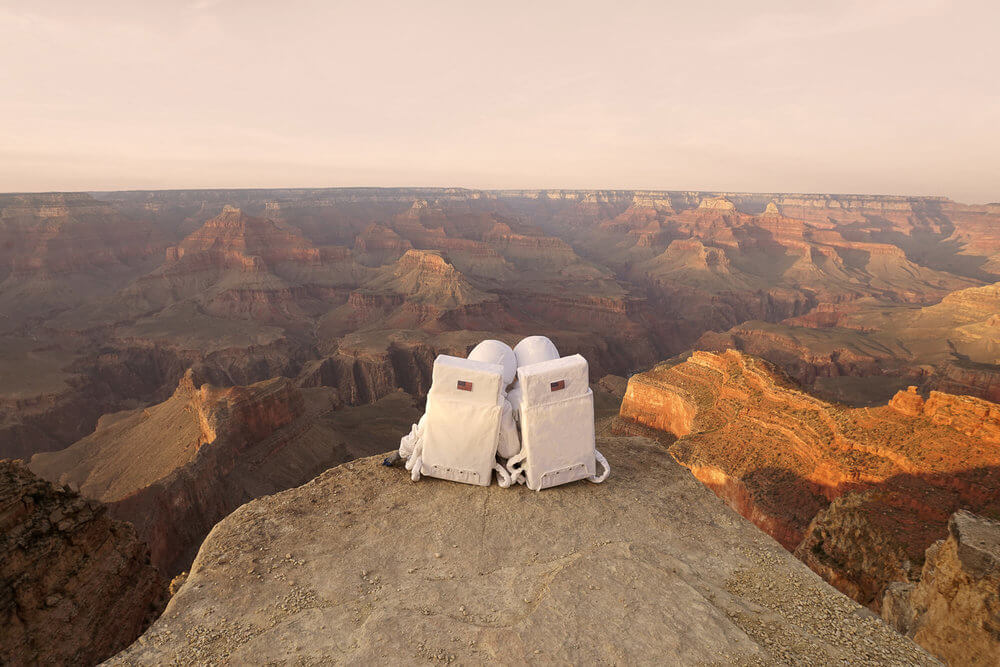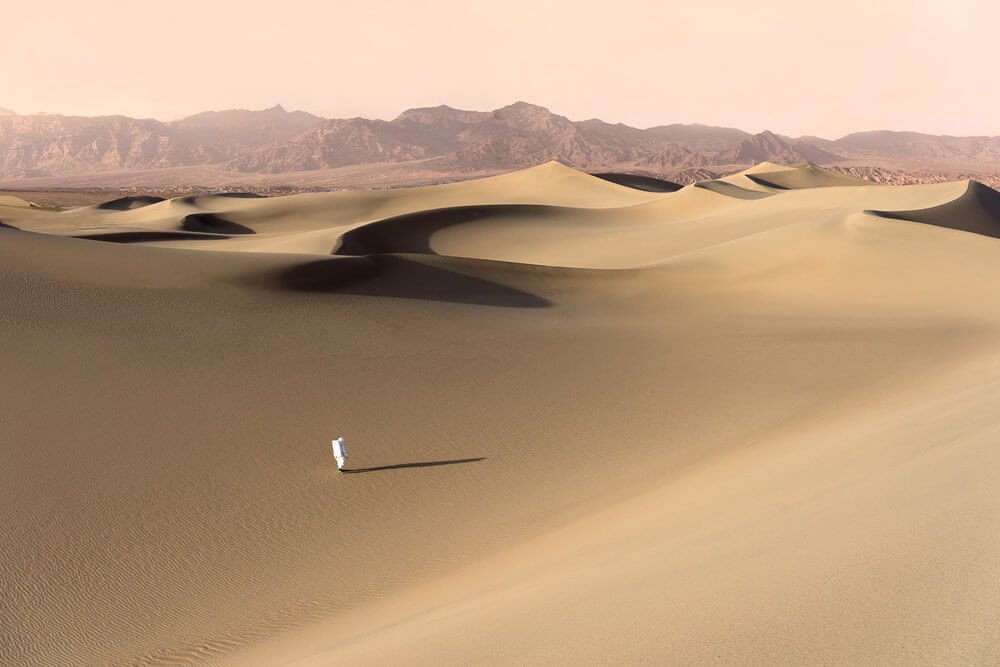 Overall I think this is a really strong series – a collection of cohesive, aesthetically enticing and technically impressive shots which have been brought together in a convincing narrative, exploring interesting, ultimately quite serious ideas in a witty, engaging way. It's the type of work that continues to linger in your mind long after you've seen it. I love the playfulness of the approach, knowingly referencing visual culture tropes – the leaping tourist, the instagramtastic couple brandishing selfie sticks, Neil Armstrong's famous footprints on the moon – confidently placing them in a visual framework that feels very much your own style.
While your images should speak for themselves, an artist statement is something that many photographers overlook, or hastily pen before sending their finished work out for review. I'd encourage all photographers to put the same care into crafting a statement as their photographic work. The statement is well written, and weaves together some really compelling ideas about exploration, tourism, self-perception… It might be good to revisit the first two paragraphs which talk about Columbus – I would be a bit wary of saying that Columbus "discovered" America – after all it was already there, and home to its indigenous populations, before he arrived. It was only a discovery for the Europeans. The word could at least be put into quotation marks to acknowledge this?
I think it could help to revisit the statement with someone who is a native English speaker, ideally a professional writer or editor, as there are a couple of typos. "Touristic destination" I think should be "tourist destination" and "in every spots I stopped" should be "spot". The two main ideas seem to be the idea of tourist imagery and the idea of Mars tourism – maybe these could be brought together earlier on in your statement. Instead of starting with the exploration, it might be punchier to start with something about how we behave as tourists and then link this to Mars? Or to incorporate some kind of fictional text with it? A postcard (or social media post) sent from Mars? Just a thought… I'm also interested to know where you shot it. Is it Utah? But maybe this is information that could be saved for an interview rather than putting it here…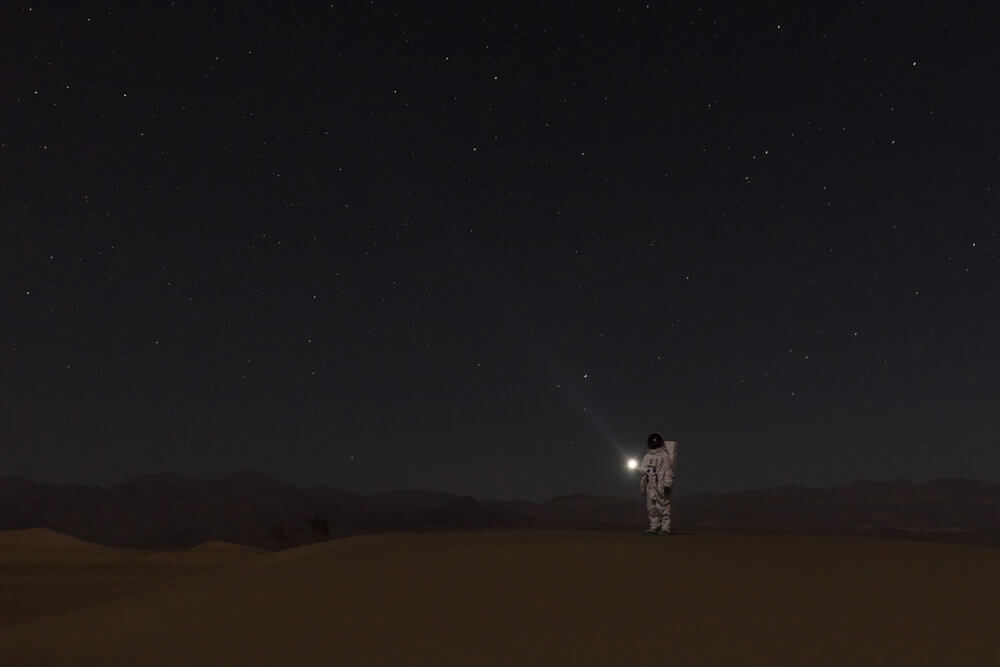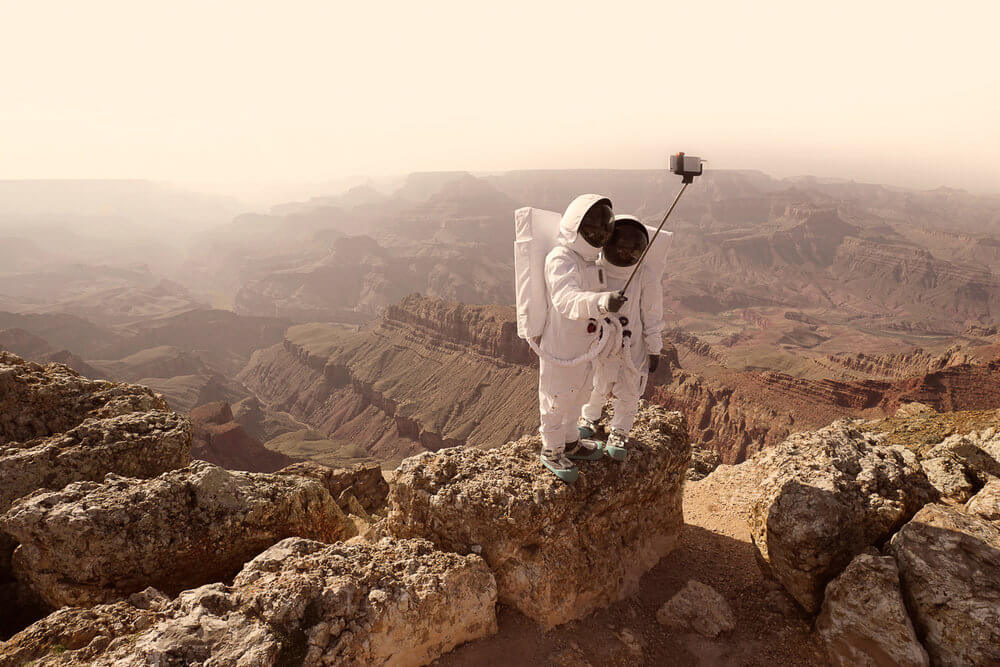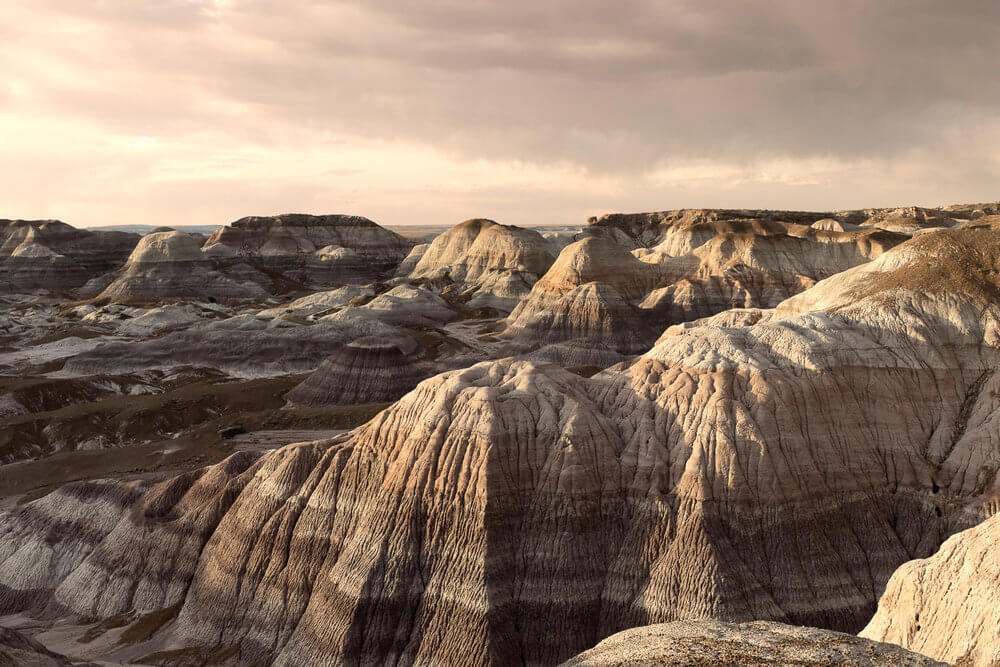 Moving on to subject matter and viewpoint. The first other series it made me think of was Christina De Middel's Afronauts, which may be familiar, not just because of the space theme but also the desaturated colours and the blending of fictional and documentary elements. There's another recent project that has a similar theme by Cassandra Klos about a Mars simulation site in Hawaii that might be interesting to take a look at. This series may have been made a few years back but it still feels very timely. There's a lot of discussion about space travel at the moment. Not just in photography but also in literature, like this novel for example. Perhaps this is because of the recent anniversary of the Apollo Moon Landings on 20 July, either way it's a hot topic, and one that's only going to get more so as space tourism and colonisation become a reality so there's certainly potential to continue building on this work or present it in different formats if that's something you are interested in…
Technique is of course fundamental, and a cover-all term for a range of elements – composition, framing and focal point, use of lines, perspective, layers and negative space, exposure, sharpness, depth of field and so on and so on. There are no hard and fast rules for what's right or wrong, but that doesn't negate the need for a general level of proficiency. The best photographers know which rules they're breaking.
The technique on display here is sophisticated. Although the composition and poses often deliberately mimic the cliches of tourist snapshots, they're embedded in some stunning landscapes, that show a refined use of light and shadow and a range of tones. I'm particularly drawn to the images which seem to combine a distinctive wry humour, with breathtaking backdrops. There's a real command of the camera, but also a personal style that shines through. I feel like a particular photographer took these shots, rather than any old photographer. Post-processing can be divisive, but I think it's elegant and essential here, giving the shots that red-pinky hue needed to appear like Mars, along with a sleek, stylised, alien feel that fits the topic (much sleeker than the astronauts Instagram-style selfies would be).
And finally on to image sequencing and editing, which although I'm discussing last, is something often overlooked but fundamental to the ways in which work will be interpreted by the viewer. By carefully considering the order in which your images are viewed you guide the viewer on a narrative journey – perhaps a chronological one, or one that ebbs and flows, or one that's jarring. It's a subtle, but powerful tool for influencing how a viewer interacts with your work. I think the series has a nice flow. The series starts and ends on powerful shots, and in between these move from one image to the next with consideration for the visual relationship between them. If a tighter edit was required, you could be ruthless in ditching any images that seem even slightly repetitive. I also felt that there could be even greater variety. The two figures aren't ever shown close up. Why not? Are there other interesting tourist poses that are missing – for example one figure in the frame taking a shot of the other one? Group shots? Or one of those selfies of a pair of legs?
Thanks so much for sharing your work with me. It's been so rewarding to spend time focusing on these images. What's the next destination for the work? Is it something that might be returned to in future? It would be useful to know as a reviewer. In terms of next steps, maybe it would be worth thinking about how the series could be developed further or repackaged as we learn about new advances in space tourism… Either way, I wish you the best of luck with it all!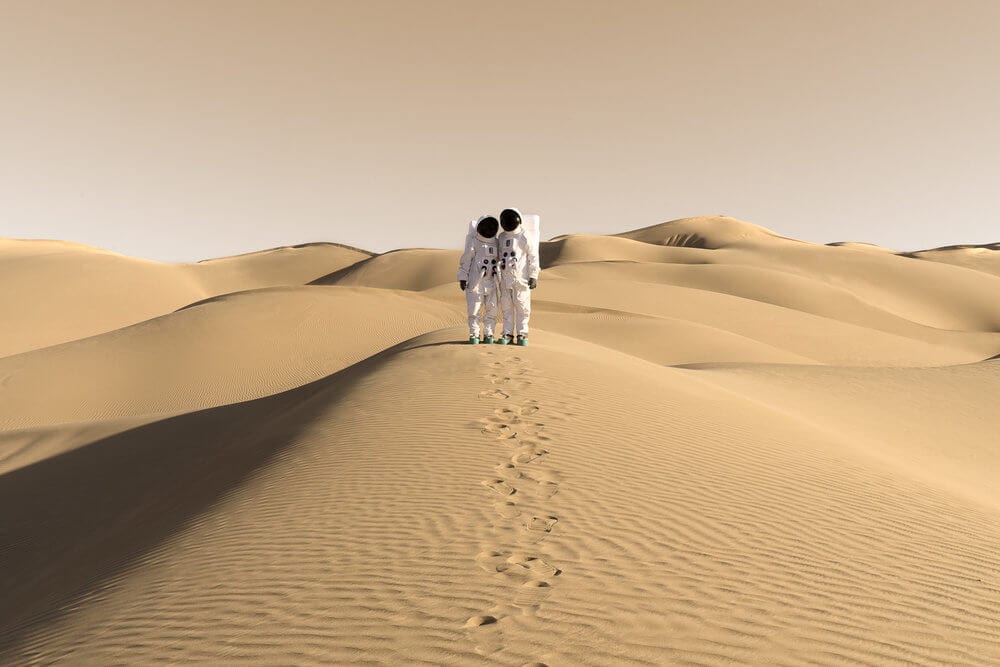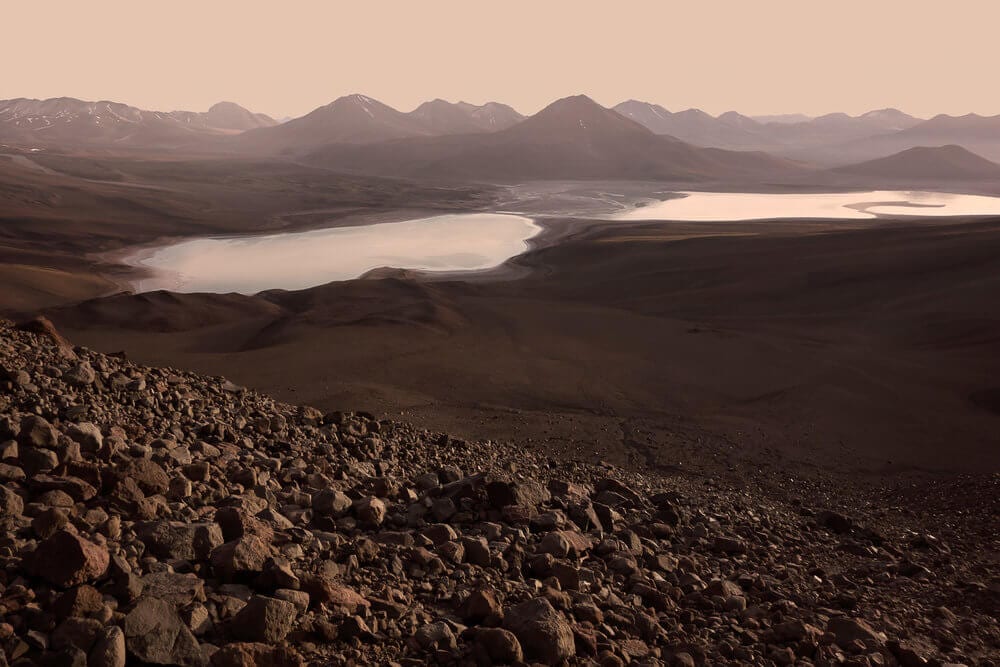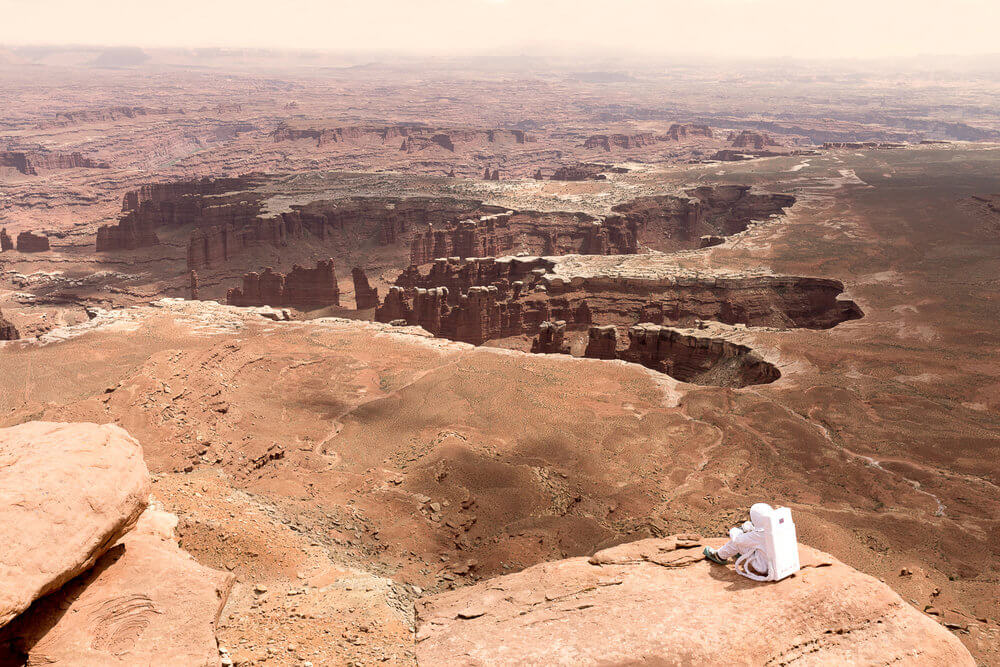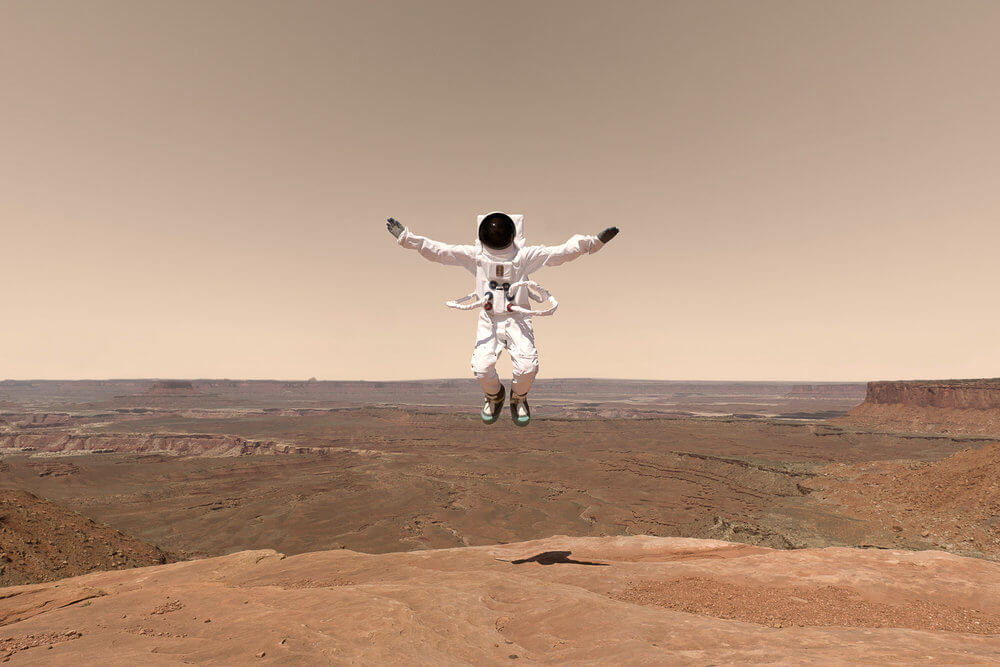 All images © Julien Mauve.
See more at www.julienmauve.com and follow him on Instagram: @julienmauve
Julien's work was reviewed by Rachel Segal Hamilton – a culture writer specializing in photography, who has written for publications such as VICE, The Telegraph, Time Out, Sotheby's Institute of Art, The Barbican/Guildhall, British Journal of Photography, Hoxton Mini Press, and The Royal Photographic Society Journal. Explore more of her writing at www.rachelsegalhamilton.com