INTERVIEW
Urban Improvisations
WITH JEREMY PEREZ-CRUZ
An interview with Jeremy Perez-Cruz
"As a former jazz musician, I love improvisation. Taking the same walk every day and being able to observe completely new things is both energizing and fascinating."
American street photographer Jeremy Perez-Cruz won our recent STREET LIFE competition with a stunning image taken on the streets of New York. Judge Philip-Lorca diCorcia praised it for its sense of mystery and surprise, and we called it "a marvelous image tinted with ambiguity, that comments obliquely on the structure of our urban spaces. This man peers through a portal into a world brighter, and perhaps full of more possibility than the drab, empty and repressive one he inhabits. Hard hat lowered to his side, and met by his own reflection, it evokes feelings of longing, escape and might-have-beens quite brilliantly."
We put some questions to Jeremy – about the image, his love of street photography, life in New York during the pandemic, and what he wishes he could tell his younger self. His answers were as engaging as his image-making…
Hi Jeremy. Firstly, congratulations on winning our recent Street Life theme. Can you tell us a little bit about your winning image, and what it means to you?
Thanks so much! Philip-Lorca diCorcia is one of my personal heroes so this one feels very special. It's funny, I don't think too deeply about the meaning of my own photographs. There is something special about allowing people to look at an image and have them build their own stories. I'm really only ever trying to find interesting "moments" and then put a frame around them. The goal is to capture a unique moment in an intriguing way, and hopefully that image provokes investigation by the audience.
So, instead, it might be more interesting to explain how I found the moment? I had a herniated disc in my back and was going to a Chiropractor on 46th street a couple of times a week, for about a month. Around that time, they had torn down a building on 44th and the light would pour in through this gap in the skyline and reflect off a bank building. It was a perfect New York corner – beautiful light, a steam pipe, mid-town commuters, a green construction wall, a bagel cart – and I shot it for about 2 hours before every doctor's appointment. As construction began on the new building, I'd often find people looking through the portal on the barricade (which offered views of the Chrysler building) and this particular day an older man spent a little extra time at the window. His solitude, pensive look and reflection drew me in and I made the picture.
This image seems symbolic of much of your work – quiet observations in the urban realm, often with a sole protagonist, in which you elevate mundane moments into ones ripe with beauty or intrigue. Is that a fair reflection on your work and aims?
That's a very fair assessment of much of my public-facing work. I have a few different compositional themes I find myself returning to, and many over the past 18 months have involved more packed-frames with multiple subjects. But, there has always been something interesting about isolated figures in a busy metropolis. Both in the challenge of shooting but also in the conceptual idea of how one can, often, feel alone in even the most populous of places. We are constantly surrounded by millions of people and somehow completely disconnected. That's an insight into my desire to be observational and celebrate what most others ignore. When I'm asked "how did you find this stuff?" the answer is, literally, just look around. To quote Winogrand, "No one moment is most important. Any moment can be something."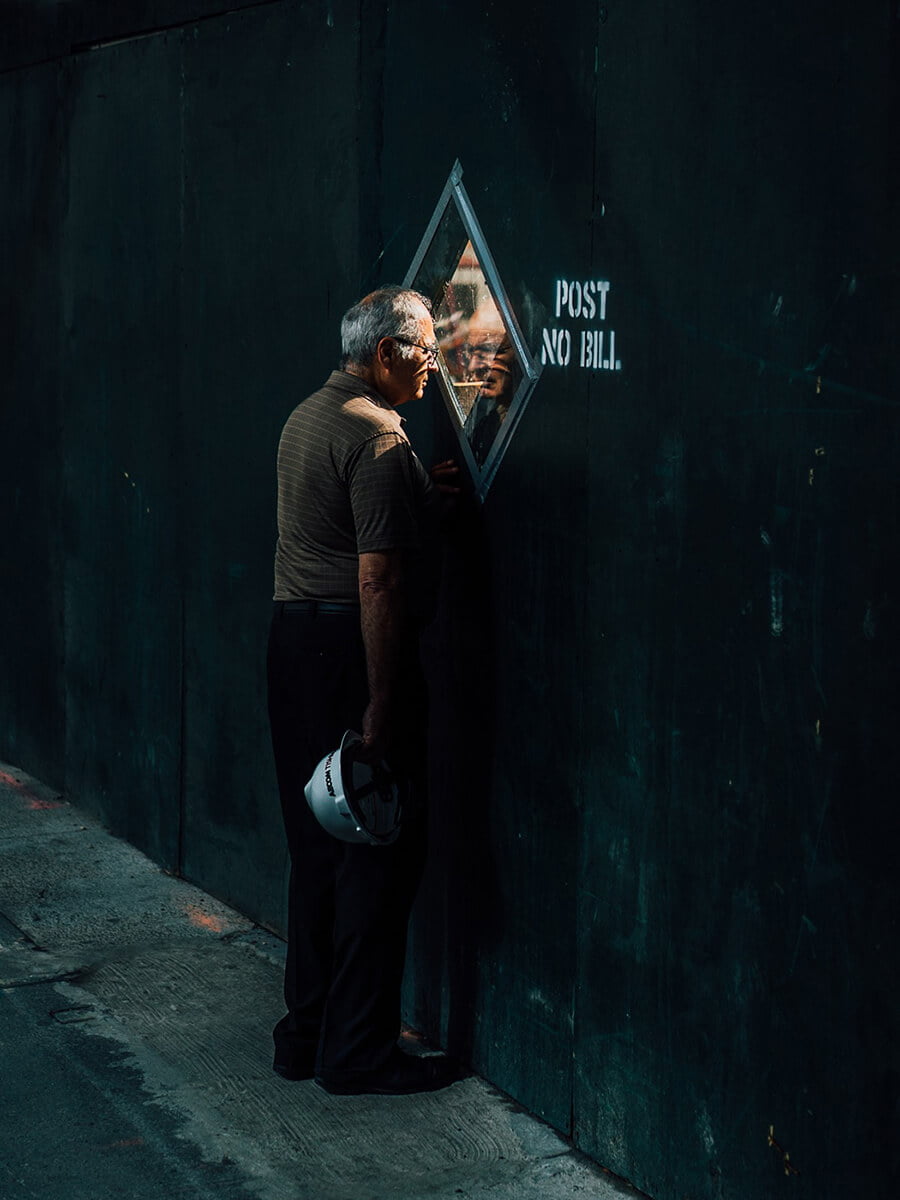 JEREMY'S WINNING STREET LIFE IMAGE