INSIGHT
Running a Private Gallery
BY BRIAN PAUL CLAMP
Installation of "Lori Nix: The City" at Nerman Museum of Contemporary Art, Overland Park, Kansas
Gallerist Brian Paul Clamp on running a successful private gallery
Established in 2000, ClampArt is a successful Manhattan-based gallery specialising in contemporary photography. Owner Brian Paul Clamp talks to us about starting his own art space, how he discovers new talent to work with and what he considers when putting together a show…
My art career started when I moved to New York City in 1993. I was working at a gallery on the Upper East Side dealing with late 19th- and early 20th-century American paintings but I was also very interested in photography. In addition to shooting my own work, I began to modestly collect contemporary photography. Twenty-five years ago you could find pieces for very reasonable prices. I went to graduate school at Columbia University and continued to build this collection. By the time I left and was ready to start my own business I had a nice little inventory.
Graduate school gave me confidence that I really knew what I was talking about but the networking side was also extremely important. The people I met in my small programme, many of whom I'm still in touch with, are now are curators at MoMA, magazine editors and art consultants. Studying under Rosalind Krauss, who is one of the foremost scholars of photography, was an amazing experience.
I was naive when I first started my gallery. I didn't quite understand the enormity of my undertaking — but maybe that's a good thing. It started in 2000 as a very small gallery — I was the only employee. Shortly thereafter, in 2001, came September 11th. That completely turned New York upside down and I didn't sell a single thing for an entire year, which was pretty scary.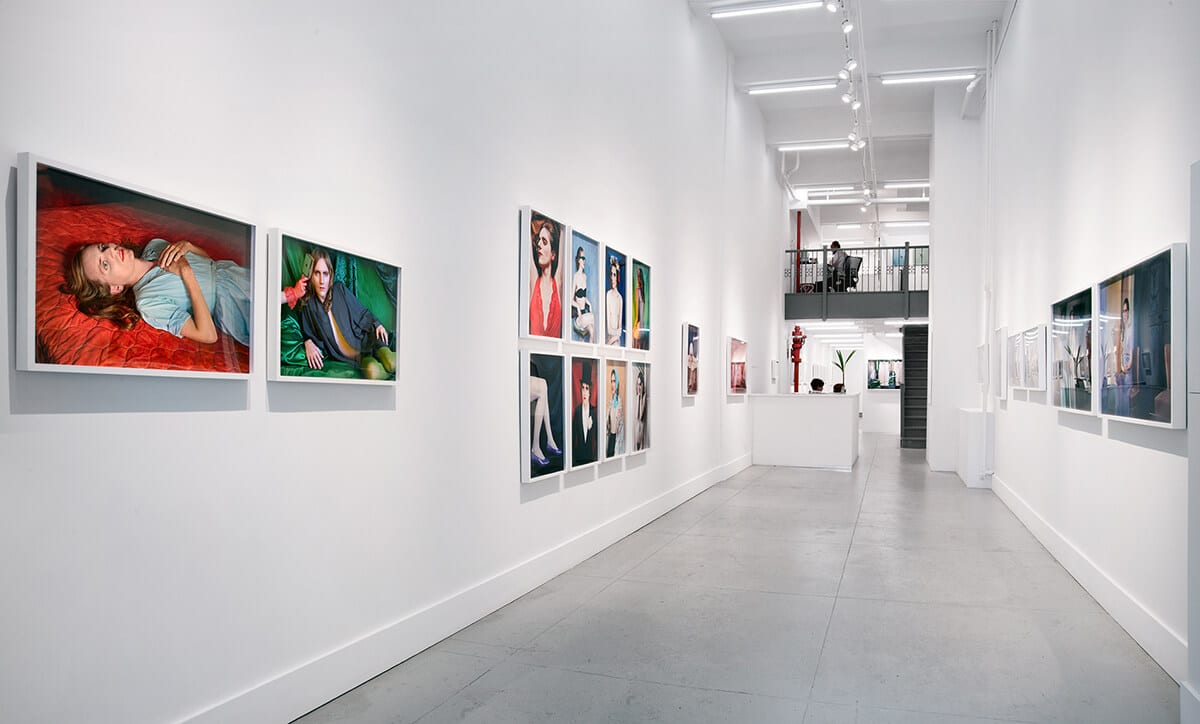 Installation of "Lissa Rivera: Beautiful Boy" at ClampArt, New York City
I would work at the gallery all day, close at 6pm and then bartend in the evenings. I did that for at least a year, which was exhausting but also kind of fun. A lot of the people met on this bartending job were artists and musicians, people that I'm still good friends with today. And it paid well. When the economy started picking up by 2003, I was confident enough that I didn't need to do that anymore and was able to throw myself into the gallery even more. After that things got a little easier.
You would expect that being the owner of a gallery New York has to do with art and curating. But the reality is much of it is about real estate and other business concerns. Luckily I have a good business head but I didn't realise before how much the job would be concentrated on that.
The main challenge is the number of artists out there. There are so many amazing photographers and unfortunately there aren't nearly enough buyers to support all those artists. I discover new artists at portfolio events, by reading magazines, looking at websites, keeping up with press and through word of mouth. The artists I already represent often bring really good suggestions.