INTERVIEW
Fantastic Plastic?
WITH INGE PRINS
An interview with Inge Prins
"I imagine future archaeologists finding these intact plastic artefacts as clues about a lost civilisation that produced such a miraculous substance, in such vast quantities that it was considered disposable".
Inge Prins won our recent Colors theme with a stunning still life scene that challenges our perception of color, as well as our relationship with disposable goods. That image comes from her project "My Best Life" and so keen to know more, we put some questions to her…
Hi Inge. Congratulations on winning our Colors theme! Do you resonate with Richard Mosse and the Life Framer Editors' comments (below)?
Thank you so much Life Framer. Yes! I was very happy to read Richard Mosse's comments and to see that he understood the intention of my work. I am delighted that the Black image was chosen as the winner for the Colors theme as I feel passionate about the message of this series and this particular image expresses it clearly. I agree with Richard's comment that we do not always pay enough attention to the opposites of color and light. Ignoring the dark side gives it power over us. As a species we stand to lose everything (all color) if we continue with our destructive habits.
The image comes from your series "My Best Life" in which you present a number of monochromatic scenes of discarded plastic items. Can you tell us a little bit about the concept behind the series, and how you went about executing it?
I come from a Fine Art background and I work as commercial photographer. I try to make space for personal projects which allow me the freedom to visually investigate issues that interest me. Commercially, I specialise in shooting homeware, which has become much more seasonal and trend-based. I am aware that so many of the objects I photograph are destined to end up in landfill.
I have always been interested in the value we place on objects; in how the specific visual language used in advertising glorifies certain objects, rendering them desirable. I thought it would be interesting to shoot discarded home objects, devalued by age and deemed worthless, using the same visual language. Last year I won an Instagram competition, and the prize was a shoot day in a pro studio, including basic lighting and a digital assistant. I immediately saw this was the perfect opportunity to thoroughly explore my concept: a professional, commercial shoot of discarded plastic. I treated the project like a high-end production for a big brand. I hired a Phase One medium format camera and additional lighting. I put together a team with a stylist Marieke Goncalves, a Phase One certified digital assistant, lighting assistant, and fine-artist Keri Muller. Keri has been collecting weathered plastic pieces in Cape Town for years. I also organised catering.
I met up with the Stylist before the shoot and briefed her. I wanted most of the plastic objects to be home-related products. We discussed the building of sets for the objects. I discussed the project with Keri over email and she agreed to lend us some of her found objects and to help source more. We visited dumps, recycling centres and second hand shops and shared our finds on a WhatsApp group and from our shared collection we isolated eight colors.
On the day of the shoot I shot tethered to a large monitor and we worked together on the composition and layout of each shot. My brief to the team was for the images to comment on single-use plastic and the life of objects, to comment on consumerism and the glorification of goods, and to shoot found plastics in a polished, high-end advertising style – counter-weighing built-in obsolescence by immortalizing these found objects.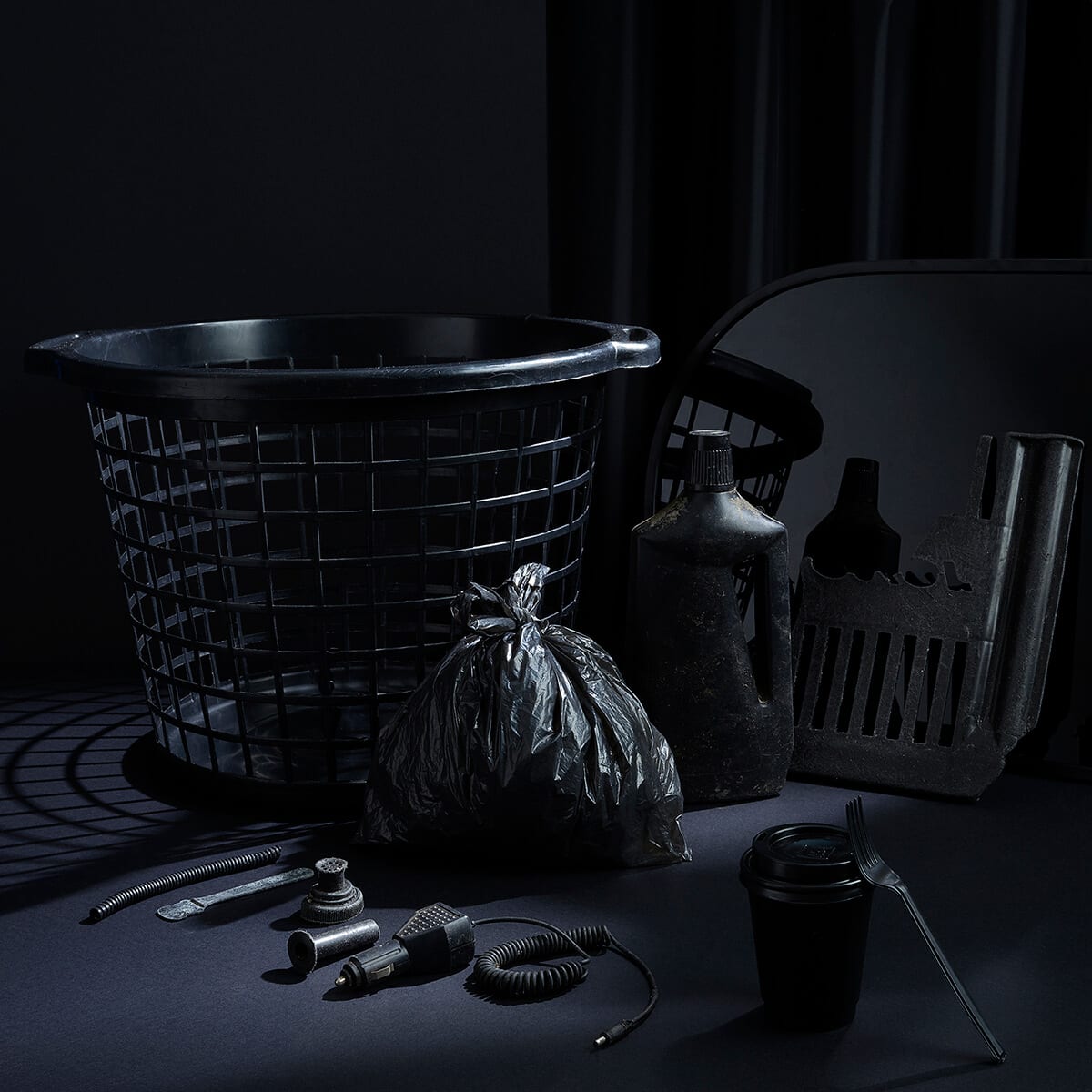 Inge's winning image for our Colors theme
"This image demonstrates our attachment to color in daily life by the simple gesture of removing it from the image. It is, to me, the obvious winner, as some thought went into thinking through the problem of representing color's importance to us, how much we take it for granted, and trying to find a way to show that most effectively and simply, which isn't easy". – Richard Mosse
"An exercise in color restraint, Inge's still life scene of modern plastic goods, globally ubiquitous, takes a moment to appear from the darkness. Black and murky, like the thick and ancient crude oil from which they were formed, these objects stand as icons to our throw-away, consumerist culture. The message is clear – just as these items almost disappear into the blackness, so is their inherent environmental destruction so easy to ignore." – Life Framer