EDITORS' PICK
An Atlas of the Body
THE HUMAN BODY
The Human Body Editors' Pick
Following Sanne De Wilde's selection of winning images for our recent competition THE HUMAN BODY, this compilation of 20 images represents some of the other talented photographers whose work struck us and left a mark. Each a stunning image worthy of exposure and attention…
These are intended to be a conversation starter… so feel free to join the discussion on our social networks.
This month's selection was made by Kate O'Neill. Kate is Creative Director at The Visual Loop – a company that runs exhibitions, creative workshops and artist talks for businesses, communities and organizations. Prior to that she managed the Marketing & Partnerships Department at Metro Imaging, coordinating our outreach programs, professional development talks, workshops and mentorship programs, and was Festival Manager for Brighton Photo Fringe. She is Founding Director of The Old Girls' Club, a network supporting women across the photography industry, and is a regular speaker, reviewer and mentor for photographic events and initiatives across the UK.
BANNER IMAGE COURTESY OF GUILLAUME FLANDRE
www.guillaumeflandre.com / @gflandre
Editor's comment: An unusual sight these days – groups and gatherings, but a welcome scene of leisure, ease and comfort in one's skin while amongst nature. This photograph portrays a tranquil setting, reassuring its guests and enabling the human body to just be, and the strange coloration with a lack of greens, adds just a touch of surrealism.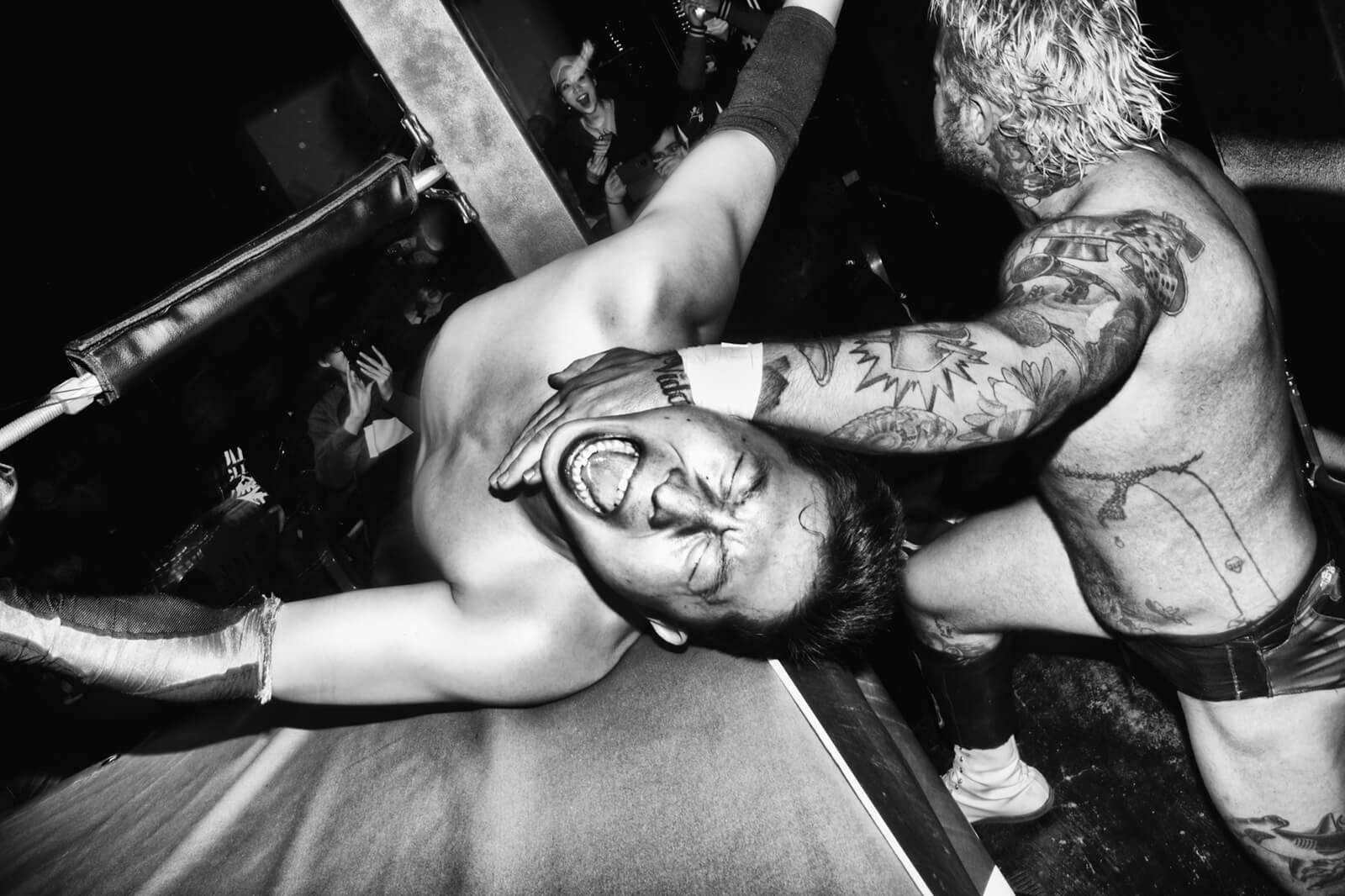 IMAGE COURTESY OF ARGUS PAUL ESTABROOK
www.arguspaul.com / @arguspaul
From the series Wrestling in the Streets of Seoul – "The Hongdae region of Seoul always delivers a healthy dose of spectacle to those seeking escapism from the conservative work-focused society in South Korea. Home to one of the top fine art universities in the country, the district has become a haven for indie arts, music, and spontaneous events of creative nature. The streets are alive with a spirit that anything can and will happen.
That made Hongdae the perfect setting for an evening of gorilla performances by a largely unknown troupe of wrestlers. This particular event took place during an underground rock show dubbed, "an unholy unity of music and wrestling." Between the opening act and the headlining band, the PWF wrestlers were introduced and then immediately started sparring. To the delight of the audience, they quickly took their fight out of the club and into the street. Enticed by its offbeat and overtly masculine nature, the audience couldn't help but chase after and marvel at this aggressive form of entertainment."
Editor's comment: Expressive, theatrical and undisguised machismo – I wonder if the sport of wrestling says more about the spectators than it does the participants? Within this image – as the fighters engage in a fusion of adrenaline and aggression – we can see anticipation, curiosity and even joy painted across the expressive faces of the onlookers, potentially unveiling a deeper level of the human psyche. It's a well composed and timed photograph, and I'd enjoy seeing a collection of images from different perspectives of this event.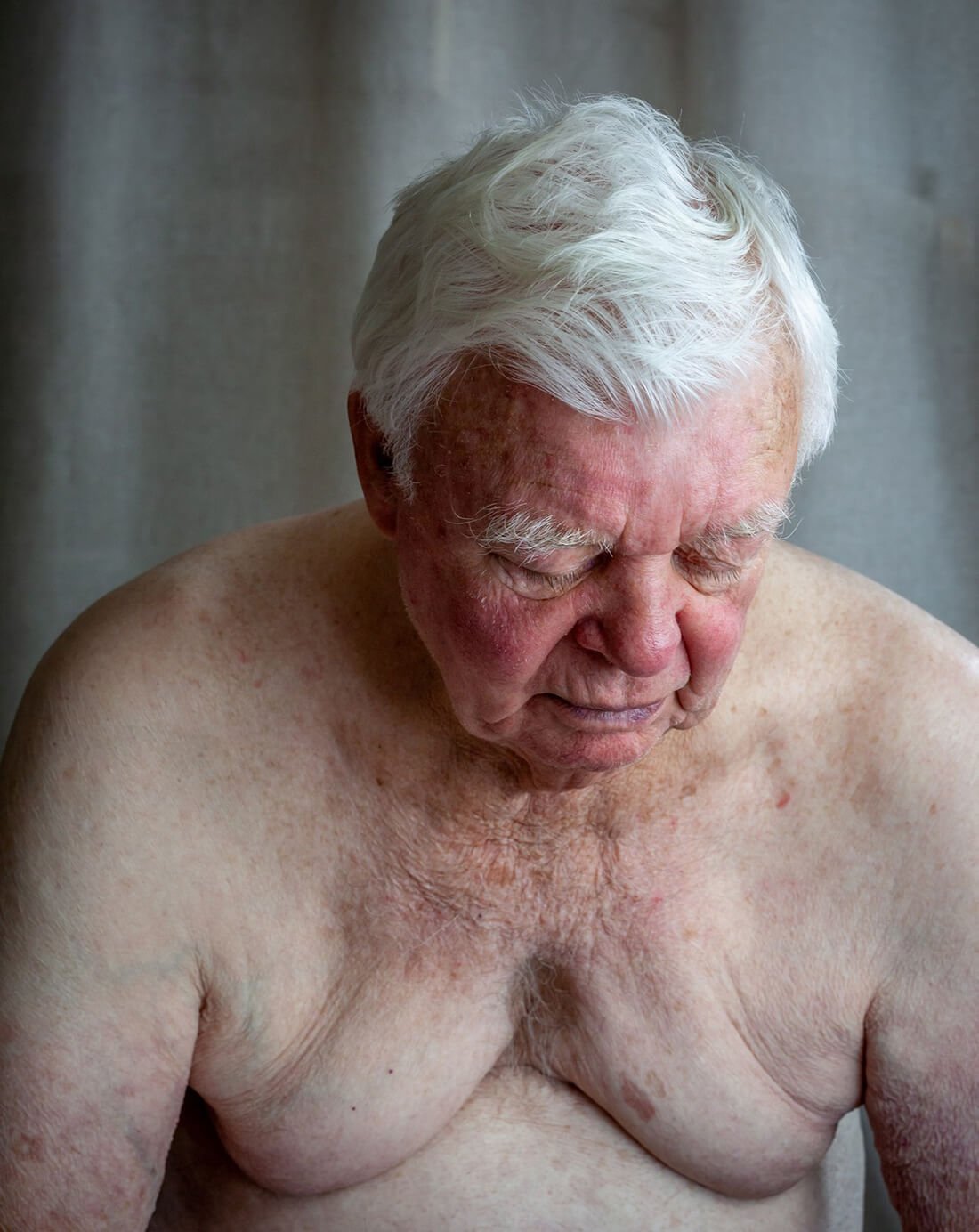 IMAGE COURTESY OF CORINE BAKKER
www.corinebakker.nl / @cobakker1
From the series Ode – "Ode is an ongoing project. I am fascinated by the human body and how time influences body and skin. I have captured it and show it in a pure way, with all the signs that life leaves behind. Driven by emotion I do not look away, but rather appreciate what is there, showing its beauty. The essence is that the body ages as it has lived for a long time. It deserves love, attention, marvel and admiration."
Editor's comment: "…with all the signs that life leaves behind"… It seems humans can fight anything but time. With some researchers requesting to classify biological aging as a disease, it's still apparent we are underprepared as a society and economy to facilitate an aging population. Projects like 'Ode' are need to continue to bring awareness to this unavoidable issue with the care and attention it deserves, ideally weaving its way into the mainstream conversation so we can collectively change our approach to ageing and the elderly. An exquisite portrait from an important project.