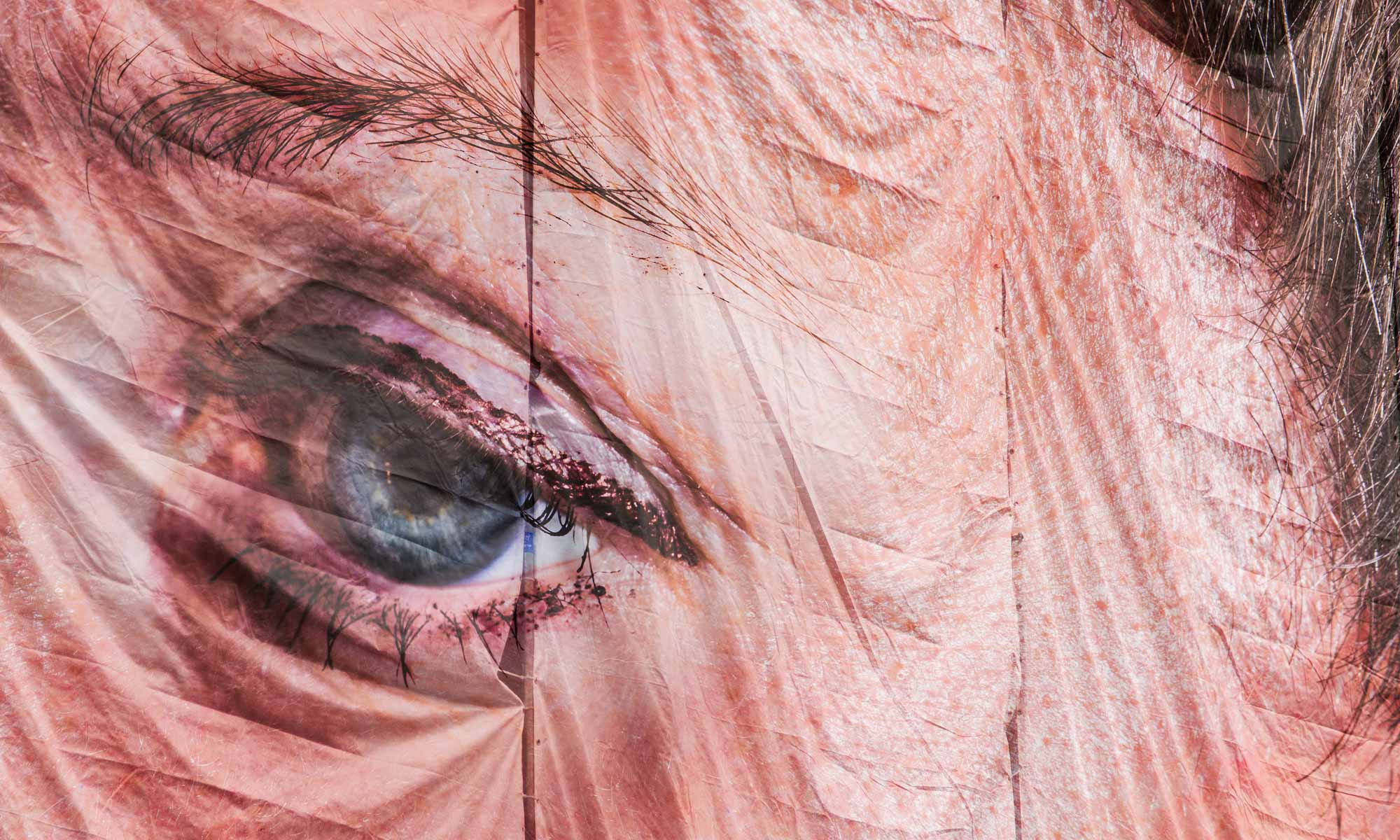 "Shooting people is more beautiful, because it is more difficult." – Constantine Manos
We are delighted to present the results of the fifth monthly theme of Life Framer edition IV – THE HUMAN BODY. We asked you to look at the image of the human body, and to capture a detail or scene that describes our shared humanity. The theme was judged by Alison Morley – photo editor, lecturer and writer, and the Chair of the Documentary Photography and Photojournalism Program at the world-renowned International Center of Photography (ICP) in New York.
You can discover the winning images below and join the discussion on Facebook, Instagram and Twitter. Congratulations to all the talented photographers featured, and thank you to everyone who submitted their work.
"The curtained face exemplifies all the frailty of age. The panel's sagginess further emphasizes the mental and physical deterioration that time has taken from this woman. The color—a circus-like, exaggerated orangey red feels like a cheerless attempt to brighten a defeated veneer along with the woman's own futile make-up attempt revealed on her half-closing eyelid (perhaps prepared for the original photographer). There is an eerie sense of struggle in this image—all elements trying their best and yet what remains is a greying eye and a demeanor full of sorrow, perhaps loss.
The frozen curtain creates a distance, a wave that is not moving and a third wall that the viewer must break through to fully comprehend meaning. The photographer framed this moment perfectly, so that little was left to distract from intention, creating a dynamic ingress to the human toll or perhaps the bedraggled curtain of life." – Alison Morley
"The beauty and sadness of this photograph juxtaposed in one frame exposes the conflict of a body that has been physically maltreated. Virtually weightless, she stands proud and seemingly validated. The white gauze binding her tiny breasts and puffy white skirt is a conundrum, conjuring a ballerina at once light and wondrous yet bound and frozen in time. The one bit of color is a red flower as if to say: "It's ok, I am pretty!" but her tired face, though covered in make-up cannot playact. Her gentle long fingers, once beautiful look frail and exploited. The concrete wall gives one a sense of imprisonment, perhaps self-ordained. There is so much struggle in this photograph to look picture-perfect, a contract between photographer and subject and yet the reveal is undeniable— the toil to a woeful sense of perfection. It is an agonizing conjured look at the frailty of youth, dreams, desires —drained from this woman's life. The image is a story in itself; questions remain unanswered and thus leave us wanting more." – Alison Morley
LAURA THOMPSON
"In Laura's statement she describes the anthropological phenomenon of how a growing reliance on modern technology is dulling our senses, and in turn how she responds to this idea – using manmade materials, signifiers for materialism, to create suits that cover the human form, and placing them in the gorgeous natural environments that we're increasingly dislocated from.
It's a powerful concept, and one that she realises beautifully in this expansive lake scene. The lone, dejected figure pales in comparison to the vast body of water and rising mountains, an alien lost in the wilderness. No longer fit for his environment. And the suit is a gorgeous, tactile prop, refracting the colors of the scene and picking out the bright blue tones of a hidden sky. There's an aching beauty to it – it's a poetic, deftly observed image that begs to be seen in large format." – Life Framer
BARRIE HULLEGIE
"There's a touching intimacy to Barrie's tightly framed figure, knotted and vulnerable, the arm contorted behind his back, held uncertainly. The freckles are like constellations – a sky of stars defining a map across his back. 'Flaws' they may be, but they're beautiful and defining nonetheless. It's a tender, well-realised portrait." – Life Framer
PAUL LATISLAW
"Paul's study of a figure in his intimate, personal space is rich with information – visual clues to a figure obscured and contorted and unknowable, almost lost among his possessions. I'm drawn to the contrast between the figure on the canvas – plump and proud – and its opposite – our subject, skinny and twisted. Paul dramatizes normality, creating a theatrical chaos – half ballet, half battle – that to me speaks of beauty, vanity and self-worth." – Life Framer
CLAUDIA MASCIAVE
"Claudia's statement describes how she reflects on childhood memories through self-portraiture. Putting oneself in the frame is never easy, particularly when confronting painful experiences, but Claudia finds a distinctive voice through the art of contrast. In today's climate one can't help but think about ideas of domestic violence and attacks on the female body when viewing this image, but here those ideas are presented with vivid, cartoonish and exaggerated colors. The result is something that is troubling, but also playful and clown-like. It's as if she's commenting on the absurdity of the situation she, and many other women, find themselves in. As if she's mocking it on some level and saying 'yes, this is a problem, but no, it doesn't define me'." – Life Framer
ANNIQUE KONINK-BURMS
"Annique confronts the fear of ageing head-on – her image is haunting and disturbing, and memorable for it. We see an old man lying down but she inverts him, and creates a void 'above', emphasizing a sense of two distinct spaces – one occupied and the other to be, of life and death, of being drawn up into the darkness, or perhaps pulled down into the emptiness. His face expression appears resigned but there is no comfort, and this is reflected in the austere, harsh concrete surroundings. I see it as a meditation on death; of dread, loneliness and decay. It is far from being a comforting image, but it's an incredibly effective one." – Life Framer
NATALIE KIRK
"Natalie satirizes the long history of portraits of women draped across chaises-longues, the idea that art should be largely created for the male gaze. Instead we see a male, embracing his femininity, vulnerable and voluptuous, mimicking the cannon of femme fatales. The scene is not wholly-unfamiliar, but somehow startling – a strong indictment of a culture rife with objectification. It's a rebellious, playful and subversive portrait – conjuring questions of modern society through a beautifully simple, and elegantly executed idea." – Life Framer
BERBER THEUNISSEN
"There's a wonderful quote by Arno Rafael Minkinnen, a photographer whose aesthetic has no doubt influenced Berber: "There is something about how close you get to the act of creation by walking around by yourself in some stretch of forest in Finland, with nothing on, looking for a photograph, climbing rocks and moving around like a monkey. Bared assed and just digging your toes into the soft earth, you really feel like you've been created."
Berber channels this spirit, this buoyancy and desire to connect with nature to create a gorgeous naturalistic composition, but here bursting with color. We see woman and landscape in perfect harmony, twisting and rising upwards in unison, the delicate contours of her back reflecting the rolling form of the branches. It's visually satisfying, pure and intimate – a wonderful, just so slightly surreal, contemplation on freedom and connection." – Life Framer
JAMES CONWAY
"This image may be simple, but is the result of deft observation. The careful framing – removing all extraneous elements – tight depth of field, and natural film imperfections coalesce to create something calm and introspective. There's a satisfying repetition to these two pairs of legs – the same and yet subtly different; slightly more muscle here, a scar there… There's something to be said for these understated moments of everyday wonder – little, unassuming glimpses into our shared humanity – and James' image is a quietly wonderful example. " – Life Framer
IDAN BERDICHEV
"The human figure holds a small but significant place in this image – almost lost in the haze of this tranquil and ethereal landscape. She anchors the image, providing a sense of scale to the barren and otherworldly environment – an access point, like a siren of Greek mythology, through which to enter – or be drawn in – to this strange world." – Life Framer
PHILIPPE SAVOIR
"There's something enigmatic about Philippe's portrait from his series 'Pink Masquerade'. He provides no description, and so we are left to our own devices to interpret this title, and the subject and his elaborate costume. It's bold and theatrical – a play on gender stereotypes, femininity and flamboyance. The color of vivid pink, jewellery and flowers – historically signifiers for womanliness, but here questioned against the starkness of the concrete backdrop. The masquerade in its theatrical sense, but perhaps also in a societal one.
My one small criticism would be in framing – I would either include the hands fully or crop them entirely. But despite this the image sings – it's vibrant and provocative." – Life Framer
DENISE KWONG
"Denise's body study is weird and absorbing – I'm drawn in by the charges of bright color in the gums and reflected sky against the shadowy void behind, and the contrasting textures; mottled skin, wet lips, clean glass. It's tactile and alive. There's also a satisfying compositional rigour – the weight of negative space balancing the distorted face, and the mirror slicing sharply across the frame. It's composed of simple elements, and yet how often do we see into the back of someone's teeth? It's normal, and yet… not. And it pulls you in." – Life Framer
EMMANUELLE BOUSQUET
"Emmanuelle's image is evocative and poetic, and like a single frame from a twisting narrative, it poses more questions than it answers. We see a naked figure, cloaked though dusty glass, and a mysterious onlooker, prying from the darkness. She masterfully handles the light – refracted across the darkness of the scene, illuminating the lone figure, and the result it at once raw and delicate. You can feel the silence, and taste the dust." – Life Framer
ULLA DEVENTER
"I was immediately drawn to these two flash-bulb lit girls and their appropriation of male street culture – the chains, the stony expressions, the crotch-grab, the bravado. The cliché flipped on its head. It shows them to be multi-faceted women – street-wise and complex." – Life Framer
HANNES WIEDEMANN
"This image comes from Hannes' series 'Bits and Pieces' in which he examines the growing culture of plastic surgery in South Korea. It's a fascinating subject, and one charged with thorny ideas to deconstruct – the superficiality of today's society, the globalization of beauty, the anti-realism of marketing and advertising, the precariousness of social media and so on, and so on. Here, Hannes' ingenuity is to hint at so much with so little. We see, or rather don't see, a reclined figure holding a mirror in a sterile, empty environment. The mirror lies face up, as if he or she can't or won't bring it to their face, and so instead it reflects the nothingness of the bare walls, its ornate details lost in the characterless environment. For me, it's a pertinent comment on self-image and the vacuous, hollowness of it all – the lengths we go to find a surface-deep beauty, and our ultimate failure in ever finding it. " – Life Framer
LEO PELLETIER
"This is such a fun study of the body – with the tight framing, the amorphous shapes and slightly saccharine coloring creating something abstract and playful. It's obvious that this is a detail of the human body, but not at all obvious which part, and that tension, those aspects pulling at one another, creates something at once familiar and alien, normal and abnormal, and highly satisfying." – Life Framer
MARCO D'ANTONIO
"Marco's image of a child at a special care unit in Argentina, afflicted by crop herbicides that have been linked with human cancer and deformities, is heart-breaking. Strong lines run through the image – those of the floor tiles and cleaning brushes – and his skinny, awkward limbs intertwine with them – a web of frustration. It's an abrupt and distressing insight into an awful reality – Marco tackles the challenges this young boy faces head-on, and it's incredibly powerful." – Life Framer
VASSILIS TRIANTIS
"Vassilis' emotive and meditative image ruminates on frailty and ageing, on memory and loss. The construction is deceptively complex, with the layers and reflection of light and form blending into one another, and the result is powerful – the hands embracing a silhouetted figure, and the arms bleeding into a white nothingness; both symbolic of death and loss. For me, it summons the idea of the body decaying at one rate, and the memories at another. It's a wonderful, absorbing image." – Life Framer
MELIKA DEZ
"Melika's image is perfectly timed, with this dancer suspended in elegant, effortless motion. The sparse backdrop ensures that all attention is focused on his form and honed musculature, and I'm drawn to the shadow – a slightly exaggerated outline of his physique, the superhero version perhaps. My one gripe however, is this – for an image where symmetry and form are so fundamental, why is the subject not centrally framed? This slightly off-centre positioning nags at what is an otherwise wonderful image." – Life Framer
A prestigious jury, 4 international exhibitions and $24000 in cash prizes.