EDITORS' PICK
Behind Closed Doors
HOME SWEET HOME
Home Sweet Home Editors' Pick
Following Marion Tandé's selection of winning images for our recent HOME SWEET HOME competition, this compilation of 20 images represents some of the other talented photographers whose work struck us and left a mark. Each a stunning image worthy of exposure and attention…
This month's selection was made by Kate O'Neil, Creative Director of The Visual Loop: "With 'Home Sweet Home' I was looking out for those scenes that – for better or for worse – tug at the heartstrings, or invoke a sense of nostalgia or belonging. Images that give a glimpse into that safe space, personal retreat or familiar surrounding that people identify with as their understanding of 'Home', or, in an autobiographical sense, where we can learn more about the person behind the lens than the scene that lies before it.
When selecting for editor's picks I'm always searching for those striking photographs that have potential as an unforgettable single image, whether from a broader series or not. I enjoy the accompanying text some photographers submit with their images, which while not always necessary can be relevant when understanding the work in full context."
These are intended to be a conversation starter… so feel free to join the discussion on our social networks.
BANNER IMAGE COURTESY OF DAVID WADELTON
www.wadelton.online / @davidwadelton
From the series Suburban Baroque – "A selection of photographs of the vanishing mid-century suburban interiors of the formerly working-class areas of Melbourne Australia that were the destination of choice for many post-war immigrants from Europe. The once-ubiquitous terrazzo, balustrades, marble columns and lions and other manifestations of pride and nostalgia for their homelands have become increasingly rare as the years pass, generations change, and gentrification takes place.
The rooms are redolent of a different era and imbued with pathos, as most are the pride and joy of a generation that is passing. The decor speaks of post-war immigration in a fascinating time capsule, where one experiences a mix of local and imported; defying current design conventions. Often the owners proudly designed the rooms to suit their preferences and to impress their friends and neighbours back in the 1970s, and they have immaculately maintained them that way ever since."
Editor's comment: Making a home away from home is fundamental for some of us when adjusting to a new life in a foreign place. Detail matters – like certain smells, colors, or food – as they can make all the difference when settling into new surroundings. This photograph depicts a mid-century, suburban interior of a bedroom – a style we're told by the photographer, is common in the formerly working-class areas of Melbourne Australia, which were the destination of choice for many post-war European immigrants. These are the elements we want to bring with us into our new life, freezing them so we don't lose the identity and comfort of our old life. A thought-provoking image.
IMAGE COURTESY OF PRZEMEK KRZAKIEWICZ
@przemekkrzakiewicz
"A single-family house in front of the Siersza Power Plant in Trzebinia, in Lesser Poland Voivodeship, Poland. Siersza Power Plant opened in 1969 and is a coal-fired thermal power station. Currently the power plant is partially closed, in an element of the transition process to low-carbon energy."
Editor's comment: A bleak scene, a solitary family house surrounded by structures symbolising pollution, threat and isolation. This scene really emphasizes the fact we cannot always choose our neighbors, and for some that can be seriously detrimental. The photographer is able to capture the despair and danger within this environment but reminds us there is an element of hope as Poland is in the midst of its transition process to low-carbon energy… looks like the neighbors are moving out!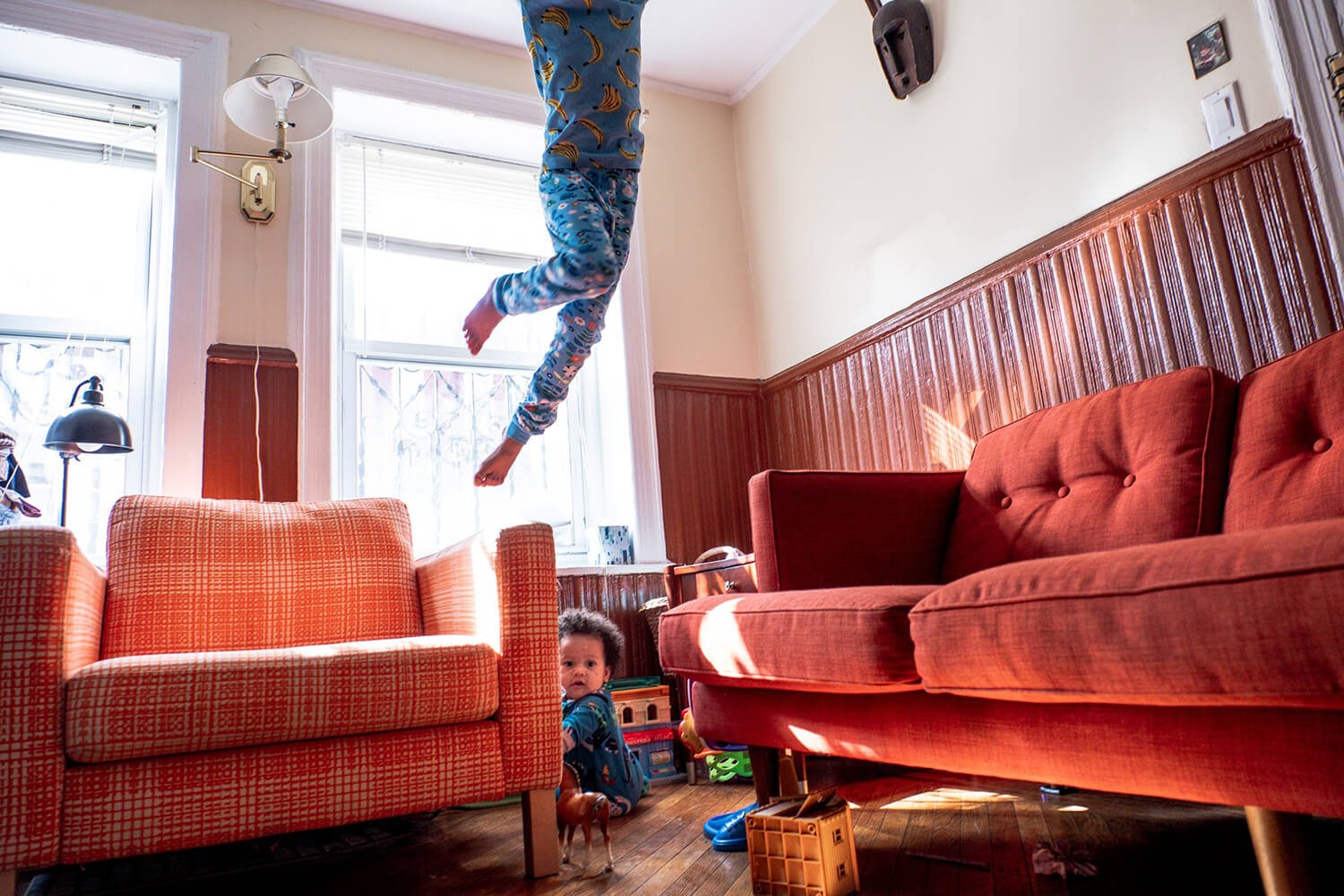 IMAGE COURTESY OF EMILY SCHIFFER
www.emilyschiffer.com / @emilyschiffer
"Throughout the pandemic, my husband and I have been working from home with two small children, and navigating remote learning in our Brooklyn apartment. Within the context of our neighborhood–a hot spot for much of the year–these unposed images chronicle our family's inner world.
April 2, 2020: After bickering over schoolwork neither of us wants to do, Lola releases pent up energy. Ambulance sirens blare outside. They have been non-stop for weeks. I am grappling with the instability and anxiety these days hold, and decide in this moment to forgo phonics and math in favor of just about anything that sparks joy."
Editor's comment: A fabulous candid moment, creatively framed, that captures both the chaos and wonder of life at home, depending on your perspective. It offers a lowered, child's-eye view of the home as a place of joy and abandon.