INTERVIEW
Spiritual Scenes
WITH GEERT DE TAEYE
An interview with Geert De Taeye
"It's almost spiritual sometimes. I get into a gentle mood, everything
slows down and I imagine a scene, creating the image on the spot, in my mind…"
Geert De Taeye is a conceptual and creative advertising photographer who won our Night Life competition with a stunning, mysterious image conceived on the streets of Brussels – one that beguiles and unsettles in equal measure, sparking the imagination while nodding to contemporary events. Keen to learn more about the image and his working practice, we put some questions to him, and his responses were engaging and revealing…
Hi Geert. Firstly, congratulations on winning our Night Life competition. What did you make of the jury's comments?
Thank you, this means a lot to me. I was also happy with the feedback of the jury. They found it intriguing and that is really what I want to achieve in creating my images. Loaded with mystery and with a twist in the story telling.
Your winning image has a beautiful and mysterious tension – an unknown event poised to play out – as well as nods to current events with global lockdowns and anti-policing protests. Can you tell us a little bit about the image? Where did the concept come from and how did you achieve it?
The image came to life in vision I had, remembering the Euro soccer cup in 2000 I guess, I recreated a 3D police crowd in the same street where I witnessed riots. The building behind was demolished a year ago. It's a Brussels mystery where the beautiful
sign has gone to. It was so sad to see this Parking 58 building disappear – An impressive lookout over my city. Rooftop memories.
Much of your personal work seems to exist in a kind of dream state – lone figures, often in a deserted setting, like a single frame from a film noir. Where do your ideas come from more generally, and are there overarching themes or reference points that drive each new image?
My images mostly start with finding a good location with a certain atmosphere – A location that I pass by or locations that have fascinated me for a long time. When going back to these places I imagine a story and I try to create a mood that fits the scenery. Light is very important in my images, it's the foundation of my visual world. It allows me to set a mood just how I want.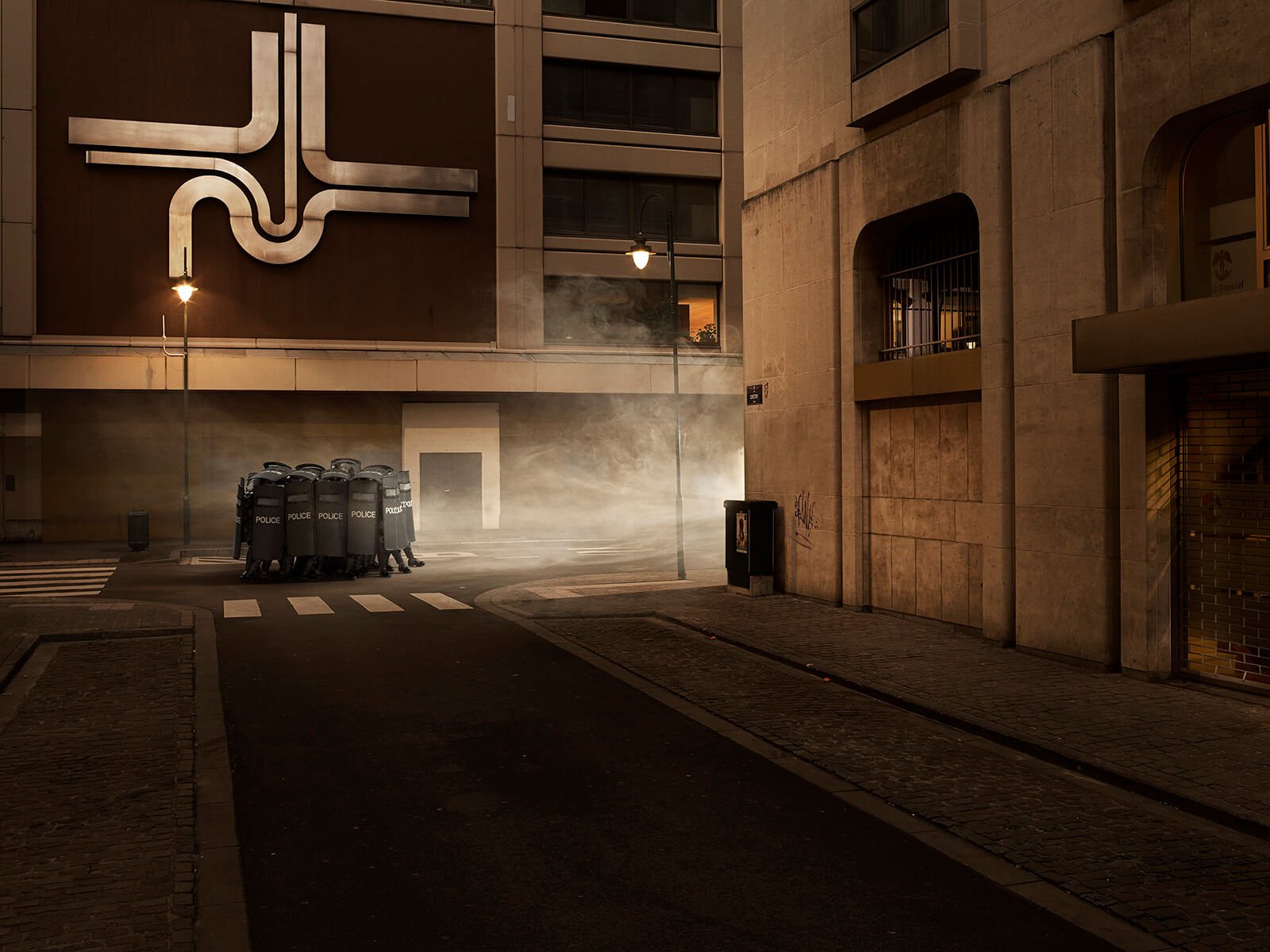 NIGHT LIFE: GEERT'S WINNING IMAGE
You talk about the forces of 'persuasion, irony and empathy. Can you break this down a bit?
My images have a strange feel to them, some mystery involved as well. A little story, recognizable to the viewer but open to the imagination. I want to inspire solitude and reflection, while never taking things too seriously.
And from a practical perspective, it can't be a simple process to achieve the attention to detail with lighting, props and composition. Can you tell us a bit about your working processes?
As I mentioned above, it all starts with a good location. I kind of go up in the environment – It's almost spiritual sometimes. I get into a gentle mood, everything slows down and I imagine a scene, creating the image on the spot, in my mind. I make a little sketch. Unfortunately I can't draw very well but this keeps it abstract. It would ruin my vision if the drawing was too good. The only thing that follows after is the execution, the planning. Props and lighting are kind of easy to add, because the image already exists in my mind.
Tell us a bit about one of your other favorite images…
One of my favorite image is the Nighthawks [below]. Inspired by Edward Hopper, obviously. This is the first image where I truly found my style and voice. It has set the mood of my future personal work.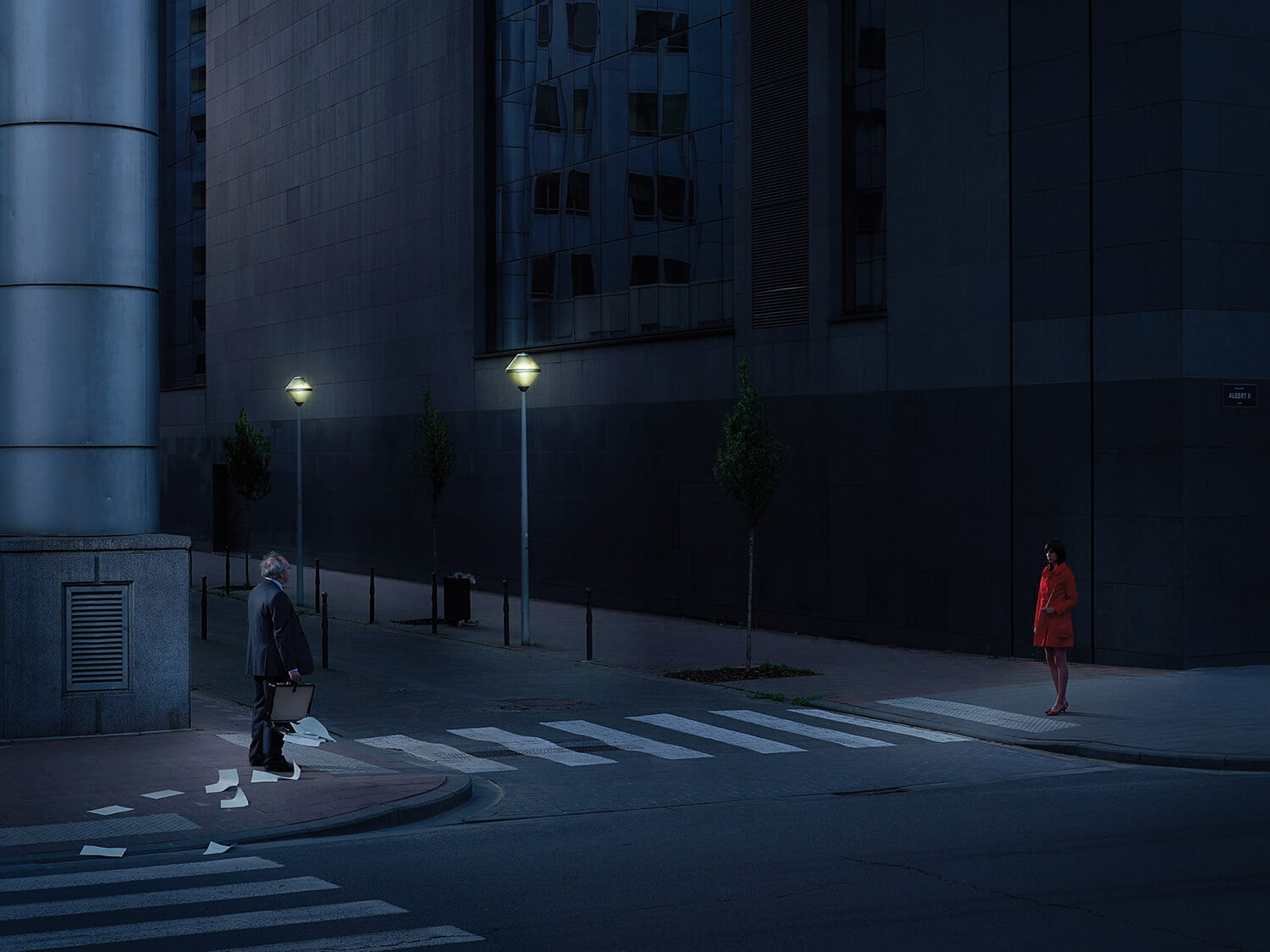 NIGHTHAWKS