INTERVIEW
Strength and Dignity in Injustice
WITH FRANCESCA MOORE
An interview with Francesca Moore
"My great grandmother's brother was a photographer and had a studio in Genova, Italy, in the 1920s… Portraits at this time documented people of status and power, a kind of validity. I wanted to represent these women activist survivors in a similar way"
Francesca Moore won our May 2020 theme – COLORS – with a beguiling portrait of Sarita Malivi, a survivor of the Bhopal gas disaster and one of the activists campaigning for justice. It is of course an image rich with vibrant color, but that energy is in contrast to her expression. Head slightly bowed and gaze averted from Francesca's lens, she has a charisma but is detached from the moment – her thoughts elsewhere. It is perhaps just a glimpse into the weight of the tragedy that has consumed her life for almost forty years, and that has been the focus of Francesca's for almost a decade.
We put some questions to Francesca to understand more about her work, the rationale for creating it, and where things stand for Sarita and her fellow Bhopalites after all this time…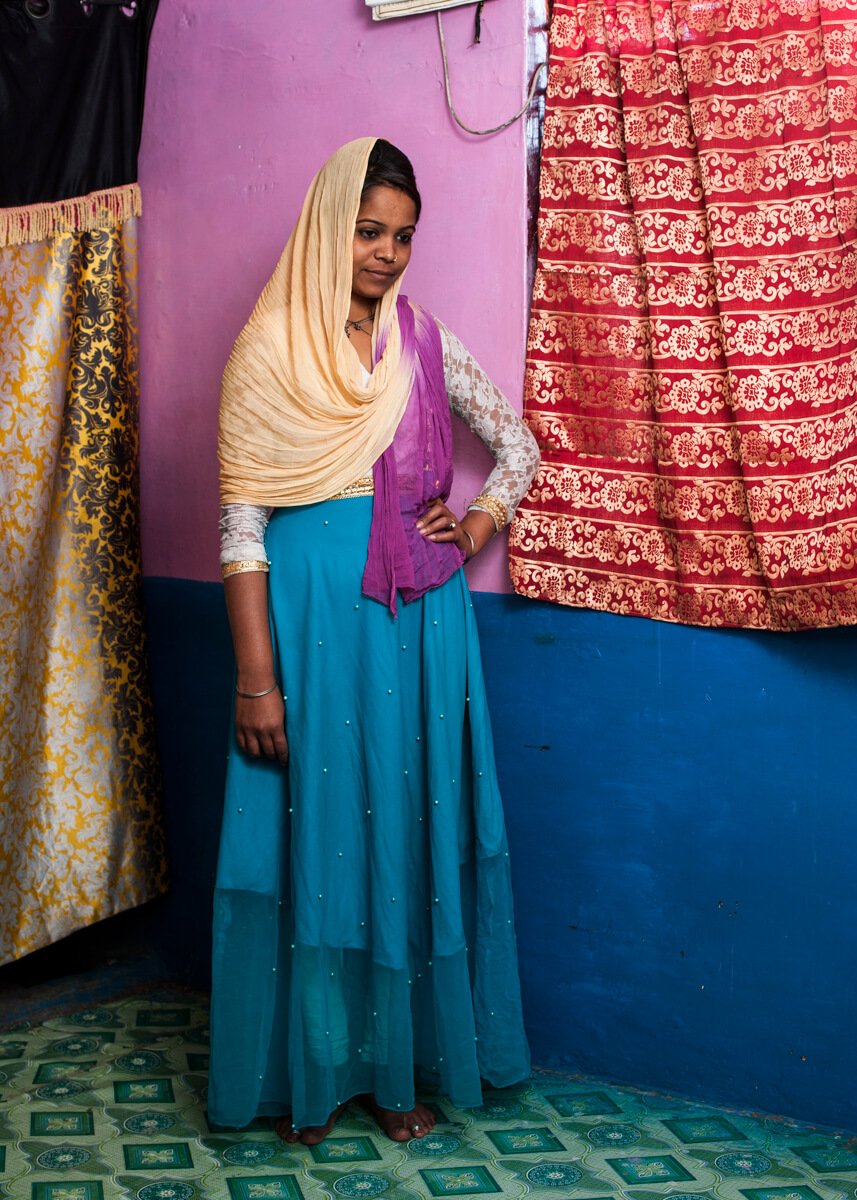 Francesca's winning image
"On December 2, 1984, the air in Bhopal, India enveloped its residents in forty tons of toxic Methyl Isocyanate gas leaking from the Union Carbide plant. Its impact is still felt to this day by third generation Bhopalites. The Bhopal gas disaster is one of the worst industrial failures worldwide, but who remembers it? Rashida Bee, a woman survivor, does. She and other women from the city formed an association in 1987 called the Bhopal Gas Peedit Mahila Stationary Sangh to fight for their rights to compensation. As she noted, "[they] soon realised that neither the Union Carbide, nor the government has any intention of paying us compensation or providing jobs." To this day, the citizens of Bhopal are still waiting for full remittance. This photograph portrays one of the activists for justice powerfully contrasting the woman's lively colorful surroundings and traditional South Asian wear and with her introspective, focused gaze. The woman avoids direct eye contact, smiles faintly, but she stands strong and determined, telling a story that is more than just about the "vibrant colors for which India is known." In selecting this photograph, I hope the photographer will be able to complete her project-in-progress and raise awareness to this ongoing fight for human rights." – Marion Tandé
Dear Francesca. Firstly, congratulations on winning our COLORS theme. What did you make of the jury's comments about your image?
Thank you. Of course I was very pleased and overwhelmed to have the image selected for first prize. The comments were wonderful, I couldn't have analysed the image better myself regards to the way Life Framer noted the repeating patterns and vibrant colours in contrast to her distant gaze, perhaps because I was too closely involved in the creation of the image. I loved Marion's comments too. Her writing emphasises that photography can be used as a powerful tool to evoke social change, and it's with these images that I hope to raise awareness of the issues the Women Activist Survivors face and to support their fight for justice.
Can you tell us a little about the origins of your work depicting the people and environment of Bhopal? How did you first become aware of the subject matter, and what led you to document it?
I first went to India over the winter of 2012-13. I had planned to do some photographic work with a few different charities and organisations. At the time, a friend of mine from Pune, near Mumbai in India, told me she had been to Bhopal the year before and couldn't believe the site had never been cleaned up or that people were still suffering the long term effects of gas exposure as a result of the 1984 explosion at the Union Carbide pesticide factory that released 27 tonnes of the deadly gas Methyl Isocyanate across the city. Nor could she believe that from years of the latent chemicals leaching into the groundwater supply, that people living around the factory site relied upon for drinking water, was causing a secondary disaster of groundwater contamination that's making thousands of people sick to this day. People suffer long-term health issues affecting the respiratory and reproductive systems, immune disorders and cancers. Pune is about ten hours from Bhopal on a train, so relatively close by Indian standards, and apparently she was under the impression things had been remediated. On the news people were told there were no more problems; it had been brushed under the carpet. She suggested I went.
After some research I came across the Bhopal Medical Appeal, a UK based charity that funds the Sambhavna Trust Clinic in Bhopal, treating the survivors of gas exposure and water contamination, including children born with third generation birth defects. I volunteered to take some photographs, of whatever they needed. I have a Masters in Biological Photography and Imaging so was asked to photograph the flora and fauna at the Sambhavna Trust Clinic, as well as to train community health-workers to make health awareness videos. There had been a recent scientific survey that demonstrated the abundance of species in the Sambhavna garden where they grow without additional chemicals, as opposed to the contaminated and chemical-rich factory site only a stone's throw away. At Sambhavna they grow plants with Ayurvedic properties to make medicines, along with the supply of western medicines, so that all people can afford treatment for the ill-effects of the disaster. All of the people living in the communities surrounding the disaster site are below the poverty line, so the work of the clinic is imperative.
Further researching the disaster I discovered a fascinating book 'Five Past Midnight in Bhopal' by two journalists Dominique Lapierre and Javier Moro. I picked this up in Mumbai, and didn't put it down until I reached Bhopal. It was beautifully written and gave context leading up to, during the night of the disaster and its aftermath, and I would urge anyone who wants to know more to read it.
When I first arrived in Bhopal, it was a Sunday so the clinic was closed. I decided to join some other volunteers who, on their last day, were going to see the Union Carbide factory site for the first time. It's in Old Bhopal and not many 'outsiders' go there. I was shocked. What is supposedly a highly toxic site had a five or six foot wall built around it, but there were places it was crumbling down and you could step over, there were giant holes to walk through, the main gates were even swung open, I noticed kids were going inside to play cricket. I decided to document this wall, from the height of a child that couldn't necessarily see the dangers within, such as the abandoned factory and the tank that exploded, still laying where it fell nearly thirty years earlier. Each image was joined at the point of the wall to form a continuum, whereby the foreground and background would misalign at times. This took me over a week on my first visit, every afternoon I followed the perimeter wall that wove from the main road into the residential 'slum' communities along the railway lines surrounding the huge toxic wasteland that is the disaster site. During this time I met a young girl named Ruby who approached me to make friends and in a very typical and welcoming way invited me for chai and to meet her mum. She reminded me of a girl in the book; it was told through the narra