INTERVIEW
Between the Preservation of Life and the Celebration of Death
WITH ELISA CAPPELLARI
An interview with Elisa Cappellari
"I encounter creatures and I try to undo the hierarchical power between me and them. I shift myself from being the photographer, the hunter, the observer to become the hunted, the observed or the framed."
Elisa Cappellari won our Animal Kingdom competition with an arresting image of an elephant in the taxidermy department of a museum, for which judge Simen Johan praised the "metaphor of the package wrap as bandage, evoking the fragile state of elephants in the wild". Keen to know more, we asked Elisa about the image and circumstances behind it, along with her broader photographic background and approach. Her answers were thoughtful and illuminating, covering her academic approach to image making and how her interest in the duality between the domestic and the wild is rooted in her own personal history…
Elisa, congratulations on winning our Animal Kingdom competition. What did you make judge Simen Johan's comments?
I believe it is a fair comment, not too loaded, not too detailed, as my image is. In reality I didn't want to present a metaphor, specifically, with this image, even though what I usually photograph goes in that direction. I have to say that I reacted more to another comment, if possible I would like to mention it here: "This is why I believe that a photo of something extraordinarily isn't necessarily an extraordinary photo". It is a great critique that I will keep in mind and this is exactly the reason why I applied to the contest with this picture – not because it is an extraordinary photograph but because it was an extraordinary moment that moved me a lot and that I share in all its simplicity.
Can you tell us a little bit more about the image, the circumstances behind it, and the story you wanted to tell?
Almost two years ago I was in the Natural History Museum of Wien for a period of personal photographic research. It should have been a two-month period of work but the Covid-19 pandemic quickly switched me off, as it did to all the others. In that time frame I wanted to discover how the taxidermy department of a museum would have looked, so I knocked at its doors. I found animals in between the preservation of life and the celebration of death. Ongoing keywords and questions looping in my mind where "Nature – Unnatural – Original nature". In this context I met the elephant 'under treatment', a moment that made me realize about the fact that nature was just gone and returned as an object of itself. The photograph talks about something being objectified and exposed, a nature that suffers, is fragile and vulnerable. It also talks about the beauty of nature which, indeed, we want to preserve, represent and multiply in its forms. This action, however, shows the presence of power roles and hierarchy between us and nature, difficult to often avoid or limit. But having said all that, as always and everything I photograph, I like my images to bring small questions to the viewer: Look at a baby elephant stuffed in a room, what do you see? The right answer lies in your individuality and shared visual knowledge.
And tell us about the larger body of work…
The image is part of other images shot in the same context but it also connects with an ongoing observation of the animal aesthetic in different urban spaces. It's not a finished body of work yet or, better to say, it can grow as much as I feel the adrenaline when diving into the museum space and looking for a closure statement for all I see. I like to observe animals, whatever form or context they are in. Looking at an animal makes me nervous and incredibly calm at the same time. To photograph them is to me like a sort of perversion and a need for closeness, possession and redemption of their nature. This mixture of feelings is what pushes me to keep going on in a visual hunt where I encounter creatures and I try to undo the hierarchical power between me and them. I shift myself from being the photographer, the hunter, the observer to become the hunted, the observed or the framed. At least I try. When it works I really feel I am building up a story together with my subjects, when it doesn't I simply know that I am documenting them.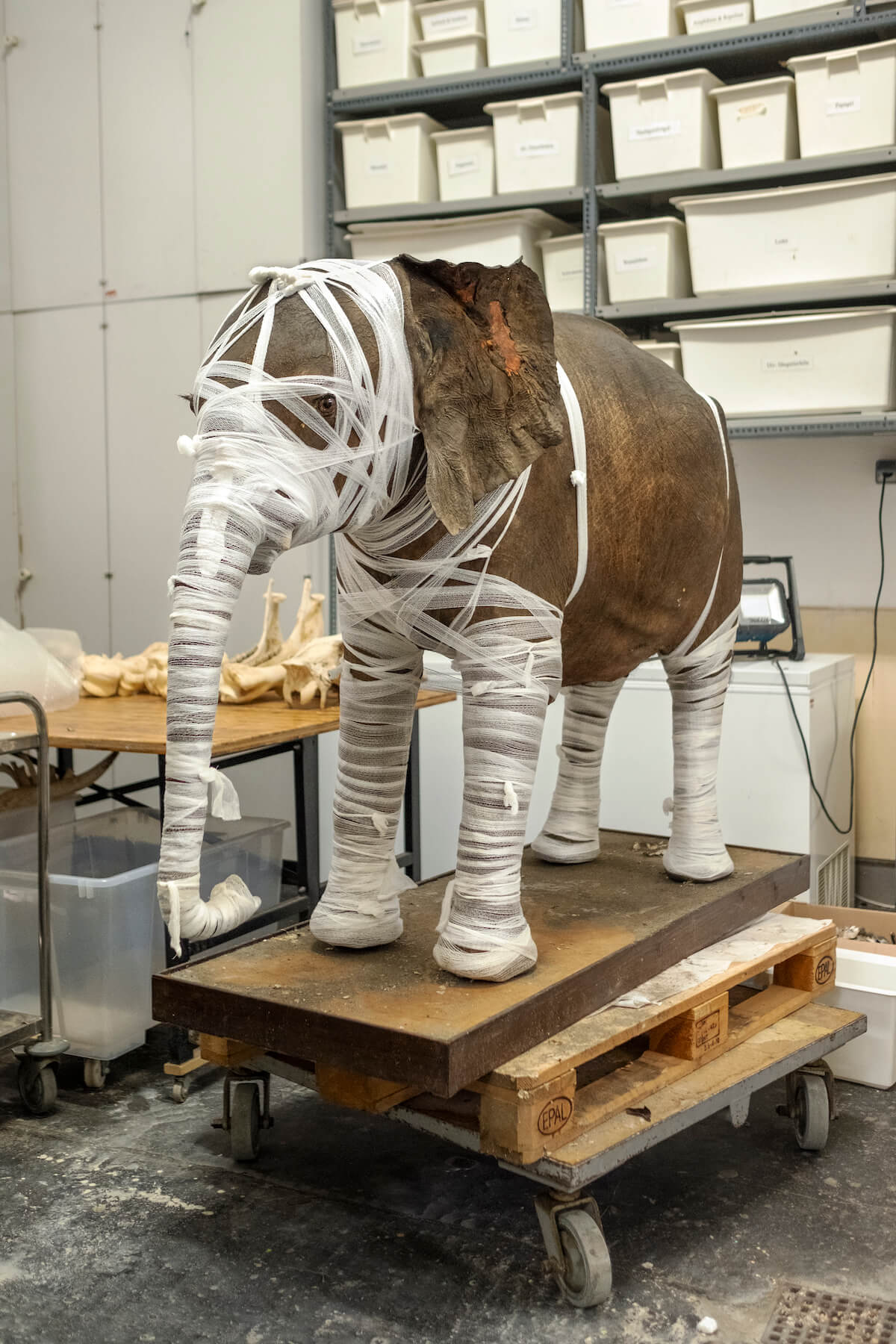 ELISA'S WINNING IMAGE FOR ANIMAL KINGDOM