INTERVIEW
Outsider Stories
WITH DAN GIANNOPOULOS
An interview with Dan Giannopoulos
"Sometimes it's about people being misunderstood, sometimes it's a celebration of things that have brought disparate people together. But mostly I explore these communities because I think I've always seen myself as an outsider."
Dan Giannopoulos won our second theme of Life Framer Edition V – The Human Body – with a challenging image of an elderly man at a nursing home in Nepal. Our judge, Roger Ballen, praised it for its impact, describing it as "a very real image of the extremes the human body can endure and the state of humanity".
Keen to know more we put some questions to Dan, asking him about the image and series, photojournalistic ethics, and why he's so fascinated by documenting outsider communities…
Hi Dan. Congratulations on winning our theme 'The Human Body' judged by Roger Ballen. What did you make of his comments on your image?
The comments echoed the feelings I have about this image. I had entered the image and others from the same series because I felt like they would challenge the theme. It's a tragic image of what aging can do to the human body and also an exploration of how bad care for the elderly can be in some places.
Can you tell us a little bit more about the image, and what it means to you? I understand it comes from the series The Orphaned Elderly of Kathmandu – tell us about that.
The series documents a Social Welfare Home for the Elderly that sits on the outskirts of Kathmandu, Nepal. The home, founded in the late 1980s, houses approximately 240 elderly residents who have been abandoned by their relatives and who have no suitable guardian or carer. After Nepal became a secular republic in 2008 the country saw a rapid decline in suitable healthcare provision, especially in rural areas.
In the past elders in Nepali community were treated with respect and were cared for by their children and families until their passing. With the increase of western influence on Nepali culture and a gradual shift of familial structures to a more nuclear setup, family elders are now seen as more burdensome than in times gone by. With a lack of understanding about mental health issues, families are increasingly unable and often unwilling to deal with the complexities of their older relative's illnesses and as a result often abandon them, leaving them to fend for themselves.
I have always found it an unsettling image to view because I still vividly remember the scene. He was deeply confused. He looked almost childlike laying on the floor. I shot about five frames before I went to help the man up. It wasn't until I did this that I was aware that he was covered in flies and had soiled himself. There were many scenes like this at the home. Nearly all the residents at the home were abandoned by their families. Mostly because they had physical and mental health conditions that their families struggled to deal with (understanding of conditions such as dementia in Nepal is very low especially in rural communities where access to decent healthcare is relatively non-existent.)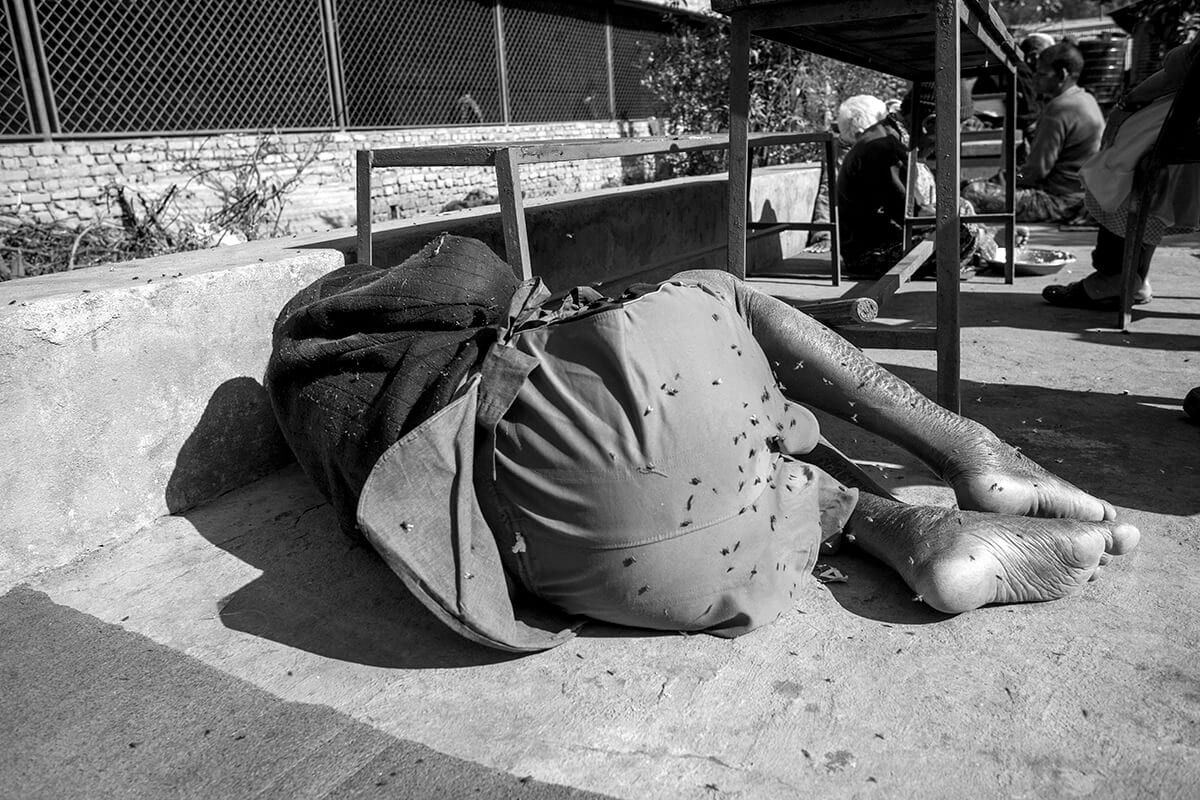 Dan's winning for the theme 'THE HUMAN BODY'