FEATURED STORY
A Sunday at Ciqikou beach
WITH JULIEN HAZEMANN
Ciqikou is one of the most famous spots in Chongqing, but not for its beach. Actually I'm the only one who talks about a « beach » in Ciqikou. Ciqikou is one of those pasteboard decors that recreates a so called ancient China and that you can find in any city in China. I found the beach by chance in 2013 while I was walking along the river. The beach appears in the early spring when the river's level get low for a few weeks, before rising back. Three stones in the middle of the river become a beach and, on Sundays, parasols grow like mushrooms.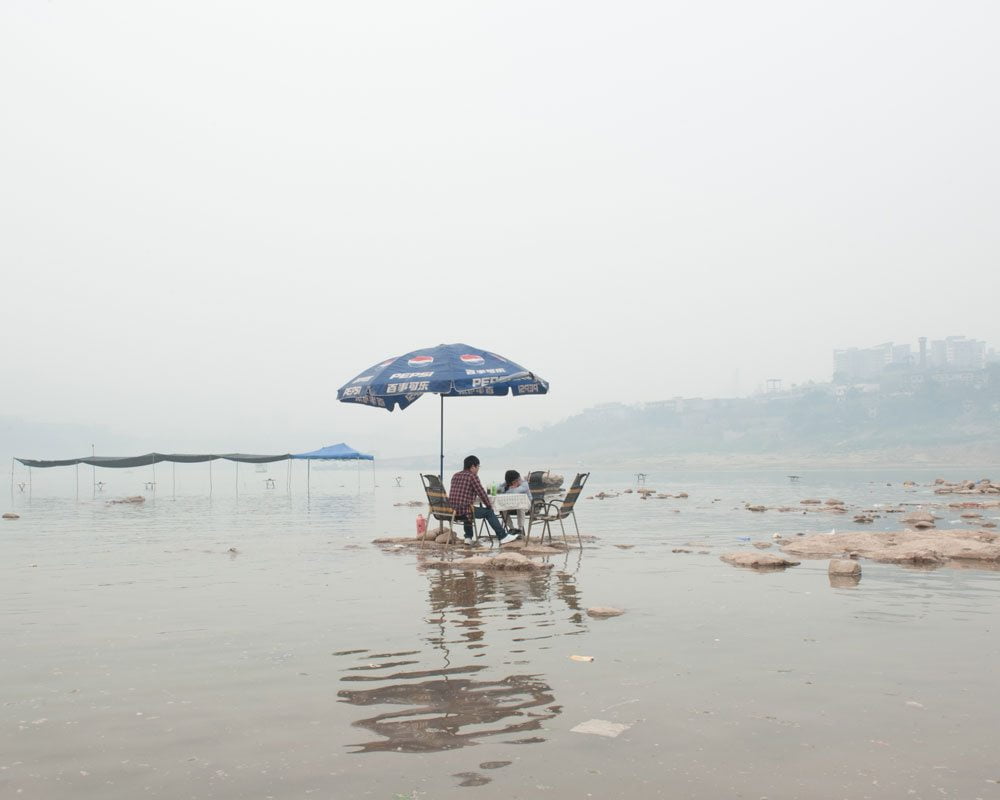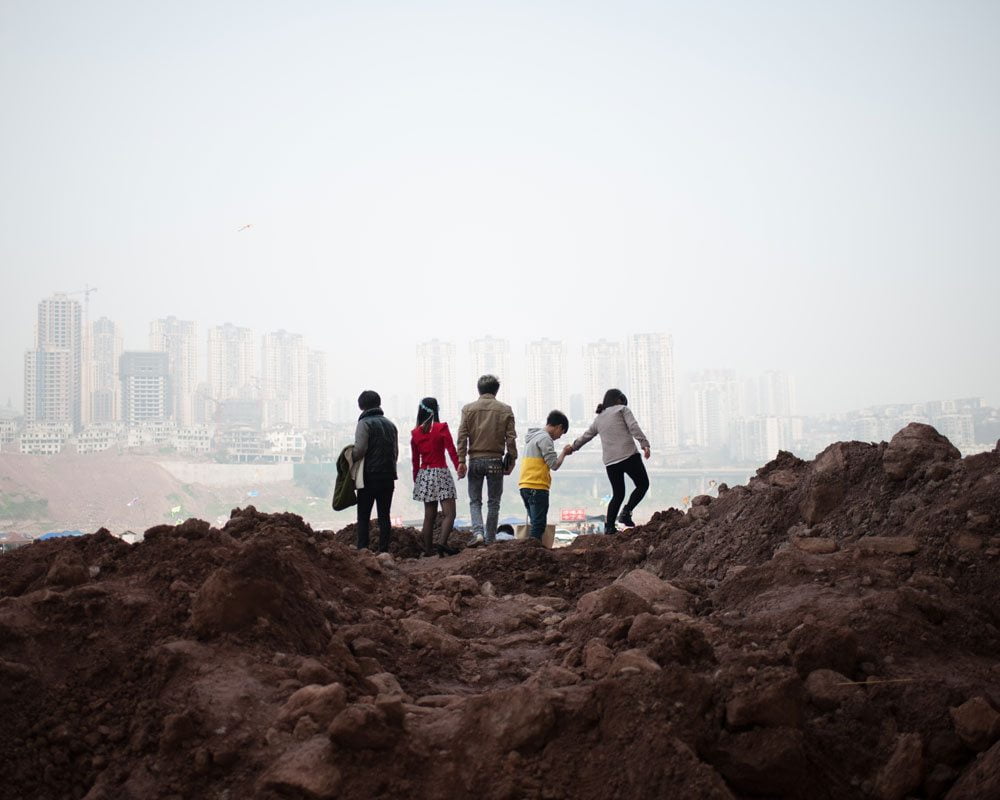 Each of my trips to Chongqing is restricted to three or four months because of the visa issue, and I mostly go there because of the winter. The river's level gets low when my trips end. I never know if the beach will have emerged before I leave. Every time I have only one or two Sundays so when the beach is there, it is a kind of a compulsive photo safari. I shoot until dark.
Chinese cities are really crowded. There are a lot of people moving in all directions all the time. It makes taking pictures difficult. There is always something leaving or entering the field of view so you miss a lot of photos. But not in Ciqikou. There, it's always perfect. Everything is like evidence, the pictures make themselves.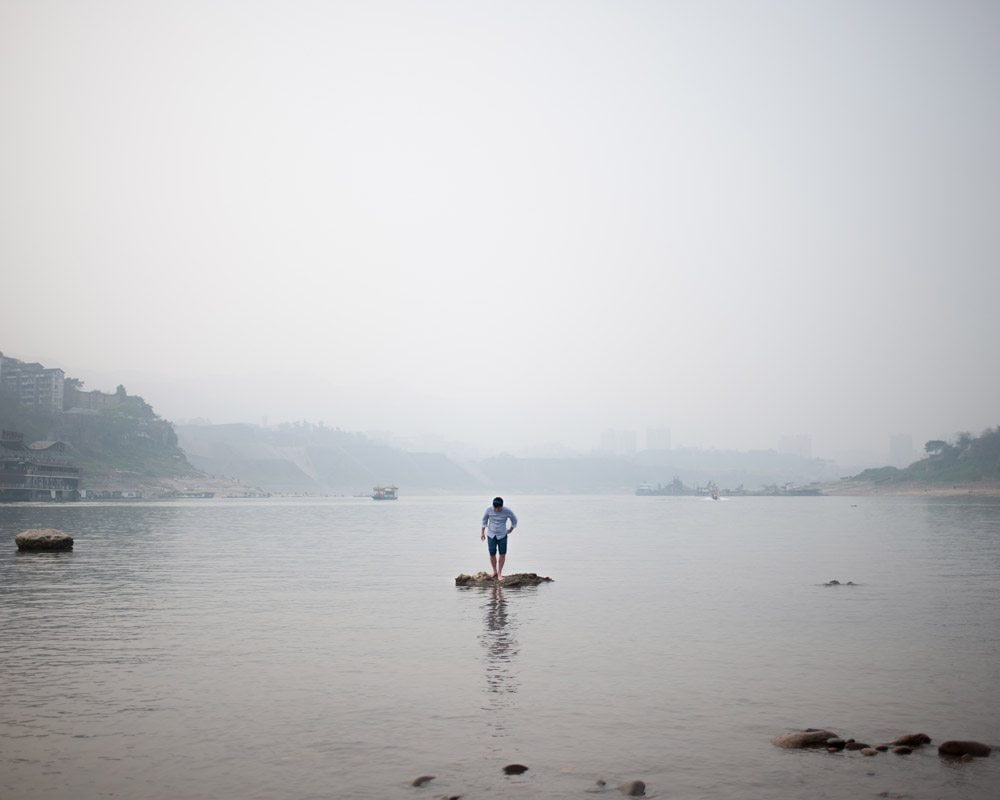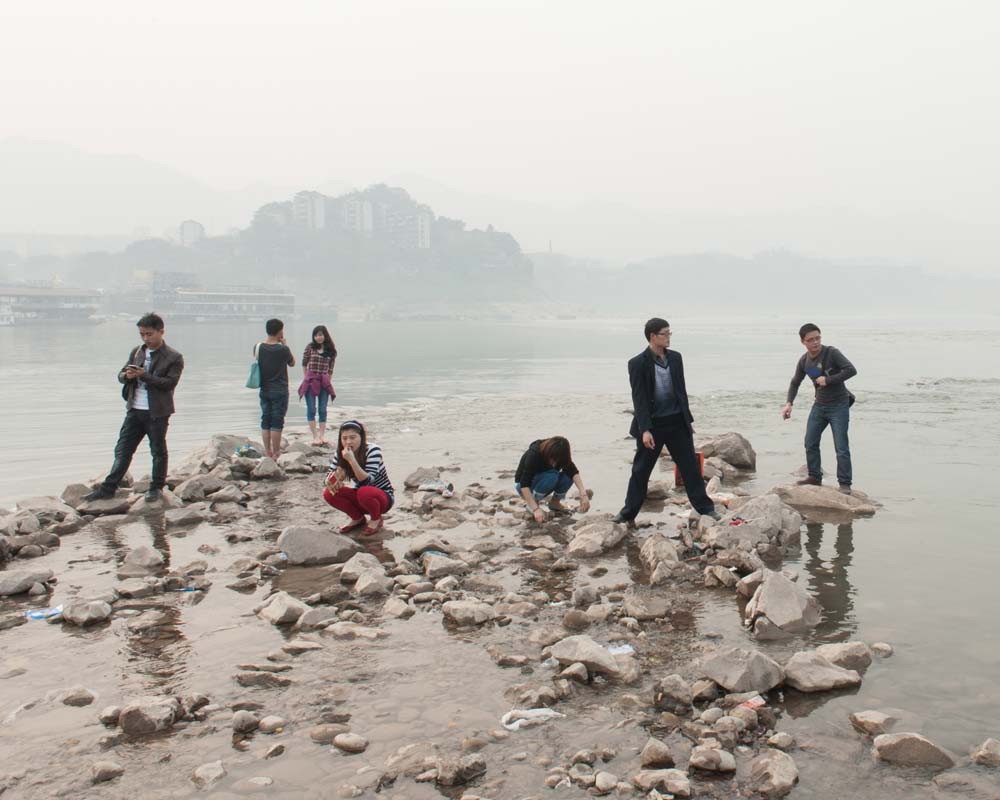 But beyond the pleasure to take pictures, Ciqikou offers something else about China. There, people are not in the « doing » or showing off. People in Chongqing don't share much about what they have in their heads. They keep their thoughts and their daydreams to themselves. Entering their universe even just a little bit needs a lot of observation. But there are always a thousand things that disturb observation in the tumult of the daily life. And as many things that make people protect their own universes even more.
Otherwise people must « do » something always. When going to the beach is something cool, they take the posture of someone from the middle classes practicing a leisure activity. They will buy the good t-shirt, the same ball as the others and some sunscreen.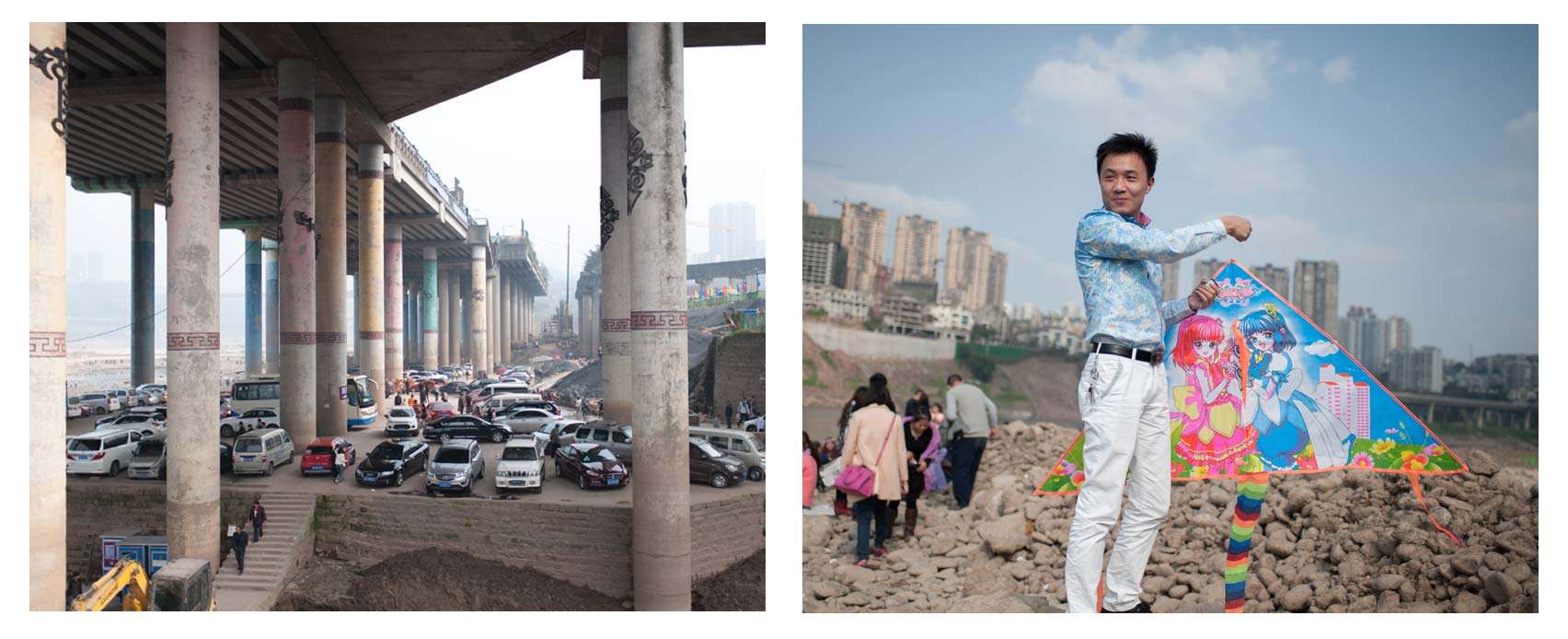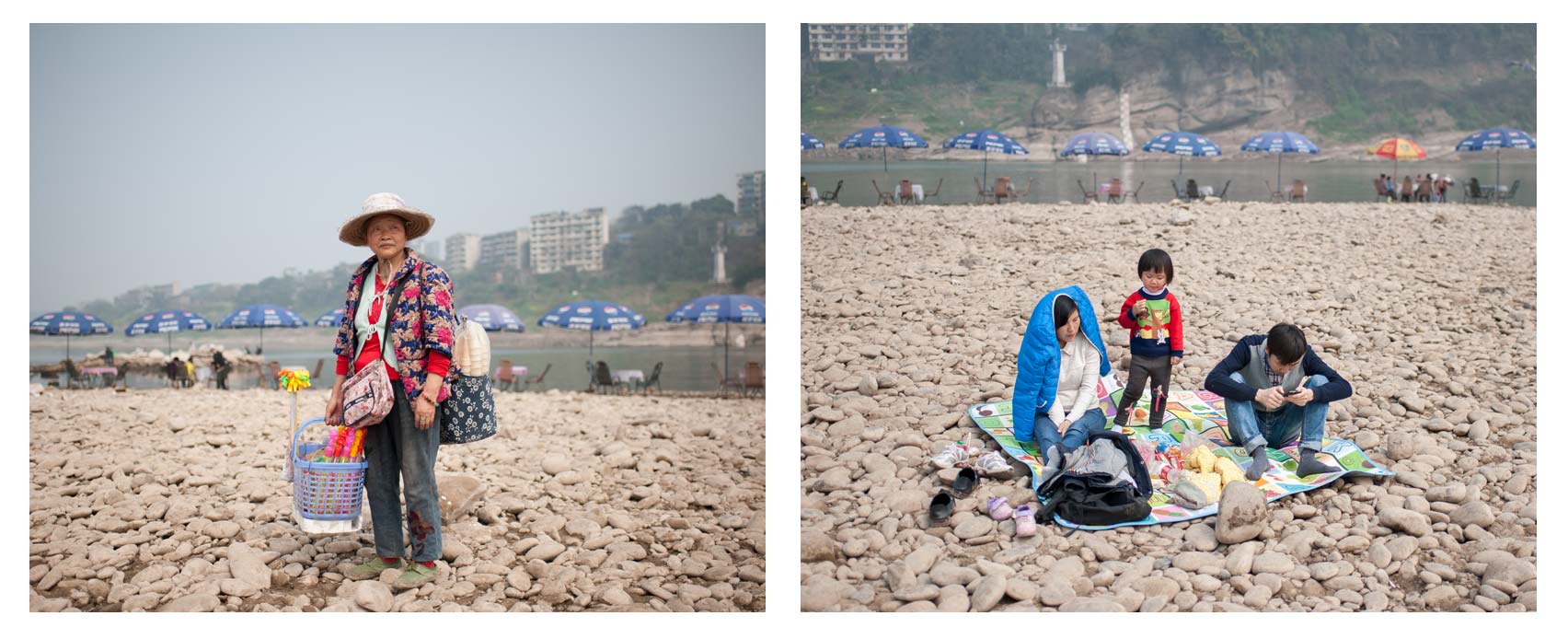 There, in Ciqikou they don't « go to the beach ». They don't do something cool or trendy. They just settle down and relax. A Sunday in Ciqikou is something very simple. One of the only I found in Chongqing. The scenery might look awful but people forget it. They don't come to fill their eyes but to empty their minds. They don't play the role of the middle or modern class member doing selfies on a trendy spot. They are just what they are. Ciqikou is one of the only places I can take photos of citizens without pretense.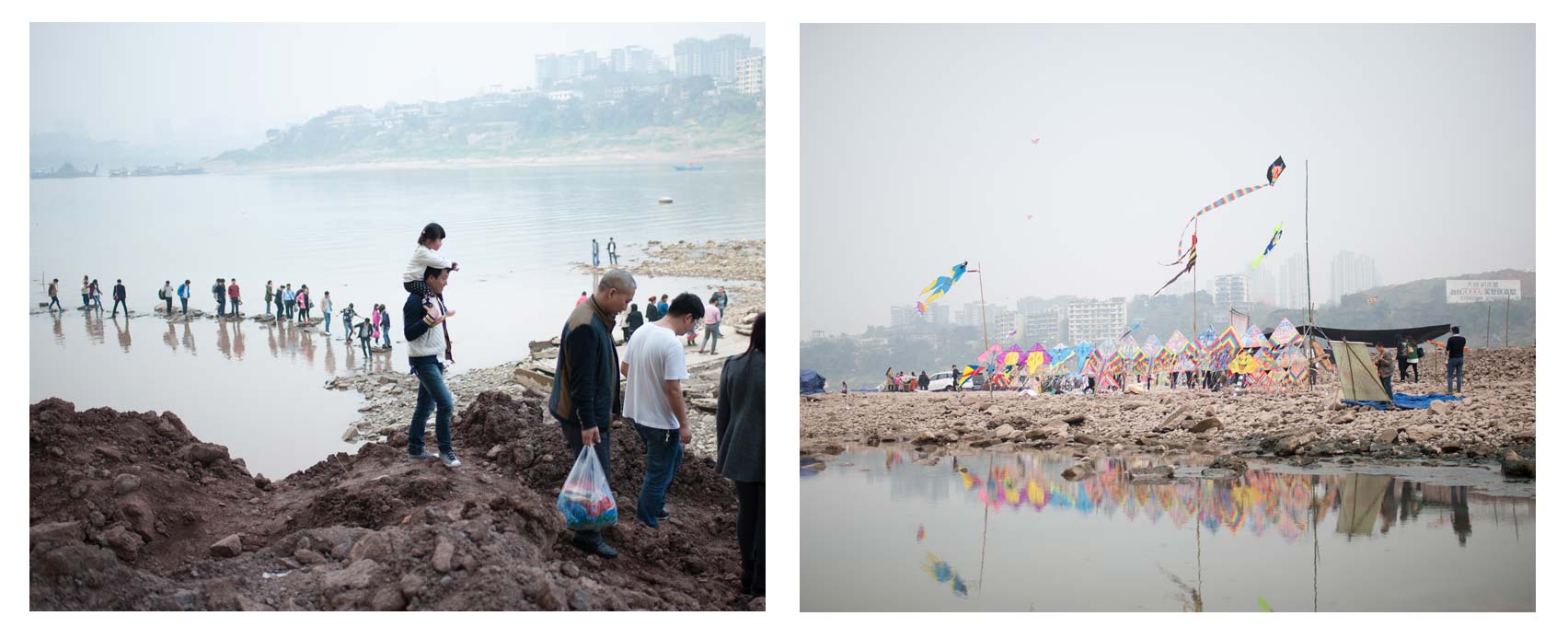 Ciqikou est un des spots les plus connus de Chongqing, mais pas pour la plage. Ciqikou, c'est un de ces décors en carton pâte qui réinvente la Chine ancienne et qu'on retrouve, plus ou moins à l'identique dans toutes les villes chinoises. Je suis tombé sur la plage par hasard en 2013, en suivant la rivière Jiangling. Elle apparait au début du printemps, quand, le niveau de l'eau baisse pendant quelques semaines, avant de remonter. La Chine est un peu comme la nature : elle a horreur du vide. Elle remplie. Trois cailloux au milieu de la rivière deviennent une plage et, les dimanches, les parasols poussent comme des champignons.
Chacun de mes voyages à Chongqing sont limités à trois ou quatre mois à cause du visa, et j'y vais surtout pour l'hiver. Le niveau des rivières devient vraiment bas au moment où mes voyages se finissent. Je ne sais jamais si la plage aura émergé avant que je ne parte. A chaque fois, je n'ai eu droit qu'à un ou deux dimanche. Trois dimanche en cinq ans, et du coup à chaque fois des safaris photographiques. Lorsque j'arrive là-bas et que c'est bon, que le niveau est bas, que la plage est là et que les gens commencent à arriver, ça devient compulsif : je sors mon appareil photo et je shoot jusqu'à ce qu'il fasse nuit.
Dans les villes chinoises, il y a toujours du monde, les gens bougent sans cesse. Faire des photos dans les rues est difficile, il y  a toujours quelque chose qui rentre ou qui sort du champ si bien qu'on rate beaucoup de photos. Mais pas à Ciqikou, c'est toujours parfait. Tout y est comme une évidence, la photo se fait toute seule.
Mais au-delà du plaisir à photographier, Ciqikou offre autre chose aussi de la Chine. Là, les gens ne sont pas dans le « faire » ni dans la frime. Les gens de Chongqing ne partagent pas tellement ce qu'ils ont dans la tête. Ils gardent leurs pensées ou leurs rêveries pour eux. Si on veut pénétrer un peu l'univers mental des gens, il faut beaucoup observer. Mais dans le tumulte du quotidien, il y a toujours des milliers de choses qui viennent perturber cette observation, et faire les gens protéger encore un peu plus leur univers.
D'autant plus que les gens doivent toujours « faire » quelque chose. Lorsque aller à la plage sera devenu un truc cool, ils s'installeront dans la posture de quelqu'un qui va pratiquer un loisir, ils achèteront le t-shirt, le ballon de plage et la crème solaire qu'il faut.
Là, à Ciqikou, il ne vont pas à la plage. Ils ne font pas un truc cool ni à la mode. Ils vont juste se poser, se détendre. Un dimanche à Ciqikou, c'est quelque chose de simple. Une des rares choses simples, sans postures que j'ai trouvé à Chongqing. Le décor peut sembler laid, mais les gens l'oublient très vite, en fait. Ils ne viennent pas pour se remplir les yeux, mais pour se vider la tête. Ils n'y vont pas pour être dans un rôle, tel que celui du membre de la classe moyenne qui doit aller en vacances sur une plage de la côte. Il est tel qu'il est, sans faux-semblant. Ciqikou est un des rares moments où j'arrive à photographier des gens tel qu'ils sont, sans faux-semblant…