INTERVIEW
Life on the Margins
WITH BORIS JOSEPH
An interview with Boris Joseph
"Wherever they are, Roma live on the margins of society, but in Slovakia their fate is worse than elsewhere. Walls are being built to hide them and they live in an environment reminiscent of a country at war…"
Boris Joseph won our Civilization theme with a captivating, troubling image of a young boy in a Roma settlement in Slovakia. It was the kind of image that stops you in your tracks – a "nightmarish" reality, as our judge Wilfrid Estève described it, that one can't quite imagine existing in the Western world. Keen to know more about the image and its wider story, we put some questions to Boris…
Hi Boris. Congratulations on winning our YOUTHHOOD theme! Do you resonate with Wilfrid Estève's comments?
Yes, like him, I was initially surprised by this nightmarish environment and I found that the situation of the Roma is still very precarious. But despite everything it is changing, but very slowly. Some children are now going to school. For example, there is a very good primary school in Lunik IX run by an excellent team. But the longest will be to change the mentality of people. If you are educated and no one wants to employ you, then being educated is useless. The Slovaks should give a chance to this new generation of Roma.
Can you tell us a little bit about the image – how and when it came about? Is it part of a larger body of work?
This photo was taken in the city of Lunik IX in the suburb of Kosice. It is inhabited by about around 5,000 Roma. Early in the morning, only the children are outside. Most parents are still sleeping. We are in the winter and they have fun sledging with old boxes or lighting fires because it is cold. Behind one of the buildings I discover this mountain of rubbish. There is no garbage collection in the city and so it has accumulated there for years. And there's this boy all alone in this apocalyptic setting looking for objects in this decor. He picks up old bottles and at the same time watches, from time to time, when playing with his friends.
The image is part of a larger project on Roma in Slovakia. In general, wherever they are, Roma live on the margins of society, but in Slovakia their fate is worse than elsewhere. Most of Slovaks do not like Roma and are afraid of them. Walls are being built to hide them and they live in an environment reminiscent of a country at war. But Slovakia is not a country at war, this is Europe! This is this reality that I want to show.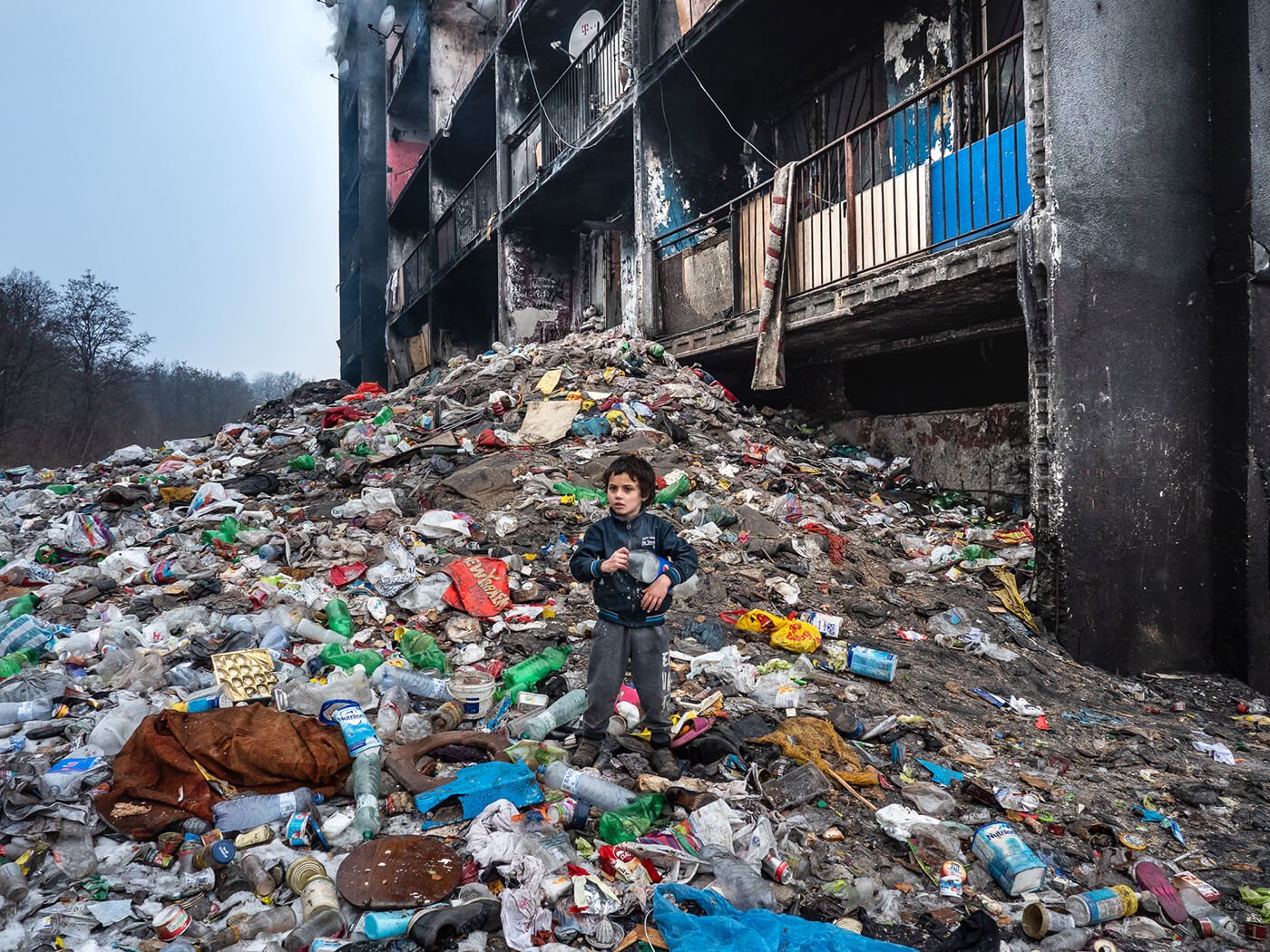 Boris' winning image for our Civilization theme
"I find this photograph very strong for several reasons. First of all a context that is impressive, nightmarish. I wondered if people lived in such a place and scanned the photograph for clues. Apparently yes due to the presence of satellite dishes. It looks like the building literally vomited a pile of garbage and plastic – there is not even a visible path to enter or exit the building. And then there is this child in the middle. He does not look at the photographer and I can feel a strong presence from him, because of his posture and especially the intensity of his eyes but at the same time he seems totally elsewhere. The atmosphere is heavy but this boy seems on top of it all. The only one watching the scene and the photographer is the cat near the door. This photograph questions the state of our society and the place we give to the Roma. Unfortunately I notice that this situation does not evolve, it could have been taken in the 19th or 20th century. I hope it will not be timeless." – Wilfrid Estève