INTERVIEW
Start with a Black Box
WITH BARBARA VANDENDRIESSCHE
An interview with Barbara Vandendriessche
"I can really enjoy images with bright colors or light tones. But unconsciously I always go that dark way. Maybe that is because when you work in the theater you always start in a black box".
Barbara Vandendriessche won our Still Life theme with a stunning scene – candid but quiet and painterly. Keen to know more about that image, her working process, and her background in theatre, we put some questions to her…
Hi Barbara. Congratulations on winning our STILL LIFE theme! Do you resonate with Emma Lewis' comments?
I fully agree with her comment. It reminds me of a devout painting from the Baroque period. Three women, their attention focused on something bigger, self-deciphered, the attention only on what they worship. The chain in the garbage bag makes it contemporary and gives the image an imperfection that these everyday elements interfere with an almost staged image.
Can you tell us a little bit about the image – how and when it came about? Is it part of a larger body of work? And is there any staging to it?
I travel a lot. I was in Vietnam in the Perfume Pagoda. It is a very large cave complex and place of pilgrimage. It is also very theatrical. You first enter the site via boats. Then you descend down a huge steep staircase carved out of the rocks. Then you enter the cave and a huge Buddha, at least 20 meters high, awaits you at the top of the rock. It's very dramatic! Whenever I am out and about I always have my camera with me. I am always alert and pay attention to details that the average tourist does not really pay attention to. When I saw these three pilgrim ladies, my attention was immediately drawn. Without realizing it, they had something very dramatic about them. The colors and cut of their legs matched perfectly with the hues in the cave. They looked at an object, but I didn't care. Their attitude, their composition, it was perfect. That in combination with the damp cave, its hardness, the raw materials of chains and bags to collect rock dust made it extra interesting. It is not part of a set up or staged series, but it fits in with my style of staged series with dark intense colors, composition, old elements translated in a contemporary way.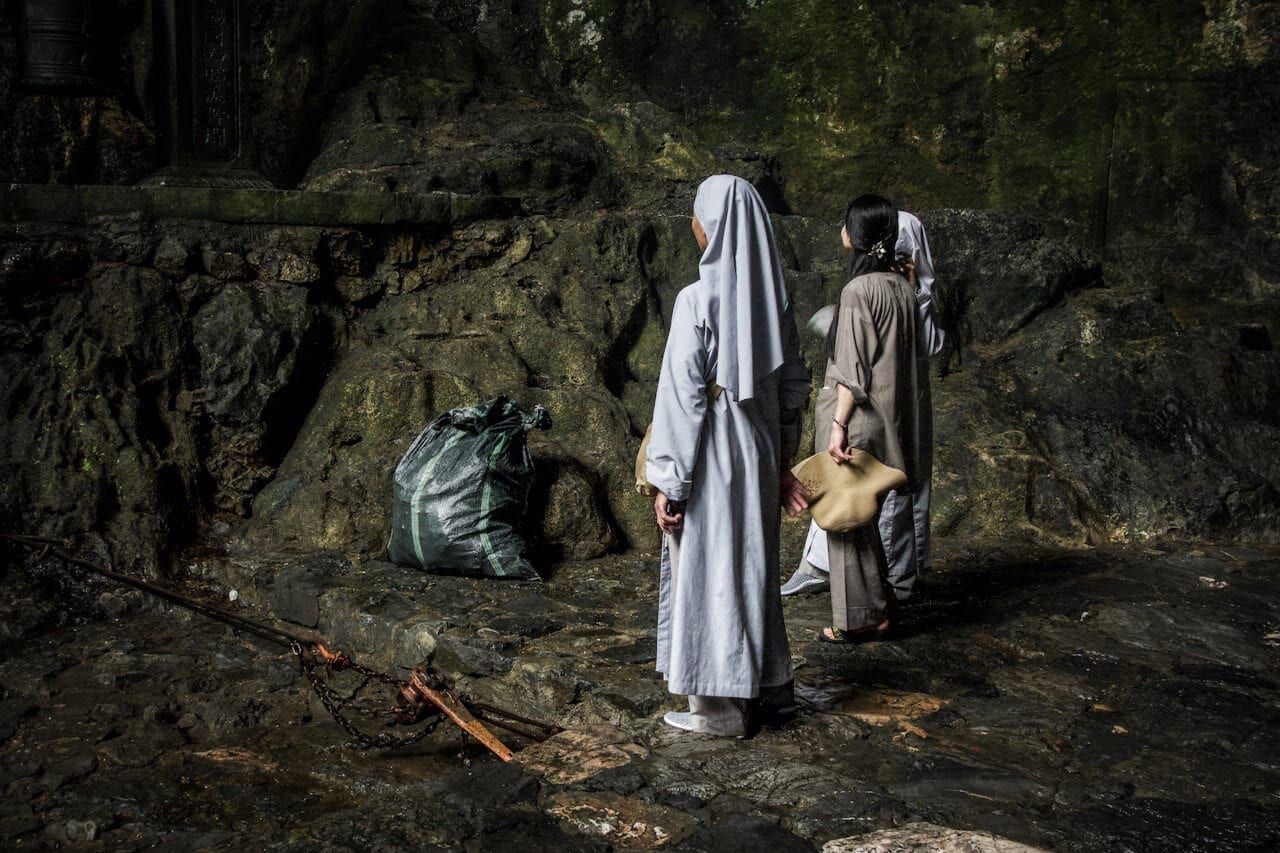 Barbara's winning image for our Still Life theme
"This photograph is immediately compelling. The lighting, composition and the fact that the individuals' faces are turned away from the camera all create a sense of intrigue. It is not clear who they are, why they are there, what their relationship is to one another, nor what it is they might be looking up at. The chain fencing and the full black bag only add to the intrigue. It seems as though there is a larger and more complex narrative at play and I am left wanting to know more." – Emma Lewis