INTERVIEW
Looking Out and In
WITH ARGUS PAUL ESTABROOK
An interview with Argus Paul Estabrook
"I began seeing myself as a "half-eye" and then started to think about what that might mean."
Argus Paul Estabrook won our Street Life competition with a clever, claustrophobic image shot on the Seoul Metro, that judge Bruce Gilden described as like "an x-ray. I like photos where the viewer can make up their own story".
A photographer who has featured in Life Framer before, and carved out his own distinct street style – intense, candid shots that often make use of hot white flash, fiery lens blur and reflections – Argus has turned his attention to subjects as diverse as the border towns of the North-South Korea DMZ, the hidden LGBTQ+ community of Seoul and its street wrestling sub-culture. And as the photography industry finally pushes to be more diverse and inclusive, he has recently joined both Native Agency and Diversify Photo.
Keen to know more, we put some questions to Argus…
Dear Argus. Firstly, congratulations on winning our Street competition. What did you make of Bruce Gilden and the Life Framer team's comments?
Thank you so much. I was honored to have my work chosen by Bruce Gilden. He's a legend in the field that so many of us have learned from. And to have him speak about my work was fantastic. For that particular image, I was playing with reflection and tried to take advantage of the resulting abstraction. I feel both Mr. Gilden and Life Framer's comments validated what I was trying to achieve.
Can you tell us a little bit about the image, the circumstances behind it, and the story you wish to tell?
I had been running errands around Seoul and riding Line 2 on the metro. I was at the back of the train car when I noticed its metal door was highly reflective. I had my camera and started composing when an older man stepped into the perfect spot. It was like seeing a version of my future self through a portal in my chest. I shot a few frames, then in a short time, the scene was completely different. The future "me" I saw had disappeared, swallowed up by a crowd of fellow commuters.
You spend a lot of time shooting on the Seoul metro (another of your shots was in fact a winner of a previous Life Framer Street Life competition). Is there something about everyone being on a journey, and in your own words "all away from home" that chimes with you having moved between North America and Korea yourself, and feeling somewhat out of place in the latter, or is that too simplistic?
In the United States, I grew up in a rural area on a farm with no neighbors. I was isolated and had little contact with my Korean roots. So when I moved to Korea, the journey was to learn about myself and connect to the culture. Being a biracial photographer, I began seeing myself as a "half-eye" and then started to think about what that might mean. Philosophically, I sense my camera acts as an interface between my outward observations and inward thoughts, transforming the viewfinder into a window of reality that is both open and reflective. I feel that is what's happening when I photograph—I'm looking out and in simultaneously. Is that trying to find a vision of myself or a notion of home? Maybe it's both. I like being in a place where that question lives.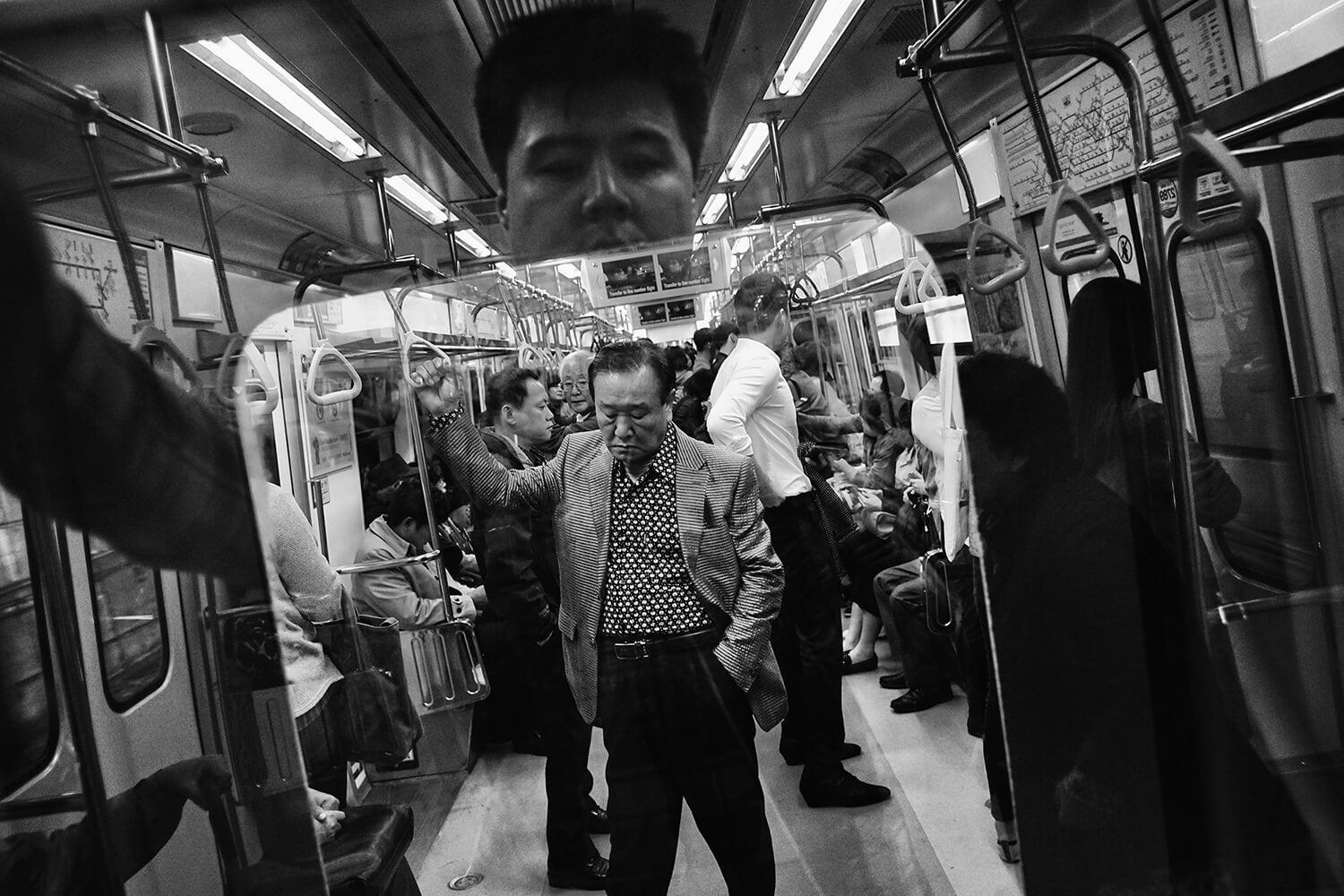 ARGUS' WINNING STREET LIFE IMAGE