INSPIRATION
"Buy good shoes" and other advice for aspiring photographers
FROM THE MASTERS
Advice for Aspiring Photographers
Many of you will be familiar with Magnum Photos – a legendary photography co-operative owned by its members, and in co-founder Henri Cartier-Bresson's words, built on a shared " curiosity about what is going on in the world, a respect for what is going on and a desire to transcribe it visually".
Over the last few years, Magnum have shared several blog posts asking its members a simple question – What advice would you give to young and aspiring photographers? And while Magnum photographers tend to be of a certain ilk – photojournalists and documentary photographers, rather than say conceptual or wildlife photographers – with past and current members such as Bruce Davidson, Robert Capa, Ansel Adams and Cristina Garcia Rodero, their advice is worth listening too, whatever your specialisation.
Here we share 12 of our favourites – enjoy their wisdom!
DAVID HURN
"Don't become a photographer unless it's what you have to do. It can't be the easy option. If you become a photographer you will do a lot of walking, so buy good shoes".
ALEC SOTH
"Try everything. Photojournalism, fashion, portraiture, nudes, whatever. You won't know what kind of photographer you are until you try it. During one summer vacation (in college) I worked for a born-again tabletop photographer. All day long we'd photograph socks and listen to Christian radio. That summer I learned I was neither a studio photographer nor a born-again Christian. Another year I worked for a small suburban newspaper chain and was surprised to learn that I enjoyed assignment photography. Fun is important. You should like the process and the subject. If you are bored or unhappy with your subject it will show up in the pictures. If in your heart of hearts you want to take pictures of kitties, take pictures of kitties".
CHRIS STEELE-PERKINS
1) Never think photography is easy. It's like poetry in that it's easy enough to make a few rhymes, but that's not a good poem.
2) Study photography, see what people have achieved, but learn from it, don't try photographically to be one of those people
3) Photograph things you really care about, things that really interest you, not things you feel you ought to do.
4) Photograph them in the way you feel is right, not they way you think you ought to
5) Be open to criticism, it can be really helpful, but stick to you core values
6) Study and theory is useful but you learn most by doing. Take photographs, lots of them, be depressed by them, take more, hone your skills and get out there in the world and interact.
ELLIOTT ERWITT
"Learn the craft (which is not very hard). Carefully study past work of photographers and classic painters. Look and learn from movies. See where you can fit in as a "commercial" photographer. Commercial: meaning working for others and delivering a product on command. But most of all keep your personal photography as your separate hobby. If you are very good and diligent it just may pay off".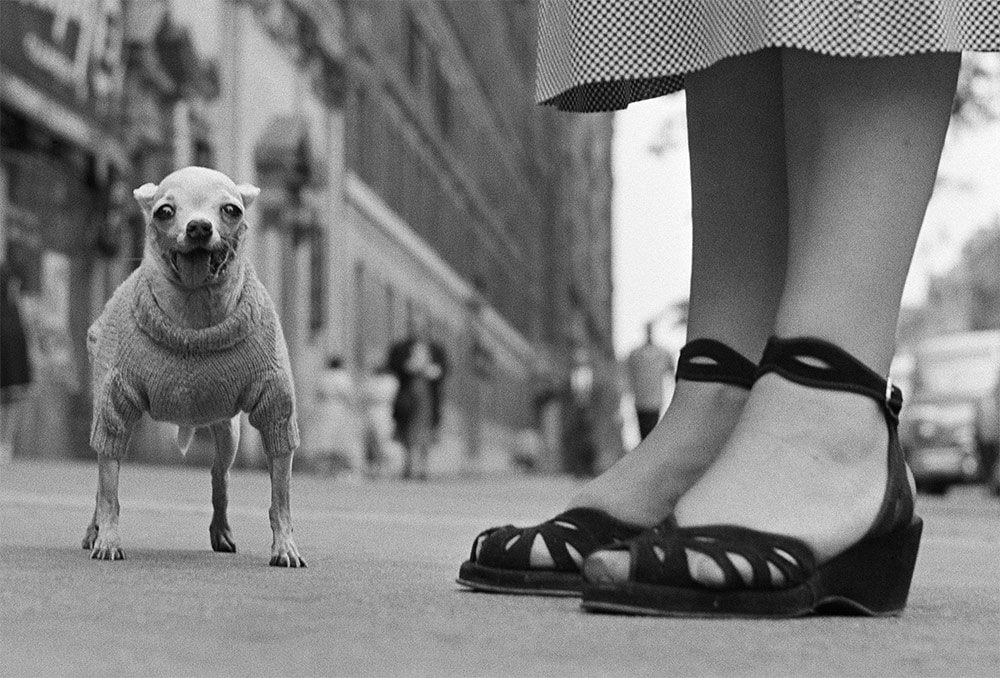 I