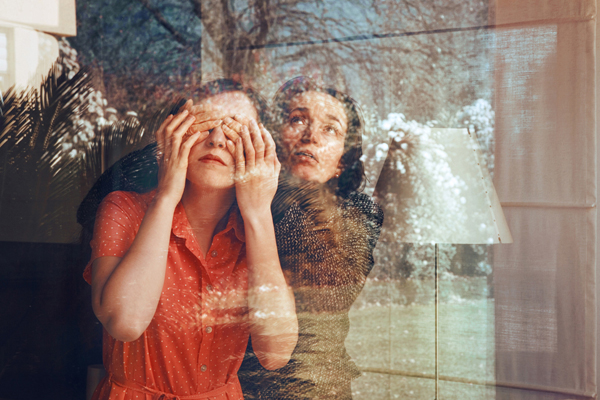 Winning image © Anna di Prospero
Runner-up image © Miska Draskoczy
On we go with month 3, and the quality of submissions continues to amaze us! It was a pleasure to have Julia Fullerton-Batten heading the judging process, and we hope you'll agree that her selections are pretty special!
Head over to our winner's gallery to see each image as well as Julia's comments. What do you think? Let us know on Facebook
With such a special winning image, we couldn't resist speaking with Anna, and delving a little deeper into her world! Anna, over to you!
What initially drew you to photography? Is this the same thing that motivates you to take photos now?
I started taking photographs because I had to say something that I wasn't able to find the words for and I felt that photography was the only way I had to express it. I have always seen my work as research into my personality and my camera as the instrument to explore it and define it. I grew up a lot thanks to photography and I feel like I am still at the beginning of this journey.
How would you describe your style?
I don't know actually, I've never really thought about it. I just know that I do a lot of self-portraits and portraits of my relatives and friends. I am constantly inspired by the people who are part of my life, and my home is my favourite place to shoot.


How did you hear about Life Framer? And why did you decide to enter?
I heard about the contest through Facebook and I immediately thought that the theme was very close to my work and to my research. I thought that it could be interesting to confront my work with the one of the other photographers involved in similar research (Julia Fullerton-Batten, the judge for 'A Human Touch').
A lot of your work is self-portrait, with your face almost always obscured. Can you tell us a bit about this?
In the shooting of a self-portrait, I am first of all the photographer behind the camera. I am just using my body to narrate an emotion. The power of a self-portrait is the story, the emotion behind the scene representing something that can be shared by anyone who looks at the picture.
And what about the actual photography process; what's your method? Do you plan specific images first, or do they develop as you go?
Sometime I spend a lot of time thinking about the concept, the location and the mood of the image but in the end it is the unforeseen elements, that may comes from a particular light or from the interaction with people that give me the inspiration to make a successful image.


Your portfolio is mostly personal work, but you've done some beautiful sun-bleached commissions for Lancia and Fitness Forever. How did these projects come about?
In 2008, the Elefant Records commissioned me to create the album cover and promotional photos for the Italian band Fitness Forever. They are great musicians with a distinctive and funny sense of style. We were perfectly in tune and it was very easy for me to create the mood and the set for their photos. It was one of my best shooting experiences ever!In 2011, I was commissioned by Vogue Italia to create a single photo for the new Lancia Y. I got this commission thanks to PhotoVogue and, in particular, to Alessia Glaviano, Photo Editor of Vogue Italia and L'Uomo Vogue, who asked me to take part in several great projects, such as commissioned works and group exhibitions.
What do you think is the hardest thing about photography?
To be taken seriously.


If you could choose one, what would be your photography superpower?
Super Determination! The determination to practice every day, even when you would rather do anything else! The determination to keep going when things get tough and the determination to learn and grow every single day.
Do you have a favourite photographer?
My favourite photographer is Gregory Crewdson. I love his cinematographic approach to photography. I consider him a director rather than a photographer. His images are full of stories and intimate emotions hidden in the gaze of his characters. This is what I love the most about a powerful image – when it reaches your mind and heart, and then your eyes.


What's your plan for the next couple of years? Where would you like to see yourself if you could peer into the future, five years from now?
I just hope to keep progressing and get better with my work, and to get closer to my dream of showing my work in a contemporary museum of art.I'd like to finish by thanking Life Framer again for giving me this award! I am so grateful for it. I can't wait to be in London for the end-of-year exhibition and meet all the Life Framer team and the other winners!
Fascinating! Thank you Anna! You can see more of her work here.